Dirty Old London
WARNING
You are viewing an older version of the Yalebooks website. Please visit out new website with more updated information and a better user experience: https://www.yalebooks.com
The Victorian Fight Against Filth
Lee Jackson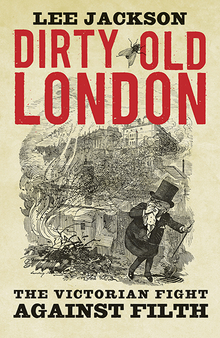 View Inside
Format:

Paper


Price:

$22.00
Also Available in:
Cloth
In Victorian London, filth was everywhere: horse traffic filled the streets with dung, household rubbish went uncollected, cesspools brimmed with "night soil," graveyards teemed with rotting corpses, the air itself was choked with smoke. In this intimately visceral book, Lee Jackson guides us through the underbelly of the Victorian metropolis, introducing us to the men and women who struggled to stem a rising tide of pollution and dirt, and the forces that opposed them.

Through thematic chapters, Jackson describes how Victorian reformers met with both triumph and disaster. Full of individual stories and overlooked details—from the dustmen who grew rich from recycling, to the peculiar history of the public toilet—this riveting book gives us a fresh insight into the minutiae of daily life and the wider challenges posed by the unprecedented growth of the Victorian capital.
Lee Jackson is a well-known Victorianist and creator of a preeminent website on Victorian London (www.victorianlondon.org).
"This is a tightly argued, meticulously researched history of sanitation that reads like a novel."—Paula Byrne, The Times
"Lee Jackson stops to have a good poke around – and consider in fascinating, sometimes gruesome detail, the filth and nuisances of the time . . . Utterly engrossing."—Jo Baker, The New York Times Book Review
"Dirty Old London is a treat – truly Victorian, in that it is shocking, entertaining, educational and grisly by turns."—Catharine Arnold, author of Necropolis: London and its Dead
"I can't think of a better companion with whom to explore London's underbelly - expert, engaging and approachable."—Sarah Wise, author of The Blackest Streets: The Life and Death of a Victorian Slum
"So much meticulous research packaged into such a vividly readable narrative. I loved it."—Liza Picard, author of Victorian London
"The squalor of Victorian London was proverbial. Lee Jackson's revelatory clean-up goes behind the headlines to allow us to see not just what, but why, London was so dirty."—Judith Flanders, author of The Victorian City: Everyday Life in Dickens' London
"Jackson demonstrates the unimaginable filth that permeated London during the 19th century . . . A well-researched, if unpalatable, picture of a filthy city and the different factions fighting for and against reform using class distinctions, gender inequality and horrendous poor laws."—Kirkus Reviews
"While the subject of Dirty Old London is often, unavoidably, off-putting, it is also endlessly intriguing."—Shelf Awareness
"Mr Jackson has written a book that is neat and sparkling, unlike his subject matter."—Emily Cockayne, Wall Street Journal Europe
"Impressive . . . [Lee] Jackson has written a book that is neat and sparkling, unlike his subject matter."—Emily Cockayne, The Wall Street Journal
"An atypical look at London's social history. Jackson manages to make a disgusting topic much funnier than one would expect."—Library Journal
"Disgusting and wonderful."—Kelly Faircloth, Jezebel
"Rich in wonderful contemporary details gleaned from newspapers and archives, Jackson's study is a vivid account of the enormous challenges faced by a city expanding at an unprecedented rate."—P. D. Smith, The Guardian
"This engaging, tightly argued book… embraces horse manure, rotting corpses, human excrement, public baths, toilet arrangements, cholera epidemics, and the "Big Stink" of 1858"—Paula Byrne, The Times
ISBN:
9780300216110
Publication Date:
November 24, 2015
304 pages, 5 x 7 3/4
40 b/w illus.