Selected Poems of Edna St. Vincent Millay
WARNING
You are viewing an older version of the Yalebooks website. Please visit out new website with more updated information and a better user experience: https://www.yalebooks.com
Edna St. Vincent Millay; Edited by Timothy F. Jackson; With an Introduction by Holly Peppe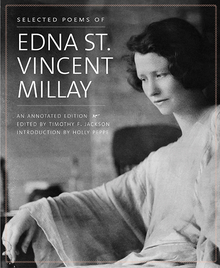 View Inside
Format:

Cloth


Price:

$35.00
Also Available in:
Paper
This beautifully produced first annotated edition of Edna St. Vincent Millay's oeuvre re-presents the work of the Jazz Age's most famous poet

More than sixty years after her death, the Pulitzer Prize–winning poet Edna St. Vincent Millay continues to captivate new generations of readers. The twentieth-century American author was catapulted to fame after the publication of Renascence, her first major work and a poem written while she was still a teenager. Millay's frank attitude toward sexuality—along with immortal lines such as "My candle burns at both ends"—solidified her reputation as the quintessential liberated woman of the Jazz Age.

In this authoritative volume, Timothy F. Jackson has compiled and annotated a new selection that represents the full range of her published work alongside previously unpublished manuscript excerpts, poems, prose, and correspondence. The poems, appearing as they were printed in their first editions, are complemented by Jackson's extensive, illuminating notes that draw on archival sources and help situate her work in its historical and literary context. Two introductory essays—one by Jackson and the other by Millay's literary executor, Holly Peppe—also help critically frame the poet's work.

This deluxe edition will be cherished by readers who continue to study and enjoy the work of this iconic figure.
Pulitzer Prize–winner Edna St. Vincent Millay (1892–1950) was a poet and playwright. Timothy F. Jackson is associate professor of English at Rosemont College. Holly Peppe, literary executor for Edna St. Vincent Millay and editor of the Penguin Classics edition of Millay's Early Poems, has written and lectured widely about the poet's life and work.
"An excellent antidote to Millay's sexist, condescending detractors, and a gift to all who care about fine writing. . . . Selected Poems of Edna St. Vincent Millay is one of the most important books to land on my desk since the beginning of the year. I hope I have convinced you that it should become one of yours."—Barbara Berman, The Rumpus
"An unabashed feminist and sexual adventurer, the embodiment of the new woman of the Jazz Age, and, most important, a gifted poet, Millay enjoyed the plaudits of general readers and literary critics during the 1920s and early 1930s. . . . Selected Poems of Edna St. Vincent Millay is distinguished by its use of first-edition versions of poems, its scrupulous annotations, and a superb introduction by Peppe."—Choice
"This beautifully produced new edition takes as its raison d'être the scholarly neglect of Millay's poetry."—Melissa Girard, Legacy
"A new group of Millay poems calls for a reason to give praise, especially as this volume is annotated to provide literary and historical context."—Neal Wyatt, Library Journal
"Timothy F. Jackson and Holly Peppe, through their efforts with this edition, have made a potent contribution to Millay's legacy. . . . Through the poems they've chosen to feature in the book, contextualized by their introductory material and Jackson's illuminating annotations, they urge us to experience Millay in a more complete way than ever before."—Caitlin Doyle, Literary Matters
"Timothy F. Jackson's excellent new book . . . contains many good resources beyond annotations. . . . [It] is a gift to Millay scholarship, handsomely produced and stuffed with fascinating detail."—Lesley Wheeler, ALH Online Review

"Readers who've treasured and bookmarked their copies of the big Collected Poems volume from half a century ago might raise an eyebrow at the appearance of a new selection, but editor Timothy Jackson amply justifies the endeavor, not only with his intelligent selections from the poet's more famous work but also by including some previously unpublished poems."—Steve Donoghue, Open Letters Monthly
"Beautifully done."—Mickey Edwards, Aspen Institute, "The Best Books We Read in 2016"
"Yale University Press's edition of the Selected Poems of Edna St. Vincent Millay, superbly edited by Timothy Jackson, and with a brilliant introduction by Millay scholar Holly Peppe, constitutes a significant addition both to our understanding of Twentieth-Century American Poetry as well as to a fuller, more complex and balanced portrait of who the extraordinary poet Edna St. Vincent Millay was and—more importantly—is to readers searching for a more accurate picture of what made Modern Poetry modern. If she has been too often overlooked in the last half century and more, this edition will undoubtedly help restore Millay's brilliant, witty, and tragic feminine voice to her rightful place among the company of Hart Crane, Frost, Williams, Pound, Eliot and Stevens."—Paul Mariani, Boston College
"Edna St. Vincent Millay is like Robert Frost or Philip Larkin in that her poems would survive even if every professor and professional critic ignored them (as, at times, they have). Her poems are both ancient and modern, comprised of equal parts pain and elation, ravishing music and stark reality.  She can break your heart, or, perhaps more importantly, remind you of the person who once had a heart that could be broken."—Christian Wiman, author of My Bright Abyss
"Many of the poets and academics who once dismissed Edna St. Vincent Millay as minor, and stylistically old fashioned are themselves now unread, forgotten. Millay's poem are still powerfully alive. As this first rate edition shows."—Greg Delanty, author of Book Seventeen
"Assumptions about Millay's work are too often based on her early poems or the romantic lyrics. This exceptionally fine selection represents a wide range of Millay's work from her entire career. Brilliantly and meticulously edited, it offers an illuminating new perspective on Millay's achievement. Selected Poems of Edna St. Vincent Millay celebrates a force of nature whose artistry this elegant annotated edition brings to light."—Phillis Levin, author of Mr. Memory & Other Poems
ISBN:
9780300213966
Publication Date:
April 26, 2016
344 pages, 7-1/2 x 9-1/4
12 b/w illus.