Cambodia
WARNING
You are viewing an older version of the Yalebooks website. Please visit out new website with more updated information and a better user experience: https://www.yalebooks.com
From Pol Pot to Hun Sen and Beyond
Sebastian Strangio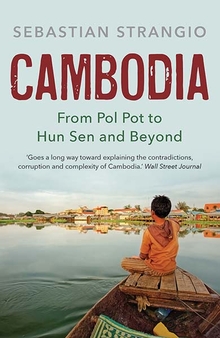 View Inside
Format:

Paper


Price:

$18.00
Also Available in:
Cloth
A fascinating look at the recent history of the beautiful but troubled Southeast Asian nation of Cambodia

"A richly detailed study that goes a long way toward explaining the contradictions, corruption and complexity of Cambodia."—Ron Gluckman, Wall Street Journal

To many in the West, the name Cambodia still conjures up indelible images of destruction and death, the legacy of the brutal Khmer Rouge regime and the terror it inflicted in its attempt to create a communist utopia in the 1970s. Sebastian Strangio, a journalist based in the capital city of Phnom Penh, now offers an eye-opening appraisal of modern-day Cambodia in the years following its emergence from bitter conflict and bloody upheaval.
 
In the early 1990s, Cambodia became the focus of the UN's first great post–Cold War nation-building project, with billions in international aid rolling in to support the fledgling democracy. But since the UN-supervised elections in 1993, the nation has slipped steadily backward into neo-authoritarian rule under Prime Minister Hun Sen. Behind a mirage of democracy, ordinary people have few rights and corruption infuses virtually every facet of everyday life. In this lively and compelling study, the first of its kind, Strangio explores the present state of Cambodian society under Hun Sen's leadership, painting a vivid portrait of a nation struggling to reconcile the promise of peace and democracy with a violent and tumultuous past.
Sebastian Strangio is a former reporter and editor at the Phnom Penh Post, Cambodia's oldest English-language newspaper. He is currently a journalist and independent analyst focusing on Southeast Asia.
"Hun Sen's Cambodia is an absorbing, clear-eyed evaluation of Cambodia today. Sebastian Strangio knows the country well, and has befriended many of its ordinary people. His book is a persuasive reading of the country's turbulent recent history, as it explores the connections between Hun Sen's enduring dictatorship and Cambodia's painful emergence, willy-nilly, into a larger, freer, very demanding world."—David Chandler, author of A History of Cambodia
"Sebastian Strango has written a long overdue exposé of Cambodian thugocracy and its westerner enablers. He traces the roots of the deeply flawed Khmer Rouge trial to the UN's failed attempt at democracy-building (UNTAC) in the early 1990s. In both cases, the UN and its cheerleaders in the human rights industry promised things they could not possibly deliver. Hun Sen's Cambodia is must-reading for anyone who wants to make sense of recent Cambodian history."—Peter Maguire, author of Facing Death in Cambodia
"Sebastian Strangio has filled a big void with this much-needed history of modern Cambodia. With solid research and thoughtful analysis he unravels the country's contradictions: the outlines of democracy yet under one-party rule; modernization by a small political elite that has earned a reputation for extreme corruption and greed; billions of dollars in foreign aid to help Cambodia's poor and billions of dollars in foreign contracts to cut down Cambodian forests, mine its resources and rob the locals of their land and livelihoods. All this against the backdrop of the temples of Angkor and a vaunted culture that draws millions of visitors to the country every year. This book will set the standard for years to come."—Elizabeth Becker, author of When the War Was Over: Cambodia and the Khmer Rouge Revolution
"Sebastian Strangio has written an exceptionally insightful biography of the world's longest serving prime minister. Strangio entwines his narrative of Hun Sen's life with a first-class analysis of contemporary Cambodian political history. This book is accessible to the general reader as well as Southeast Asia specialists."—Carlyle A. Thayer, author of WarBy Other Means: National Liberation and Revolution in Vietnam
"Mr Strangio has done much original reporting, peeling away the miracle narrative to reveal the bruised fruit beneath."—The Economist
"Sebastian Strangio provides a richly detailed study that goes a long way toward explaining the contradictions, corruption and complexity of Cambodia. . . . it's a remarkably well-researched, astonishing portrayal of Cambodia's own Fidel Castro, a folksy, self-styled godfather and his thugocracy."—Ron Gluckman, The Wall Street Journal
ISBN:
9780300211733
Publication Date:
October 20, 2020
344 pages, 5 x 7 3/4
33 b/w illus.