The Political Spectrum
WARNING
You are viewing an older version of the Yalebooks website. Please visit out new website with more updated information and a better user experience: https://www.yalebooks.com
The Tumultuous Liberation of Wireless Technology, from Herbert Hoover to the Smartphone
Thomas Winslow Hazlett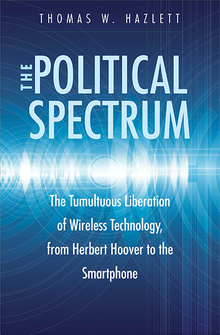 View Inside
Format:

Hardcover


Price:

$37.00
From the former chief economist of the FCC, a remarkable history of the U.S. government's regulation of the airwaves

Popular legend has it that before the Federal Radio Commission was established in 1927, the radio spectrum was in chaos, with broadcasting stations blasting powerful signals to drown out rivals. In this fascinating and entertaining history, Thomas Winslow Hazlett, a distinguished scholar in law and economics, debunks the idea that the U.S. government stepped in to impose necessary order. Instead, regulators blocked competition at the behest of incumbent interests and, for nearly a century, have suppressed innovation while quashing out-of-the-mainstream viewpoints.
 
Hazlett details how spectrum officials produced a "vast wasteland" that they publicly criticized but privately protected. The story twists and turns, as farsighted visionaries—and the march of science—rise to challenge the old regime. Over decades, reforms to liberate the radio spectrum have generated explosive progress, ushering in the "smartphone revolution," ubiquitous social media, and the amazing wireless world now emerging. Still, the author argues, the battle is not even half won.
Thomas Winslow Hazlett holds the H. H. Macaulay Endowed Professorship in Economics at Clemson University, where he also directs the Information Economy Project.
"A masterpiece of wisdom and wit, The Political Spectrum proves that, when applied to the airways, the higher the stakes, the higher the waste. Tom Hazlett's narrative is comprehensive, incisive, and characteristically hilarious."—Vernon L. Smith, Chapman University, 2002 Nobel Laureate in Economics
"In this book, Thomas W. Hazlett shows how administrative management of the radio spectrum has always been inefficient and, with the mobile and digital revolutions, the costs of not allocating spectrum by the market are rising dramatically. This is a deadly serious subject, but Hazlett's engaging writing style vastly enlivens it."— Martin Cave, author of Spectrum Management—How to Get the Best Out of the Airwaves for Society and the Economy
"A masterful book written in an agreeably informal and non-technical style, this is essential reading for anyone interested in the law and economics of spectrum allocation, from Marconi to the Internet."—H.E. Frech III, University of California, Santa Barbara
"Among [the] proponents of a market for spectrum, none is more vocal and persuasive than. . . . Thomas Hazlett. . . . Hazlett has done an extraordinary service demonstrating the harm of government-managed spectrum."—Lawrence Lessig, The Future of Ideas
"Few understand spectrum, and yet few things are more important to our networked future. Tom Hazlett covers it all superbly. A monumental work."—Gerald Faulhaber, The Wharton School and School of Law, University of Pennsylvania
"Tom Hazlett describes convincingly and clearly how federal regulation of the radio spectrum epitomizes crony capitalism in the U.S. With colorful writing and extensive research, The Political Spectrum demonstrates how spectrum regulation provides politicians and regulators with a goody bag of campaign contributions while in office and high-salaried jobs afterwards, all at the expense of the general welfare."—Bruce M. Owen, Emeritus Professor of Public Policy, Stanford University
"Leading policy scholar, Thomas Hazlett, presents a stinging critique of rules governing 'spectrum'—and tells us how to improve things. Insightful, witty, and chock-full of rich historical accounts, the book is illuminating and a pleasure to read."—Marius Schwartz, Professor of Economics, Georgetown University, and former Chief Economist, FCC
"An insightful, entertaining account of U.S. communications policy history. All serious students of regulation in practice will benefit from Hazlett's dissection of the Federal Communications Commission's leading decisions and its failure modes. I read it twice, cover to cover."—Peter Pitsch, former Chief of the FCC Office of Plans & Policy
"Understanding wireless demands expertise in science, economics and government, requiring a top-notch, ambidextrous analyst. Tom Hazlett has plowed all the ground. What can't be learned in this riveting and instructive tour d'horizon is likely not worth knowing."—Fred S. McChesney, University of Miami
"Tom Hazlett shows convincingly that, with the best of intentions (and often not), artificial limits on spectrum use have limited access news, information, public service and arts and culture."—Adam Clayton Powell III, Director, Washington Programs, USC Annenberg Center on Communication Leadership and Policy, University of Southern California
"A perfect blend of economic insight, historical anecdotes, and lessons that present and future regulators in any industry can use to benefit citizens and society rather than being guided by their own aims, biases, or fears. Anybody interested in telecom, politics, regulation, or economics should read this book; they will learn much."—Jeffrey Dorfman, Forbes.com
"Mr. Hazlett provides a fascinating history. . . . The Political Spectrum is full of valuable instruction—especially for lawyers, economists and other students of regulation for whom the book provides example after example of the strategic use of the regulatory process. Potential entrepreneurs in fields where regulation may be a barrier—fintech, pharma and transportation, for example—will benefit too, finding cautionary tales about how to enter a market with a disruptive idea."—Gregory L. Rosston, Wall Street Journal
ISBN:
9780300210507
Publication Date:
May 23, 2017
416 pages, 6-1/8 x 9-1/4
19 b/w illus.