Silent Partners
Artist and Mannequin from Function to Fetish
Jane Munro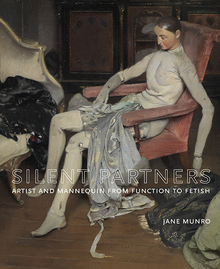 View Inside
Format:

Cloth


Price:

$50.00
The articulated human figure made of wax or wood has been a common tool in artistic practice since the 16th century. Its mobile limbs enable the artist to study anatomical proportion, fix a pose at will, and perfect the depiction of drapery and clothing. Over the course of the 19th century, the mannequin gradually emerged from the studio to become the artist's subject, at first humorously, then in more complicated ways, playing on the unnerving psychological presence of a figure that was realistic, yet unreal—lifelike, yet lifeless.
 
Silent Partners locates the artist's mannequin within the context of an expanding universe of effigies, avatars, dolls, and shop window dummies. Generously illustrated, this book features works by such artists as Poussin, Gainsborough, Degas, Courbet, Cézanne, Kokoschka, Dalí, Man Ray, and others; the astute, perceptive text examines their range of responses to the uncanny and highly suggestive potential of the mannequin.
Jane Munro is a curator in the Department of Paintings, Drawings and Prints at the Fitzwilliam Museum and director of studies in history of art at Christ's College at the University of Cambridge. 

EXHIBITION SCHEDULE
Musée Bourdelle, Paris
(03/15/15–05/15/15)
Fitzwilliam Museum
(10/14/14–01/15/15)
'[A] fascinating and scholarly new book. . . Jane Munro introduces this book by saying her aim is 'to give the artist's 'silent' partner a voice'. She certainly succeeds, as well as providing enough rich, often disturbing, material for contemplation in a world where the allure of androids and avatars is only increasing.'—Marcus Field, Art Quarterly
'This intriguing history has been brought to light in this exquisitely detailed book and exhibition by Jane Munro of the Fitzwilliam Museum in Cambridge.'—Apollo.

ISBN:
9780300208221
Publication Date:
November 25, 2014
Publishing Partner:
Published in association with the Fitzwilliam Museum
280 pages, 8 1/2 x 11
220 color + 50 b/w illus.