Well-Grounded
WARNING
You are viewing an older version of the Yalebooks website. Please visit out new website with more updated information and a better user experience: https://www.yalebooks.com
The Neurobiology of Rational Decisions
Kelly Lambert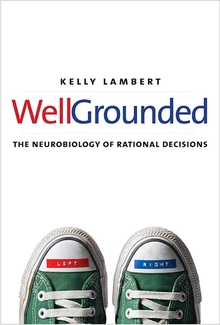 View Inside
Format:

Hardcover


Price:

$28.00
A neuroscientist reveals unique aspects of decision-making and the best strategies for protecting and enhancing the brain's ability to navigate life's uncertainties
 
Contingency calculations—the ability to predict the outcomes of decisions and actions—are critical for survival and success. Our amazing brains continually process past and current experiences to enable us to make the most adaptive choices. But when the brain's information systems are compromised—by such varying conditions as drug addiction, poverty, mental illness, or even privilege—we can lose the ability to arrive at informed decisions.
 
In this engaging book, behavioral neuroscientist Kelly Lambert explores a variety of the modern factors that can lead to warped neural processing, or distorted realities she terms "brain bubbles." Individuals who define success in terms of creature comforts and immediate gratification, for instance, may interact less with the physical and social world and thereby dull their ability to imagine varied contingency scenarios. The author underscores how continuous, meaningful, and well-grounded experiences are required if we are to make the best decisions throughout our lives.
Kelly Lambert is an award-winning professor of behavioral neuroscience at the University of Richmond and author of four previous books, including Lifting Depression and The Lab Rat Chronicles.
"Well-Grounded: The Neurobiology of Rational Decisions gives us a tour of how our brains try to detect and act upon accurate contingencies – in other words, to make right decisions. And in teaching why we so often fail dismally at this, Kelly Lambert reveals the roots of frequent personal and societal misery. With clear, accessible, and witty writing, Well-Grounded is an important guidebook in a world endlessly luring us into making terrible, irrational decisions."—Robert Sapolsky, author of Behave: The Biology of Humans at Our Best and Worst
"With a deftly funny touch but a deeply serious message, Kelly Lambert takes us into the world of the brain and its basic need to wrestle with the real world—not the world of soothing superstition and wishful thinking, but the world as it really is. Our brains are more healthy, resilient, happy, and sensible when they engage honestly with the physical and social worlds we live in. Brilliantly done."—Patricia Churchland, author of Touching a Nerve: The Self as Brain and Braintrust: What Neuroscience Tells Us about Morality
"In her intriguing and compassionate book, Kelly Lambert, one of the most well-grounded scientists I know, provides a timely guide on avoiding the dangers of 'brain bubbles.'"—Katherine Ellison, Pulitzer Prize-winning journalist and author of Buzz: A Year of Paying Attention
"Kelly Lambert is one of the few scientists who can see how her research ties into the wider world, who understands why that's important, and who can explain it all to the rest of us. Read and enjoy this book."—Paul Raeburn, co-author of The Game Theorist's Guide to Parenting
"Kelly Lambert's Well-Grounded, written with an informal and light-hearted tone, harbors numerous deep insights regarding human behavior. It's easy to understand why the author has garnered so many teaching awards."—Peter Sterling, co-author with Simon Laughlin of Principles of Neural Design
"Kelly Lambert has a gift for popularizing complex scientific concepts and weaving the information into interesting and compelling story lines."—Donald G. Stein, Director of the Brain Research Lab, Emory University
ISBN:
9780300207309
Publication Date:
September 25, 2018
312 pages, 6 1/8 x 9 1/4
21 b/w illus.