My Backyard Jungle
WARNING
You are viewing an older version of the Yalebooks website. Please visit out new website with more updated information and a better user experience: https://www.yalebooks.com
The Adventures of an Urban Wildlife Lover Who Turned His Yard into Habitat and Learned to Live with It
James Barilla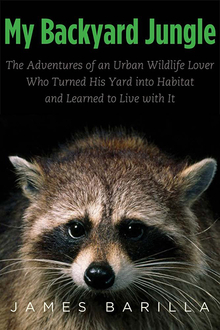 View Inside
Format:

Paper


Price:

$16.00
Also Available in:
Cloth
The captivating story of an urban family who welcomes wildlife into their backyard and discovers the ups and downs of sharing habitat

For James Barilla and his family, the dream of transforming their Columbia, South Carolina, backyard into a haven for wildlife evoked images of kids catching grasshoppers by day and fireflies at night, of digging up potatoes and picking strawberries. When they signed up with the National Wildlife Federation to certify their yard as a wildlife habitat, it felt like pushing back, in however small a way, against the tide of bad news about vanishing species, changing climate, dying coral reefs. Then the animals started to arrive, and Barilla soon discovered the complexities (and possible mayhem) of merging human with animal habitats. What are the limits of coexistence, he wondered?
To find out, Barilla set out across continents to explore cities where populations of bears, monkeys, marmosets, and honeybees live alongside human residents. My Backyard Jungle brings these unique stories together, making Barilla's yard the centerpiece of a meditation on possibilities for coexistence with animals in an increasingly urban world. Not since Gerald Durrell penned My Family and Other Animals have readers encountered a naturalist with such a gift for storytelling and such an open heart toward all things wild.
James Barilla is associate professor in the MFA program of the University of South Carolina, where he teaches creative nonfiction and environmental writing. He lives in Columbia, SC.
"Barilla is a fine stylist—his writing is thoughtful, colorful, and sometimes wittily self-deprecating—who helps us to better understand the unfamiliar natural world near our homes and to realize how many habitats coexist on Earth."—Publishers Weekly
"This is carefully researched, up-to-date, and above all readable work that explores the relationship between humans and other species by considering the pros and cons of 'inviting' (or at least tolerating) the presence of wild animals in urban (and even domestic) spaces. James Barilla interweaves personal narrative, philosophical considerations, urban planning concepts, and wildlife biology in a graceful, playful way reminiscent of Barry Lopez and Christopher Cokinos."—Scott Slovic, University of Idaho
"With the fresh eyes of a curious child, Barilla takes us on a wonderful journey to discover, appreciate, and coexist with the diversity of life—the rare, common, regaled, despised, and feared animals—in and around our homes."—John Marzluff, co-author of The Gifts of the Crow, Dog Days, Raven Nights, and In the Company of Crows and Ravens
"In today's world wildlife are burgeoning in unexpected places – our urban centers.  While few people are equipped or willing to accept these wild neighbors Barilla encourages them in his own backyard and pursues them through encounters leading from Brooklyn to Florida and Delhi to Brazil.  The resulting tales are entertaining and insightful."—David Foster, author of Forests in Time, The Environmental Consequences of 1,000 Years of Change in New England
"James Barilla is a gifted story teller . . . a modern Gerald Durrell. . . . I have never been so enthralled with the notion of a zoo in our backyards."—Margaret Lowman, author of Life in the Treetops: Adventures of a Woman in Field Biology and of It's a Jungle Up There: More Tales from the Treetops

"Barilla's gripping and provocative dispatches confirm that in our time, human and wildlife coexistence—a formula for awe, danger, and controversy—is a complex process of trial and error." —Donna Seaman, Publishers Weekly
"Barilla's ultimate message is both simple and powerful: To work toward coexistence means setting aside all notions of species-ism and cultivating an open, ecologically aware mind. Intelligent and quietly provocative."—Kirkus
"Ultimately, Barilla's gripping and provocative dispatches confirm that in our time, human and wildlife coexistence—a formula for awe, danger, and controversy—is a complex process of trial and error."—Donna Seaman, Booklist
"My Backyard Jungle is a fascinating exploration for anyone interested in wildlife and the human's role in the great circle of life." —Jen Forbus, Shelf Awareness
"I had the sense that he is the kind of author I'd like to have a coffee or a beer with, which is what you want in a storyteller. In this fun and compelling book, he is that guy, telling you about his yard."—Rob Dunn, BBC Wildlife Magazine
Won Honorable Mention in the 2013 Great Midwest Book Festival for the General Non-Fiction category, given by JM Northern Media LLC
ISBN:
9780300205664
Publication Date:
April 29, 2014
384 pages, 5 1/2 x 8 1/4
8 b/w illus.