Breaking the Logjam
WARNING
You are viewing an older version of the Yalebooks website. Please visit out new website with more updated information and a better user experience: https://www.yalebooks.com
Environmental Protection That Will Work
David Schoenbrod, Richard B. Stewart, and Katrina M. Wyman; Illustrations by Deborah Paulus-Jagric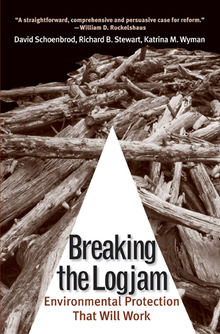 View Inside
Format:

Paper


Price:

$30.00
Also Available in:
Cloth
After several decades of significant but incomplete successes, environmental protection in the United States is stuck. Administrations under presidents of both parties have fallen well short of the goals of their environmental statutes. Schoenbrod, Stewart, and Wyman, distinguished scholars in the field of environmental law, identify the core problems with existing environmental statutes and programs and explain how Congress can fix them. Based on a project the authors led that incorporated the work of more than fifty leading environmental experts, this book is a call to action through public understanding based on a nonpartisan argument for smarter, more flexible regulatory programs to stimulate the economy and encourage green technology.
David Schoenbrod is  professor at New York Law School, former attorney for the Natural Resources Defense Council, and visiting scholar at the American Enterprise Institute. Richard B. Stewart is professor at NYU School of Law and is former chairman of the Environmental Defense Fund. Katrina M. Wyman is professor of law at NYU School of Law.
"A thought-provoking book and a welcome opportunity to grapple with some of the central environmental issues confronting our nation."—Stephen L. Kass, New York Law Journal

"The old environmental laws and approaches have run their course, and we urgently need an intensive period of environmental law reform. That's the message of this insightful, stimulating book. You don't have to agree with everything in it to appreciate that it points us plainly to the right path. A must read."—James Gustave Speth, author of Red Sky at Morning:  America and the Crisis of the Global Environment and The Bridge at the Edge of the World:  Capitalism, the Environment, and Crossing from Crisis to Sustainability
"Schoenbrod, Stewart, and Wyman have done a masterful job fusing four simple principles into a blueprint for sensible reform of environmental law from top to bottom. Business as usual isn't working anymore, and if the logjam in Congress can be broken, this is the way to do it. Indeed, Breaking the Logjam should be required reading not just for Congress, but for everyone in statehouses, environmental agencies, industry, and environmental groups."—J. B. Ruhl, Florida State University College of Law
"Environmental policy is in urgent need of new ideas to rejuvenate aging and gridlocked frameworks.  This book delivers a smorgasbord of exciting, creative and practical proposals to meet this need."—Gary Marchant, Arizona State University
"The authors remind us that a number of our environmental laws are not achieving their important goals. Breaking the Logjam documents the power of well-regulated markets to achieve significant improvements in air quality and challenges us to incorporate those lessons more broadly, hopefully provoking a valuable national discussion on these complex issues."—Fred Krupp, President, Environmental Defense Fund
"Our environmental laws badly need re-thinking. This book makes that case and then charts a course for action.  A straightforward, comprehensive and persuasive case for reform."—William D. Ruckelshaus, Former EPA Administrator
"Ambitious, balanced, and engaging, Breaking the Logjam itself breaks new ground by offering Congress a timely and much-needed blueprint for addressing the nation's most pressing environmental problems, including climate change."—Richard J. Lazarus, author of The Making of Environmental Law
"Breaking the Logjam is a thoughtful, deliberative, easy-to-read digest about the state of environmental policy today.  With specific proposals, the authors add their authoritative voices to the call for a more robust statutory framework to enable the country to achieve further environmental progress, which at the moment is stalled and needs to be rekindled."—William K. Reilly, Administrator, U.S. Environmental Protection Agency, 1989-93
"A newly evolving breed of environmental pragmatists would do well to consider the recommendations that Schoenbrod, Stewart, and Wyman make in Breaking the Logjam."—Robert H. Nelson, Regulation

"Avoiding the polarities of environmental rollback or defending every jot and ittle of legislation passed almost four decades ago, [Breaking the Logjam] offers solid reform for reconciling environmental protection with economic growth by means of less intrusive, more effective regulation."—Tracy Mehan, Environmental Forum
"Schoenbrod, Stewart and Wyman perform a great service with their new book. . . . [They] give readers a strong framework for rethinking the environmental regulatory structure and a possible means to get environmental protection moving again."—Choice
"Breaking the Logjam . . . offers a range of realistic, informed proposals for reform. . . . It offers solid reform for reconciling environmental protection with economic growth by means of less intrusive, more effective regulation."—G. Tracy Mehan III, The Environmental Forum
ISBN:
9780300171488
Publication Date:
February 7, 2012
216 pages, 5 1/2 x 8 1/4
10 b/w illus.