Children in Jeopardy
WARNING
You are viewing an older version of the Yalebooks website. Please visit out new website with more updated information and a better user experience: https://www.yalebooks.com
Can We Break the Cycle of Poverty?
Irving B. Harris; Foreword by Donald J. Cohen, M.D.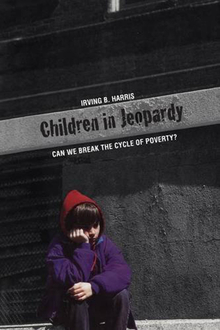 View Inside
Format:

Paper


Price:

$29.00
Also Available in:
Cloth
American children are in crisis. Inner cities are filled with violence and massive drug problems; families are dysfunctional; illiteracy is rising; society's efforts to combat educational failure, poverty, crime, and disease have created an enormous economic debt for the future. In this compassionate and controversial book Irving Harris argues that the key to breaking the cycle of poverty, hopelessness, and violence is very early intervention: we must provide adequate caregiving to children from birth to age three and—to stop the cycle even sooner—we must discourage pregnancy among adolescents.
Harris, a successful businessman, has devoted himself to children's causes for the past forty years and has initiated and funded numerous programs geared to children and families. He presents data from research in pediatrics, social work, nursing psychology, and education showing that children who receive early nurturing and stimulation are far more likely to have success in school and in life. He urges that the government build more day-care centers and train more caregivers and public-health nurses for babies and small children; that schools offer instruction and counseling in prenatal care; and that there be easier access to contraceptives and abortions in order to reduce unwanted pregnancies.


Published by the Yale Child Study Center in association with Yale University Press
 "Irving Harris has the pragmatism of a businessman and the eloquence of a prophet, and he brings both to his analysis of how our poorest children are being shortchanged. In Children in Jeopardy, he lays out the devastating consequences of our piecemeal and punitive approach—for these kids and for our society. He also gives us a blueprint for the humane and practical social policy that we desperately need."—Albert Shanker, President of the American Federation of Teachers 



"Harris has written a wide ranging and readable account of the latest findings in child development and analyzed how the research fits with public policies and professional practices. A hard headed businessman, he makes a persuasive case for increasing our commitment to children, particularly those most at risk. Intelligently considered and passionately presented, it is must reading for all who care about our future."—Barbara T. Bowen, President, Erikson Institute

"A revealing discussion of the problems among America's most disadvantaged children and how they ought to be addressed. Harris's thought-provoking book is required reading for anyone concerned about the lack of informed national policies to protect youngsters at risk."—William Julius Wilson, Lucy Flower University Professor of Sociology and Public Policy, University of Chicago


"What an impressive statement. I hope everyone interested in the future of our nation will read this book. Written by a person with a rare combination of insights—philanthropist, business man and philosopher, it attacks the problems in the United States with a scholarly approach to the opportunities for prevention of these problems. 'Anything is possible if you try' should give us all hope and vigor for the fight."—Thomas Berry Brazleton, M.D., Professor Emeritus of Pediatrics, Harvard Medical School

"It's wonderful to read a book viewed through the eyes of a business leader whose vision extends much farther than the eye can see. As we are walked through the dark tunnels of life of poverty, unplanned, unwanted children, we can feel the added insults of poverty, poor parenting, lack of access to health care, drugs, poor schools, and poor environment. This book should be a must read for all people concerned about children and all political leaders concerned about the future of this country. Hopefully, they will understand the importance of health and education as investments in the future of society as opposed to an expense."—M. Joycelyn Elders, M.D.

"Harris talks about the importance of seeing things in practical as well as humanitarian terms. When large numbers neglect and fail to get their basic needs met, their lives are likely to be blighted. But that is not merely a problem for those children and profound practical consequences—social, economic, and political—for everyone."—Albert Shanker, from an advertisement for a Children's day rally in D.C.

"Children in Jeopardy makes a strong and urgent case for devoting more money and resources to the first years of life, especially for at-risk youngsters. . . . The book is invaluable for its innovative ideas. Its caring and its from-the-trenches accounts of how difficult solutions really are."—Stephen Chapman, Chicago Tribune

"Harris has enormous vision. His book contains sobering statistics, yet he provides a blueprint for a desperately needed practical social policy. Children in Jeopardy is required reading for parents, legislators, physicians, teachers, social workers, indeed for us all."—Estelle Shanley, Chicago Books in Review

"At a time of wholesale retrenchment of antipoverty policy, Irving Harris' Children in Jeopardy: Can We Break the Cycle of Poverty? comes as a bracing tonic for anyone concerned with the plight of America's disadvantaged children. . . . [It] is a welcome rejoinder to the attitude, currently in fashion in mainstream political discourse, that reduces the problem of poverty to the question: how can we spend fewer public monies to deal with it? Perhaps the best recommendation is for child health clinicians to buy multiple copies of this book, send one to each of their elected representatives, and then meet with them and ask, 'what are you doing about this?'"—Alan F. Meyers, M.D., Journal of the American Medical Association

"Harris makes a convincing case for a new, targeted set of interventions into the worsening problems of poor children in the U.S."—Choice


"This persuasive and readable work is a valuable resource which highlights the importance of integrating social policy and research, as well as funding prevention and early intervention programs. . . . The information presented is clear, thought-provoking and extensive. . . . This book is intended for anyone interested in the welfare of children and families and could be useful in both undergraduate and graduate courses."—Rene Hallam, Family Relations

"This book presents a valuable selection of programs that work and is a useful analysis of deficits in the provision of services for young children. It is well written, and the selection of supporting literature and statistics is excellent. . . . It should be read by students and professionals concerned with the needs of preschool children."—Harris Chaiklin, The Journal of Nervous and Mental Disease

ISBN:
9780300199802
Publication Date:
May 28, 2013
Publishing Partner:
Published by the Yale Child Study Center in association with Yale University Press
268 pages, 6 x 9