George Seferis
WARNING
You are viewing an older version of the Yalebooks website. Please visit out new website with more updated information and a better user experience: https://www.yalebooks.com
Waiting for the Angel: A Biography
Roderick Beaton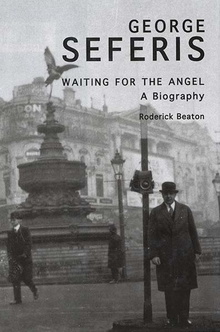 View Inside
Format:

Paper


Price:

$50.00
Also Available in:
Cloth
The first biography in any language of one of the world's greatest modernist poets

Poet, essayist, diarist, novelist, and diplomat, George Seferis brought about a revolution in the way people viewed his native Greece. Acclaimed for his thought-provoking lyric poetry, he was awarded the Nobel Prize for Literature in 1963. At the same time, he rose in the diplomatic corps to the position of Ambassador to Britain. This elegantly written book—the first full biography of Seferis—provides insights into his work, life, and country. Roderick Beaton, an acknowledged authority on modern Greek literature and culture, draws on previously unknown sources to tell Seferis's story. He describes how Seferis occupied key diplomatic positions during periods of historic crisis before, during, and after World War II. He explores Seferis's service as Ambassador to London at a time when Greece and Great Britain were disputing the future of Cyprus, noting that some of Seferis's finest poetry was written about that troubled island. He analyzes Seferis's literary production and his impact on Lawrence Durrell, Henry Miller, and other British and American writers. Exploring the interplay between poet and diplomat, public and private, and poetry and politics in Seferis's life and career, this book will fascinate anyone interested in twentieth-century Greek literature, culture, or history.
Roderick Beaton is Koraes Professor of Modern Greek and Byzantine History, Language and Literature, King's College London (University of London). He is the author of the novel Ariadne's Children, as well as numerous scholarly works on modern Greek literature.
"Beaton's treatment of both the literary and political facets of Seferis's life—and their interrelation—is carefully researched, judicious, and felicitously expressed. The biography is not only an essential source for readers of Seferis's poetry; the evocation of his diplomatic career makes it valuable reading for all with an interest in twentieth-century Greek history."—Edmund Keeley, co-translator of Seferis's Collected Poems
"This is a splendid work, one that will bring one of the twentieth century's two finest poets (Yeats is the other) to a wide audience which needs, more than ever, to hear his strong, beautiful voice."—Richard Martin, Stanford University
"Magisterial. . . . George Seferis: Waiting for the Angel wears its scholarship lightly, making it easy and fascinating to read. Not only does it re-create Seferis' life in a vivid way, it discusses his poetry, prose and diaries with much intelligence and grace."—Mavis Manus, Hellenic Journal
"For anyone interested in Greek history or in the machinations of the British in the last century, Beaton's behind-the-scenes account of Seferis' diplomatic career makes gripping reading. . . . Beaton's biography is not only definitive, but a labor of love, paying its subject the enormous tribute of careful, unprejudiced attention. . . . The book should spark new interest in a great European poet of exile and longing, whose deep intelligence was matched by a phenomenal lyric gift."—Maria Margaronis, Los Angeles Times Book Review
"[A] welcome biography. . . . Useful as much to students of modern history as to lovers of Seferis' poetry. . . . Beaton's biography does not diminish the life but tells it simply and eloquently in a lucid historical context. Beaton is especially illuminating about the forms and backgrounds of the poems. His book is an enrichment. . . Thorough in its scholarship and graceful in its style."—David Mason, The Hudson Review
"An elegant, well-researched and politically astute study."—Peter Green, Times Literary Supplement
"The scholarly research that has gone into this book is breathtaking. . . . [This book] constitutes a major contribution to our understanding of a major poet of the twentieth century. No Seferie scholar will be able to dispense with it."—Sarah Ekdawi, Journal of Hellenic Studies
Winner of the 2004 Runciman Award

ISBN:
9780300197563
Publication Date:
August 6, 2003
544 pages, 6 x 9 1/2
40 b/w illus.