The Yaquis and the Empire
WARNING
You are viewing an older version of the Yalebooks website. Please visit out new website with more updated information and a better user experience: https://www.yalebooks.com
Violence, Spanish Imperial Power, and Native Resilience in Colonial Mexico
Raphael Brewster Folsom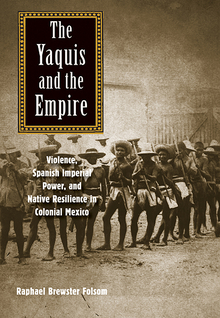 View Inside
Format:

Cloth


Price:

$35.00
This groundbreaking new study examines the history of the Yaqui people and their interactions with the Spanish Empire from first contact through Mexican independence. The Yaquis and the Empire focuses on three ironies: the Yaquis both resisted and came to value their ties with empire; processes of violence and negotiation were ongoing and intertwined throughout the colonial period; and the empire, though weak in manpower and distant from its bases of military and financial strength, was surprisingly effective in its drive to transform the Mexican northwest.
 
Using extensive, newly unearthed documentation from archives in Mexico, Spain, the United States, and Italy, Folsom shines brilliant light on the dreams, struggles, and tragedies of all participants in the drama of encounter. This finely wrought portrait of the Yaqui people in colonial times shows in vivid detail how natives, Jesuits, settlers, and government officials together brought a distinctive borderlands society into existence.
 
Published in Cooperation with the William P. Clements Center for Southwest Studies, Southern Methodist University
Raphael Brewster Folsom is assistant professor of history at the University of Oklahoma.
"This book ranks among the best histories of American borderlands, the always contested countries just beyond established power. Folsom's brilliant study is a masterly integration of anthropological wisdom about the Yaqui into his own original, rich, wonderfully developed historical research. He illustrates the formation of the Yaqui people through centuries of complicated military, social, religious, economic, and political engagement with the Spanish empire, which claimed them but could never dominate them. It is excellent scholarship, a richly significant story, and a deeply impressive read."—John Womack, Harvard University
"The Yaquis and the Empire is a textured, surprising, and engrossing narrative of colonial compromises in New Spain's fraught northwestern borderland. Folsom builds honestly and intelligently on previous Yaqui scholarship. But in ways small and large he surpasses existing literature through his pioneering archival research, his shrewd analysis, and his gifted narrative prose. This book is indispensable for understanding the Spanish-Yaqui relationship, and a provocative meditation on the limits of early modern imperialism more generally." — Brian DeLay, author of War of a Thousand Deserts: Indian Raids and the U.S.-Mexican War.
"The Yaquis and the Empire details failed conquests, Jesuit visions, mission adaptations, and Bourbon assertions to reveal how Yaquis mixed war, diplomacy, and cultural innovation to remain dominant in northwestern New Spain under Spanish rule. An essential new vision." —John Tutino, Georgetown University
"This richly documented history of Yaqui relations with colonists and Spanish imperial authorities over the course of three centuries is written with brio and an eye for subtleties and suggestive comparisons. Readers will find in Juan Calixto Ayamea, leader of the famous 1740 rebellion, a touchstone to all that engagement and agency could mean in this setting—alliance, diplomacy, silent collaboration, and resistance in its many forms."— William B. Taylor, University of California, Berkeley
"Folsom's insights are profound. . .   After reading this book, one is no longer surprised that Yaquis appear so often in the historical record as both rebels and imperial soldiers.  Nor is one surprised that the Yaquis of the twentieth century could be first hated by the Porfirian regime and later favored by Cárdenas; enslaved and then emancipated; and reviled and finally redeemed in the eyes of the central state.  Folsom shows us that these more recent events belong to a much longer and deeper history of Yaqui pragmatism and survival."—Sean McEnroe, The Americas.  
"The principal objective of the author is to detect the ironies inherent in Yaqui history, while keeping in mind older ideas about the Yaquis, above all those of anthropologists, and at the same time to amplify the theoretical and empirical base on which Yaqui history can be reelaborated.   This objective is thoroughly achieved over the course of seven chapters and an epilogue that orients us in the Yaqui struggle with republican Mexico. . . .  [The book has] magnificent photographs, a very useful index, and above all diaphanous and attractive writing." —Raquel Padilla Ramos, The Hispanic American Historical Rview
Winner of the 2015 Latin American Studies Association Social Science Book Award.
Runner-up for the 2015 David J. Weber-Clements Prize given by the Western History Association.
Winner of the 2016 Phi Alpha Theta Book Award for the Best Book on the American West, the award is jontly sponsored by the Charles Redd Center for Western Studies at Brigham Young Uiversity and Phi Alpha Theta.
Winner of the 2016 Border Regional Library Association's Southwest Book Award.
ISBN:
9780300196894
Publication Date:
November 11, 2014
312 pages, 6 1/8 x 9 1/4
8 b/w illus.