Intimate Collaborations
Kandinsky and Münter, Arp and Taeuber
Bibiana K. Obler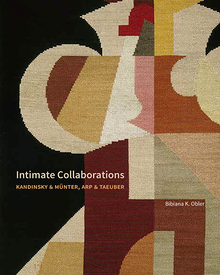 View Inside
Format:

Cloth


Price:

$65.00
This compelling examination of the work and lives of Expressionist artists Wassily Kandinsky and Gabriele Münter and Dadaists Hans Arp and Sophie Taeuber illuminates the roles of gender and the applied arts in abstraction's early days. Both couples, like Expressionism and Dada more generally, strived to transcend the fragmented individualism promoted by capitalism. Through abstraction and by unsettling the boundaries between the decorative and fine arts, they negotiated tensions between the philosophical and commercial aspects of their production. Both pairs were feminist—the women ambitious and the men supportive of their work—but theirs was a feminism that embraced differences between the sexes. This innovative look at the personal relationships of two influential artist couples shows how everyday life—mundane concerns along with spiritual and intellectual endeavors—informed the development of abstraction.
Bibiana K. Obler is assistant professor of art history at George Washington University, Washington, D.C.
"Minutely observed and sweeping in its scale, this is an important, even audacious book."—Kimberly Smith, Southwestern University
"Intimate Collaborations is several books in one. In her casual and yet enviably sophisticated prose, Obler offers close, persuasive readings of artwork and artist writings by several of the most important twentieth-century artists in the German-speaking world. At the same time—by exploring the artistic range of these well-known artist couples and the collaborative nature of their practice—she challenges stubborn assumptions about the relationship between expressionism and Dada, as well as the fine and applied arts of the period. A must-read for anyone interested in expressionism, Dada, abstraction, and the European avant-garde."—Lynette Roth, Harvard Art Museums/Busch-Reisinger Museum
Winner of the SECAC (Southeastern College Art Conference) Award for Excellence in Scholarly Research and Publication.
ISBN:
9780300195798
Publication Date:
May 6, 2014
272 pages, 8 x 10
70 color + 55 b/w illus.