Ship of Death
WARNING
You are viewing an older version of the Yalebooks website. Please visit out new website with more updated information and a better user experience: https://www.yalebooks.com
A Voyage That Changed the Atlantic World
Billy G. Smith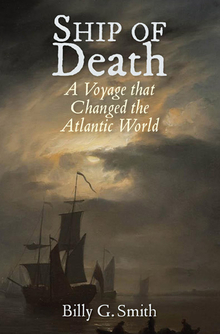 View Inside
Format:

Cloth


Price:

$35.00
How a ship of British idealists sailed to Africa to end the slave trade but instead ignited a yellow fever pandemic

It is no exaggeration to say that the Hankey, a small British ship that circled the Atlantic in 1792 and 1793, transformed the history of the Atlantic world. This extraordinary book uncovers the long-forgotten story of the Hankey, from its altruistic beginnings to its disastrous end, and describes the ship's fateful impact upon people from West Africa to Philadelphia, Haiti to London.
Billy G. Smith chased the story of the Hankey from archive to archive across several continents, and he now brings back to light a saga that continues to haunt the modern world. It began with a group of high-minded British colonists who planned to establish a colony free of slavery in West Africa. With the colony failing, the ship set sail for the Caribbean and then North America, carrying, as it turned out, mosquitoes infected with yellow fever. The resulting pandemic as the Hankey traveled from one port to the next was catastrophic. In the United States, tens of thousands died in Philadelphia, New York, Boston, and Charleston. The few survivors on the Hankey eventually limped back to London, hopes dashed and numbers decimated. Smith links the voyage and its deadly cargo to some of the most significant events of the era—the success of the Haitian slave revolution, Napoleon's decision to sell the Louisiana Territory, a change in the geopolitical situation of the new United States—and spins a riveting tale of unintended consequences and the legacy of slavery that will not die.
Billy G. Smith is Distinguished Professor of Letters and Science in the History Department of Montana State University, where he has won every major teaching and research award offered. He is the author or editor of eight books and dozens of articles. He lives in Bozeman, MT.
"This stunning book should catapult to the top of the must-read list for Atlantic basin studies. In this gripping, grisly story of slavery, rebellion and yellow fever holocaust ricocheting around the Atlantic rim, Smith brilliantly shows how stowaway mosquitoes on a single ship reconfigured the societies of Africa, Europe, the West Indies, and North America as well as the armies and navies of Great Britain and other maritime nations."—Gary B. Nash, UCLA
"Ship of Death is a magnificent achievement by a historian at the height of his powers. Bringing all of his considerable knowledge of yellow fever, slavery and anti-slavery to bear, Smith illuminates how social history can transform our understanding of the narratives of imperial and Atlantic World history."—Simon Newman, University of Glasgow
"Billy Smith's Ship of Death is a brilliant and entirely original history of the extraordinary voyages of the 'antislavery' ship Hankey back and forth across the Atlantic Ocean in 1792-93. It is a remarkable piece of historical detective work and, more important, an inspirational story of one of the earliest efforts by abolitionists to establish a haven of freedom for African workers who might otherwise have been enslaved."—Richard R. Beeman, author of Our Lives, Our Fortunes and Our Sacred Honor: The Forging of American Independence, 1774-1776 
"Ship of Death is an astonishing story, based on an even more astonishing craft of historical detection and reconstruction.  Billy G. Smith has written Atlantic history at its brilliant best."—Marcus Rediker, author of The Amistad Rebellion

"Packed with fascinating nuggets – such as the part played by that deadly cargo in the liberation of Haiti."—Nature
"[An] extraordinary new book about an anti-slavery initiative of the 1790s, which instead of ending slavery ended the lives of thousands of people on both sides of the Atlantic by bringing yellow fever from Africa to the Americas. Fine original scholarship by a top history sleuth – easy to read, eye-opening, heart-rending."—Ruth Richardson, Times Higher Education
"An excellent work of historical detection...While telling a fascinating story, Smith provides insight into the cultures and ethnocentricities of natives and colonists, and the workings of the slave trade. Essential for early American and Haitian revolution scholars and medical historians. Highly Recommended."—Choice
"Smith has traveled the world to gather an impressive range of sources for this work."—Jamie Diane Wilson, University of South Carolina
"Smith presents a fascinating tale . . . demonstrating the interconnectedness of European, African, and American history and also shedding new light on the history of slavery and abolitionism . . . a page-turning thriller."—Katherine Paugh, Journal of Modern History

"Engaging. . . . Smith constantly connects pieces of the story to world events, making this a good read for those with or without a lot of historical knowledge."—Historian
Winner of the 2014 Norris and Carol Hundley Award given by the Pacific Coast Branch American Historical Association.
ISBN:
9780300194524
Publication Date:
November 19, 2013
336 pages, 6-1/8 x 9-1/4
21 b/w illus.