The Huguenots
WARNING
You are viewing an older version of the Yalebooks website. Please visit out new website with more updated information and a better user experience: https://www.yalebooks.com
Geoffrey Treasure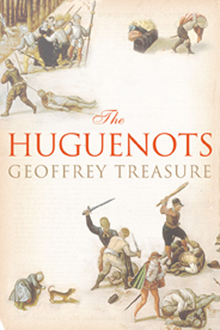 View Inside
Format:

Cloth


Price:

$40.00
Also Available in:
Paper
Out of Print

Following the Reformation, a growing number of radical Protestants came together to live and worship in Catholic France. These Huguenots survived persecution and armed conflict to win—however briefly—freedom of worship, civil rights, and unique status as a protected minority. But in 1685, the Revocation of the Edict of Nantes abolished all Huguenot rights, and more than 200,000 of the radical Calvinists were forced to flee across Europe, some even farther.

In this capstone work, Geoffrey Treasure tells the full story of the Huguenots' rise, survival, and fall in France over the course of a century and a half. He explores what it was like to be a Huguenot living in a "state within a state," weaving stories of ordinary citizens together with those of statesmen, feudal magnates, leaders of the Catholic revival, Henry of Navarre, Catherine de' Medici, Louis XIV, and many others. Treasure describes the Huguenots' disciplined community, their faith and courage, their rich achievements, and their unique place within Protestantism and European history. The Huguenot exodus represented a crucial turning point in European history, Treasure contends, and he addresses the significance of the Huguenot story—the story of a minority group with the power to resist and endure in one of early modern Europe's strongest nations.
Geoffrey Treasure was senior master at Harrow School before his retirement. He lives in Herefordshire, UK.
 
"[An] enjoyable and authoritative account, which, in telling the story of the Huguenots, doubles as a fine political and religious history of France over the course of two troubled centuries."—Peter Marshall, Literary Review
'A richly detailed study of the politics and personalities of a religious minority.'—P D Smith, The Guardian
"A formidable work, covering complex, fascinating, horrifying and often paradoxical events over a period of more than 200 years . . . Treasure's work is a monument to the courage and heroism of the Huguenots."—Piers Paul Read, The Tablet
"In an engrossing study of the Calvinist Protestants . . . Geoffrey Treasure has supplied a comprehensive history of the Huguenots in their native country . . . The resilient nature of the Huguenot faith and the historical effects of their diasporas are reliably presented."—Iain Finalyson, The Times
Geoffrey Treasure's thoughtful study charts the story of these Protestants, known as Huguenots, across nearly two centuries. It is a history of theology and high politics more than a ground-level study of Huguenot life, beginning with illuminating potted histories of the French monarchy and movements for religious reform.'—John Gallagher, The Sunday Telegraph
"A rich distillation of French history."—David J. Davis, Books and Culture
"With clarity and depth . . . Treasure's work tells brilliantly the history and life experience that the Huguenots carried out of France."—James Blackburn, New York History Blog
'…quite evidently a labour of love. Not only is it grounded on nearly 40 years of digesting vast quantities of published literature to inform classroom exposition and to produce classic textbooks, but it also evinces a profound respect for the inspiring story of the faith and courage of this beleaguered people.'—Dr. Vivienne Larminie, Reviews in History.
"This is an ambitious and commendable study… It is well-presented, and supplemented with 45 black and white illustrations. It is moreover a very readable account, well-suited to general readers and surely destined to become the standard work on the subject for undergraduates."—Kenneth Austin, Huguenot Society
"The present survey, directed primarily toward an informed public audience, concentrates on time-honored political, military, and religious themes. It offers a detailed narrative of the Huguenots in France from the beginning of the Reformation through the early-eighteenth century. As such, Geoffrey Treasure provides a helpful synthesis of substantial recent, principally English-language scholarship on the subject. . . . This is a highly readable and engaging book.."—Raymond A. Mentzer, The Catholic Historical Review
"Treasure provides a well-written and dynamic survey of the history of the kingdom's Reformed churches and communities, from the early sixteenth to the early eighteenth centuries. The work is written for the informed general reader and provides a good introduction to the topic fdor students of the period."—Elizabeth Tingle, European History Quarterly
Winner of the 2014 National Huguenot Society award for the best original work of scholarship covering any aspect of the Huguenot movement.
ISBN:
9780300193886
Publication Date:
September 17, 2013
488 pages, 6 1/8 x 9 1/4
45 b/w illus.