The Daily You
WARNING
You are viewing an older version of the Yalebooks website. Please visit out new website with more updated information and a better user experience: https://www.yalebooks.com
How the New Advertising Industry Is Defining Your Identity and Your Worth
Joseph Turow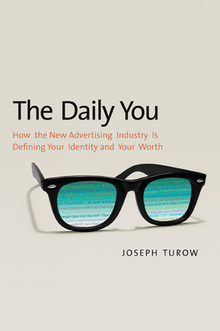 View Inside
Format:

Paper


Price:

$22.00
Also Available in:
Cloth
e-book
In the new media world, advertisers are deciding who you are, how much you matter, and what you see and do

The Internet is often hyped as a means to enhanced consumer power: a hypercustomized media world where individuals exercise unprecedented control over what they see and do. That is the scenario media guru Nicholas Negroponte predicted in the 1990s, with his hypothetical online newspaper The Daily Me—and it is one we experience now in daily ways. But, as media expert Joseph Turow shows, the customized media environment we inhabit today reflects diminished consumer power. Not only ads and discounts but even news and entertainment are being customized by newly powerful media agencies on the basis of data we don't know they are collecting and individualized profiles we don't know we have. Little is known about this new industry: how is this data being collected and analyzed? And how are our profiles created and used? How do you know if you have been identified as a "target" or "waste" or placed in one of the industry's finer-grained marketing niches? Are you, for example, a Socially Liberal Organic Eater, a Diabetic Individual in the Household, or Single City Struggler? And, if so, how does that affect what you see and do online?
Drawing on groundbreaking research, including interviews with industry insiders, this important book shows how advertisers have come to wield such power over individuals and media outlets—and what can be done to stop it.
Joseph Turow is Robert Lewis Shayon Professor of Communication and associate dean for graduate studies at the University of Pennsylvania's Annenberg School for Communication. He lives in Bala-Cynwyd, PA.
"The Daily You should be a mandatory read for anyone in our industry."—Doug Weaver, Founder and CEO, Upstream Group, in his blog The Drift
"Turow offers steps to offset the new rules of advertising that are secretly reshaping our world, including the need for teaching basic digital technologies to children…[The Daily You] is excellent."—Booklist
"An eye-opener that will startle readers, the book offers grist for policy makers and others battling to preserve a shred of privacy in America."—Kirkus Reviews
"An important and urgent reminder that in our excitement over the benefits of new technologies we run the risk of ceding influence over forces essential to protecting and promoting autonomous decisionmaking to an industry interested only in activating our buying impulses."—Glenn Altschuler, Minneapolis Star-Tribune
"Joe Turow pulls back the curtain on the secretive practices that define the online experience for almost all Internet users. Informative, engaging, and often alarming, The Daily You should be the starting point for a national campaign to bring accountability and transparency to the world of online advertising."—Marc Rotenberg, Electronic Privacy Information Center and Georgetown University Law Center
"Joe Turow's The Daily You is a gem of public-spirited scholarship and dogged reporting. It is full of startling insights about how deeply known we are to the people who are serving us personalized ads tied to personalized content based on the incredibly accurate, predictive profiles that are assembled about us from the digital and real-world details we reveal – often unwittingly – about ourselves. Turow is the best kind of trail guide for those who care about the widespread commercial, cultural, and political implications of these developments. Take heed."—Lee Rainie, Director, Pew Research Center's Internet & American Life Project
"If you ever wanted to know why your favorite newspaper site hangs while loading, or why content sites stretch web articles into 12-pageslideshows or why certain ads seem to follow you around the Internet, read Joe Turow's book."—Tom Hespos, Chairman, Partner and President, Underscore Marketing, LLC
"Clicks, cookies and other new metrics of the Internet world are changing how and what advertisers know about your tastes and preferences. This book explains how marketers analyze your online behavior – from following mouseovers to tracking eye gaze. Professor Turow's book is must reading for anyone seriously concerned with how advertisers are using the Internet to count eyeballs and profile individuals to sell products and services."—William H. Dutton, Oxford Internet Institute, University of Oxford
"As he has throughout his career studying media and its social impact, Turow gets us beyond the simplistic 'digital privacy' meme and opens a much richer theme: social profiling. Through the audience segmentation digital media seems hell bent on perfecting, we risk handing over to others something more precious than our personal 'data.' We may be giving people we don't know—and certainly never elected—control over what information we get, what offers and access we receive, and what opportunities we and our families may or may not enjoy. Privacy? Small potatoes compared to the larger social issues Joe is highlighting here."—Steve Smith, Digital Media Editor at Media Industry Newsletter
"A clear, comprehensive account of the media buying industry, the companies and technologies underlying it and how they've evolved from mass marketing to the personalized, targeted media. And a compelling argument that the transformation and the resulting privacy and audience targeting debate must move beyond the concerns of potential individual harm, such as identity theft to the higher order concerns of social inequality and discrimination in media and news dissemination."—Ted Shergalis, Founder and Chief Strategy Officer, [x + 1]
"Excellent, readable, and contains important information for a wide range of library patrons."—Mary Whaley, Booklist
"An important and insightful book."—Publishers Weekly
"The terror is in the details in this comprehensive study of the advertising world circa 2012—though the details seem subject to change with the technology."—Zócalo Public Square
"The Daily You is required reading in today's Web 3.0 age."—Andrew Keen, New Scientist
"And all I can say is that this book is a must read for anyone working in the digital space, especially advertisers."—Scott K. Wilder, SocialMediaToday.com
"The Daily You should be a mandatory read for anyone in our industry.  It's the beginning of an important new conversation about sustainable and inclusive data practices, a conversation that will form much quicker than many of us might imagine."—Doug Weaver, Founder and CEO, Upstream Group
"Turow is at his strongest when he describes, in careful but still accessible language, what media firms are doing and the technical details behind how they collect data."—Catherine Tucker, Times Higher Education
"This rigorous and detailed account of social profiling raises timely, thought-provoking issues and concerns."—S.M. Mohammed, Choice
"This rigorous and detailed account of social profiling raises timely, thought-provoking issues and concerns."—Choice 
"We chose Joe Turow . . . because we consider him a careful yet pioneering researcher whose insights should be carefully considered"—TrustE, on Turow's 2013 designation as a Privacy Pioneer
ISBN:
9780300188011
Publication Date:
February 5, 2013
256 pages, 6 1/8 x 9 1/4