George II
WARNING
You are viewing an older version of the Yalebooks website. Please visit out new website with more updated information and a better user experience: https://www.yalebooks.com
Andrew C. Thompson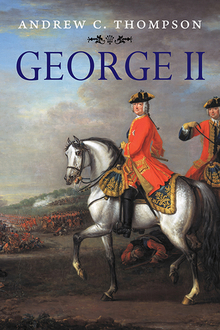 View Inside
Format:

Paper


Price:

$28.00
Also Available in:
Cloth
e-book
Despite a long and eventful reign, Britain's George II is a largely forgotten monarch, his achievements overlooked and his abilities misunderstood. This landmark biography uncovers extensive new evidence in British and German archives, making possible the most complete and accurate assessment of this thirty-three-year reign. Andrew C. Thompson paints a richly detailed portrait of the many-faceted monarch in his public as well as his private life.

Born in Hanover in 1683, George Augustus first came to London in 1714 as the new Prince of Wales. He assumed the throne in 1727, held it until his death in 1760, and has the distinction of being Britain's last foreign-born king and the last king to lead an army in battle. With George's story at its heart, the book reconstructs his thoughts and actions through a careful reading of the letters and papers of those around him. Thompson explores the previously underappreciated roles George played in the political processes of Britain, especially in foreign policy, and also charts the intricacies of the king's complicated relationships and reassesses the lasting impact of his frequent return trips to Hanover. George II emerges from these pages as an independent and cosmopolitan figure of undeniable historical fascination.
Andrew C. Thompson is fellow and director of studies in history, Queens' College, Cambridge.
"Thompson has finally, and triumphantly, given us one of the essential, basic building blocks for royal history in the 18th century….I'm utterly delighted that this long-standing gap has been filled so authoritatively."—Lucy Worsley, BBC History Magazine (Books of the Year)
"[A] fine biography . . . Mr. Thompson makes a strong case for his subject's importance."—Martin Rubin, Wall Street Journal
"This is an impeccably sourced, cross-referred and well indexed book, drawing on new archival material in both Britain and Germany. It is, thank goodness, unashamedly chronological and written in an engaging narrative style."—Richard Ormrod, The Tablet
"[A] stunning biography of the 'forgotten' king that not only takes us deep into the psyche of the man, but also gives a detailed picture of 18th century Hanoverian England. . . . This is a studious but very readable account, and one that may well set the royal record straight."—Cambridgeshire Journal
'If George III is well known as 'the man who lost America', it was won in the reign of George II. It is very much to be welcomed that Andrew Thompson - one of the most promising of the younger British historians working in this vibrant field - has written the biography of this relatively unknown King. By looking at the political, marital, religious, musical and strategic interests of his subject - and drawing heavily on rich material in the German archives - the author gives us a scintillating picture of a story which spans not only the Atlantic Ocean but, more importantly, the North Sea separating George's British Kingdom from his Hanoverian homeland.' - Brendan Simms, University of Cambridge
'A groundbreaking study of a neglected monarch. Using newly-discovered archival material, Andrew C. Thompson offers a fundamental reappraisal of George II both as British King and Hanoverian Elector, revealing his central political role fully for the first time.' - Hamish Scott, University of Glasgow
'Andrew Thompson is a first-rate archival historian, equally at home in both British and German archives. He is thus uniquely well qualified to write a biography of one of Britain's most neglected monarchs and the last one to be born abroad. The result is an impressive and sympathetic reassessment, full of fresh and original insights, of the man who presided over Britain's emergence as a world power. This will remain the definitive biography for a generation and more.' - Stephen Taylor, University of Reading
'This magnificent biography will mark a watershed in our knowledge and understanding of Hanoverian England.' - Tim Blanning
"….a judicious, careful and clearly written examination of George and his role."—Bob Harris, Times Literary Supplement
"The author's detailed study and clear mastery of German sources… shed[s] light on the political nature of Germany in the eighteenth century."—A.T. Contemporary Review
"It is unlikely that we will ever get closer to George II than Mr. Thompson has brought us in this remarkable biography."—Michael Schaich, German Historical Institute London
ISBN:
9780300187779
Publication Date:
January 8, 2013
328 pages, 6 1/4 x 9 1/4
24 b/w illus.