The Server
WARNING
You are viewing an older version of the Yalebooks website. Please visit out new website with more updated information and a better user experience: https://www.yalebooks.com
A Media History from the Present to the Baroque
Markus Krajewski; Translated and with an Introduction by Ilinca Iurascu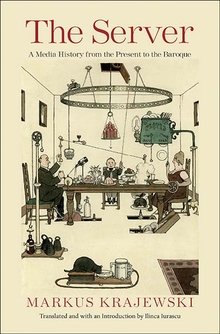 View Inside
Format:

Hardcover


Price:

$50.00
A cutting-edge media history on a perennially fascinating topic, which attempts to answer the crucial question: Who is in charge, the servant or the master??

Though classic servants like the butler or the governess have largely vanished, the Internet is filled with servers: web, ftp, mail, and others perform their daily drudgery, going about their business noiselessly and unnoticed. Why then are current-day digital drudges called servers? Markus Krajewski explores this question by going from the present back to the Baroque to study historical aspects of service through various perspectives, be it the servants' relationship to architecture or their function in literary or scientific contexts. At the intersection of media studies, cultural history, and literature, this work recounts the gradual transition of agency from human to nonhuman actors to show how the concept of the digital server stems from the classic role of the servant.
Markus Krajewski is professor of media history at the University of Basel, Switzerland. He is the author of numerous articles and several books, including Paper Machines: About Cards and Catalogs, 1548–1929 and World Projects: Global Information Before World War I, which was awarded the 2007 Prize of the German Society for the History of Medicine, Science and Technology. He also works as a software developer and maintainer of his bibliography software Synapsen: A Hypertextual Card Index (www.synapsen.ch). Ilinca Iurascu is assistant professor of German at the University of British Columbia, specializing in nineteenth-century cultural studies and media theory.
"In this rich genealogy of the concept of the server Krajewski blends literary and historical evidence and media studies—brilliantly thought-provoking!"—Ann Blair, author of Too Much To Know: Managing Scholarly Information before the Modern Age 
 
"The Server is an intellectual romp, a learned and literate account of proxy servers, mailer daemons, and an astonishing parade of historical factotums and underlings that presaged today's client-server logic. This is the history of agential knowing—in short, of media—dressed in livery, waiting on call, at your service."— Lisa Gitelman, New York University
"Markus Krajewski has rescued from neglect a whole cast of characters—such go-betweens as demons, angels, bookkeepers, and doorkeepers—to show them in all their rollicking mischievousness. This book is at once a literary, social, semantic, and technical history—that is, a media history, and it casts a fresh and strange light on our moment."—John Durham Peters, Yale University
 
"Descartes once proudly proclaimed that humans should understand themselves as 'masters and owners of nature.' Since then, most philosophers consider knowledge as emerging from rational, cognitive, and discursive structures. Krajewski's stunningly original book finds it elsewhere--upending our common understanding of science, technology, and political philosophy--by showing that knowledge depends of the successful exploitation of the lowliest of the low."— Jimena Canales, author of The Physicist and the Philosopher
 
"A breathtaking display of erudition, Markus Krajewski's The Server weaves together history, literature, and media theory into a potent critique of the governing metaphors of the digital age."— Daniel Rosenberg, coauthor of  Cartographies of Time
 
ISBN:
9780300180817
Publication Date:
June 19, 2018
456 pages, 6 1/8 x 9 1/4
17 b/w illus.