In God's Shadow
WARNING
You are viewing an older version of the Yalebooks website. Please visit out new website with more updated information and a better user experience: https://www.yalebooks.com
Politics in the Hebrew Bible
Michael Walzer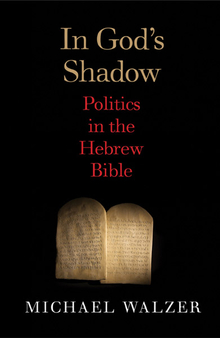 View Inside
Format:

Cloth


Price:

$32.95
Also Available in:
e-book
One of our most distinguished political theorists deliberates on the politics of the Bible and arrives at unexpected conclusions

In this eagerly awaited book, political theorist Michael Walzer reports his findings after decades of thinking about the politics of the Hebrew Bible. Attentive to nuance while engagingly straightforward, Walzer examines the laws, the histories, the prophecies, and the wisdom of the ancient biblical writers and discusses their views on such central political questions as justice, hierarchy, war, the authority of kings and priests, and the experience of exile.
Because there are many biblical writers with differing views, pluralism is a central feature of biblical politics. Yet pluralism, Walzer observes, is never explicitly defended in the Bible; indeed, it couldn't be defended since God's word had to be as singular as God himself. Yet different political regimes are described in the biblical texts, and there are conflicting political arguments—and also a recurrent anti-political argument: if you have faith in God, you have no need for strong institutions, prudent leaders, or reformist policies. At the same time, however, in the books of law and prophecy, the people of Israel are called upon to overcome oppression and "let justice well up like water, righteousness like an unfailing stream."
Michael Walzer is professor (emeritus) of social science, Institute for Advanced Study, Princeton, NJ. He is the author of twenty-seven books and more than three hundred articles on political theory and moral philosophy, and he has served as coeditor of the journal Dissent for some fifty years. He lives in Princeton.
"Walzer brings a fresh voice to the most studied text of the Western tradition.  I found myself marking up passage after passage as I followed his learned observations about the political implications of the Bible...I constantly found myself reaching new levels of insight as a result of his erudite points of provocation. This book is highly recommended for all those who take the legacy of the Bible seriously."—Gary Anderson, Hesburgh Professor of Catholic Theology, University of Notre Dame, author of Sin: A History
"Was there room in the Biblical kingdom of an omnipotent God for a political constitution or political responsibility? Walzer's guide through the text of the Hebrew Bible is magnificent: a many-layered, elegant, sympathetic but unapologetic examination of covenants, legal codes, kingship, prophecy, exile, holy war, and social justice 'in God's shadow'. It is nothing less than an account of how the Israelites came to define themselves as Jews."—Nancy Rosenblum, Department of Government, Harvard University, and author of On the Side of the Angels: An Appreciation of Parties and Partisanship
"In this remarkable, wise and elegant book, Michael Walzer, one of the greatest political theorists of our time, examines brilliantly the diverse dimensions of Biblical politics, its institutions and struggles. It raises as well the ultimate question of the possibility to carve a human political realm in the Shadow of God. Scholars and students of the Bible will learn a great deal from the fresh an original reading of biblical traditions, and it will inspire anyone who is interested in the relationship between politics and religion."—Moshe Halbertal, author of On Sacrifice
"This book deals with the breadth of foundational themes of the Hebrew Bible. Michael Walzer provides a vibrant perspective, and innovative and refreshing reading of the ancient book of books."—Israel Knohl, author of The Sanctuary of Silence
"Walzer is a great portraitist of biblical political ideas such as power, authority, hierarchy and war—warts and all. His depiction is beautifully conceived and beautifully written. It is a very good book on The Good Book." —Avishai Margalit, George F. Kennan Professor, Institute for Advanced Study, Princeton, and Professor Emeritus in Philosophy, Hebrew University of Jerusalem
"In the story of how the modern West evolved beyond sacral kingship, there is a Greco-Roman strand and a Hebrew strand.
Walzer offers a penetrating account of the Hebrew strand in its many ramifications, with all the insight and sense of nuance that distinguish him as a political theorist."—Charles Taylor, author of A Secular Age and Dilemmas and Connections
"[Walzer] mines the scriptures for their insight on subjects that continue to vex world leaders today. If there is a common thread, it is perhaps that great power inevitably 'tempts kings and emperors to put themselves in God's place,' while blinding them to the fact that, often, 'human beings are better off not doing what God does.'"—Publishers Weekly
"In God's Shadow is elegant and erudite. Anyone interested in assessing the ideas about politics, government and law in the Bible should read it."—Glenn C. Altschuler, Jerusalem Post
"Those interested in politics, those interested in religion, and those interested in both will be challenged by this fascinating study."—Booklist Online
In God's Shadow "is a rich and rare example of how new, provocative and illuminating meanings can be teased out of the ancient text."– Jonathan Kirsch, The Jewish Journal
"Walzer has written a lucid, probing, and broad-minded study that will enrich each reader's understanding of the great architectonic text of Western civilization. We are in his debt."—Eric Nelson, Jewish Review of Books
"Judicial and refreshing… [Walzer's] observations on the successive stages of Israel's historical development through the periods of the judges, monarchy, exile and restoration are both shrewd and perceptive and never over-simplified."—Anthony Phillips, Church Times
"[A] rich and suggestive study."—Lord Sacks, Jewish Chronicle
ISBN:
9780300180442
Publication Date:
June 5, 2012
256 pages, 6 1/8 x 9 1/4