When London Was Capital of America
WARNING
You are viewing an older version of the Yalebooks website. Please visit out new website with more updated information and a better user experience: https://www.yalebooks.com
Julie Flavell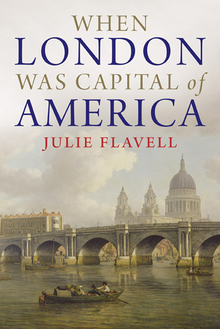 View Inside
Format:

Paper


Price:

$24.00
Also Available in:
Cloth
Visit the author's website.
Benjamin Franklin secretly loved London more than Philadelphia: it was simply the most exciting place to be in the British Empire. And in the decade before the outbreak of the American Revolution, thousands of his fellow colonists flocked to the Georgian city in its first big wave of American visitors. At the very point of political rupture, mother country and colonies were socially and culturally closer than ever before. In this first-ever portrait of eighteenth-century London as the capital of America, Julie M. Flavell re-creates the famous city's heyday as the center of an empire that encompassed North America and the West Indies. The momentous years before independence saw more colonial Americans than ever in London's streets: wealthy Southern plantation owners in quest of culture, slaves hoping for a chance of freedom, Yankee businessmen looking for opportunities in the city, even Ben Franklin seeking a second, more distinguished career. The stories of the colonials, no innocents abroad, vividly re-create a time when Americans saw London as their own and remind us of the complex, multiracial—at times even decadent—nature of America's colonial British heritage.
Julie Flavell, the author and editor of many scholarly and popular publications on the relationship between colonial America and Britain, including Britain and America Go to War, is a Fellow of the Royal Historical Society and an independent scholar. Born in the United States, she currently lives in Scotland.
"Ambitious . . . lively. . . . Beautifully reimagining a city that was a distant but integral part of American life, Flavell's book is essential reading for anyone interested in the colonial period."—Andrea Wulf, New York Times Book Review
"A wonderful evocation of the full panorama and panoply of life in eighteenth-century London."—Andrew O'Shaughnessy, An Empire Divided
"With clarity and sure authority, Julie Flavell tells us challenging things that will cast new light on the many readers' commonly-held beliefs. This is a splendid book."—Peter Marshall
"A fascinating account of Americans in London in the 1760s and 1770s. Julie Flavell ingeniously weaves together the experiences of the Laurens family of South Carolina, Stephen Sayre of Long Island, and Benjamin Franklin, plus many other colonists, to reveal the rich variety of their London life, and she also illuminates the growing tensions of the revolutionary crisis in strikingly new ways."—Richard S. Dunn, author of Sugar and Slaves: The Rise of the Planter Class in the English West Indies, 1624-1713
"Before Americans had a Washington - or any other capital city worthy of the name - they had London. Taking as her subject the men and women, young and old, enslaved and free, high-born and humble, who crossed the Atlantic in the years just before and during the Revolution, Julie Flavell paints a vivid and compelling picture of London as the cultural, political, and economic center of colonial American life."—Eliga H. Gould, author of The Persistence of Empire: British political Culture in the Age of the American Revolution
"Flavell re-creates with stunning lucidity the bustling world of Georgian London . . . . Absorbing . . . . Remarkable . . . . Through meticulous research and elegant prose, she brings to life a city at the height of its powers."—Brian Odom, Library Journal
'This is a good book that lives up to expectations' — Leonard Schwarz, Reviews in History
'[a] well-researched and enjoyable book' — Leslie Mitchell, Literary Review
"This is a fine, original book, and a jolly good read.'"—Tim Richardson, Country Life
'Julie Flavell has produced not an account of the administration of the American colonies from London but something much more original…She reveals an extraordinary, almost forgotten world, rich with anecdote.' — Duncan Fallowell, Daily Express
'[An] engaging social history, written with a novelist's eye for character and plot.' — Gaiutra Bahadur, The Observer
"Flavell's subjects—their lives marked variously by bankruptcy, broken engagements, illegitimacy, and suicide—invite illusions to Fielding and Austen.... [An] engaging portrait of colonials in the metropolis. Highly recommended."—G. F. Steckley, Choice Reviews Online
"The book is written in a very accessible style laced with familiar literary parallels drawn from such authors as Jane Austen and Charles Dickens and likely to attract the non-specialist reader. . . . But for all of its seeming lightness of touch, Flavell's work is based on thorough research and has some serious and important messages for historians of the revolutionary period."—Stephen Conway, The American Historical Review
"Flavell's study offers wonderfully evocative glimpses into the lives of men such as Benjamin Franklin, who lived in the city for 17 years."—The Guardian
A Wall Street Journal "Summer Reading" Selection
ISBN:
9780300178135
Publication Date:
November 15, 2011
320 pages, 5 15/16" x 9 1/16"
36 b/w illus.