Sleeping Like a Baby
WARNING
You are viewing an older version of the Yalebooks website. Please visit out new website with more updated information and a better user experience: https://www.yalebooks.com
Avi Sadeh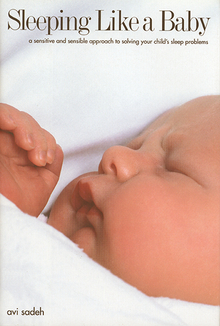 View Inside
Format:

Paper


Price:

$24.00
Also Available in:
Cloth
"Why doesn't my baby sleep better?" weary parents ask. "How can we get more sleep?" There are as many answers to these questions as there are babies and families, says Dr. Avi Sadeh in this helpful and reassuring (some may say indispensable) book. Based on his years of research with sleep-disturbed babies and their sleep-deprived parents, Dr. Sadeh suggests a wide variety of practical solutions to babies' and young children's sleep problems.
Other experts may recommend one strict approach to changing a baby's sleep habits, but a single remedy fails to take into account a baby's uniqueness and the dynamics of his or her family, Dr. Sadeh contends. He helps parents first to understand the natural sleep patterns of babies, and then to consider their own family's situation and needs. In an accessible style designed to ease anxious parents' worries, Dr. Sadeh describes the various sleep problems of early childhood, outlines treatment possibilities, and details the pros and cons of each of these choices.
This book will appeal not only to sleepless parents seeking relief but also to those who are curious about the most recent findings in children's sleep research. Dr. Sadeh addresses a full range of questions: What is the importance of sleep to a baby? How do babies in different cultures sleep? How is sleep related to development? What causes Sudden Infant Death Syndrome? How do babies calm themselves? What are the advantages and disadvantages of communal sleeping? With up-to-date answers to these questions and more, Dr. Sadeh offers parents and professionals all the information they need to help babies—and their families—sleep better.
Avi Sadeh is senior lecturer, director of the Laboratory for Children's Sleep and Arousal Disorders, and chairman of the Clinical Child Psychology Graduate Program at Tel Aviv University.
"[An] entertaining and insightful book. . . . Dealing with a child late on a sleepless night is no picnic, to put it mildly, but Sadeh is the best guide imaginable, and his book a source of peace for those in dire straights."—Jewish Exponent



"This appealing book answers an enormous number of questions about infants' and children's sleep. Dr. Sadeh takes into account different family dynamics and proposes a variety of options for parents in quest of a better night's sleep."—Evelyn B. Thoman, University of Connecticut


"When a baby doesn't sleep it means that the parent's don't sleep either. If parents don't sleep they don't function well and become ineffective caretakers of their child. In this easy to read book, Avi Sadeh gives insights and helpful hints which cure the parent's problem by curing the baby's sleep problem. It's a 'must read' for sleepy parents."—Stan Coren, Author of Sleep Thieves: An Eye Opening Exploration into the Science and Mysteries of Sleep


"This tranquil, engaging book offers accurate information about sleep of infants and young children and includes many insightful vignettes from the perspective of an effective and understanding clinician. Knowledge and compassion combine to empower parents to help their children sleep. I highly recommend this book for current and expecting parents."—Mary A. Carskadon, Brown Medical School  


"A must read for all parents, grandparents and newborn infants. Avi Sadeh has captured the challenges and pleasures of getting babies to sleep at night. All members of the family will benefit from Dr. Sadeh's well presented facts and clearly written descriptions."—Thomas F. Anders, UC Davis School of Medicine  


"In this reassuring book, Dr. Avi Sadeh, who directs Tel Aviv University's Laboratory for Children's Sleep and Arousal Disorders, describes the sleep problems of infants, dispels myths about their cause (for instance, that hunger is the culprit), offers interesting facts (breast-fed babies are more apt to wake up in the middle of the night) and outlines treatment possibilities."—John Langone, New York Times


ISBN:
9780300176988
Publication Date:
April 15, 2011
220 pages, 6 x 9
13 b/w illus.

---
Sales Restrictions: Not for sale in Israel