Heroes, Martyrs, and Political Messiahs in Revolutionary Cuba, 1946-1958
WARNING
You are viewing an older version of the Yalebooks website. Please visit out new website with more updated information and a better user experience: https://www.yalebooks.com
Lillian Guerra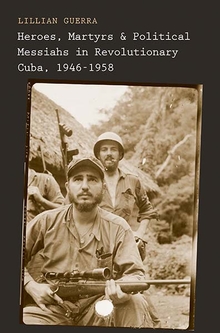 View Inside
Format:

Hardcover


Price:

$40.00
A leading scholar sheds light on the experiences of ordinary Cubans in the unseating of the dictator Fulgencio Batista

In this important and timely volume, one of today's foremost experts on Cuban history and politics fills a significant gap in the literature, illuminating how Cuba's electoral democracy underwent a tumultuous transformation into a military dictatorship. Lillian Guerra draws on her years of research in newly opened archives and on personal interviews to shed light on the men and women of Cuba who participated in mass mobilization and civic activism to establish social movements in their quest for social and racial justice and for more accountable leadership. Driven by a sense of duty toward la patria (the fatherland) and their dedication to heroism and martyrdom, these citizens built a powerful underground revolutionary culture that shaped and witnessed the overthrow of Batista in the late 1950s. Beautifully illustrated with archival photographs, this volume is a stunning addition to Latin American history and politics.
Lillian Guerra is the Waldo W. Neikirk Professor of Cuban and Caribbean History at the University of Florida and the author of Visions of Power in Cuba: Revolution, Redemption, and Resistance, 1959–1971.
"This is the story suppressed and smothered over with propaganda by the Castro dictatorship for nearly sixty years. It is written with passionate precision from a personal yet rigorous and thoroughly scholarly perspective."--Roberto González Echevarría, author of Love and the Law in Cervantes
 
"Outrage, pride, and belief in the need for change" characterized Cuba's protest politics as its democratic regime imploded in the 1940s. Guerra traces those themes in her illuminating discussion of often-forgotten key aspects of Fulgencio Batista's dictatorship during the 1950s and examines the rise of opposition, then revolutionary violence against his rule, placing Fidel Castro only as one of many in this multifaceted process. She shows as well how Castro crafted his personal victory in the end. Guerra's impressive research, strong authorial voice, and attention to the views not just of the winners but also the losers, the traitors, and the lowly enrich this riveting account of the making of a revolutionary Cuba."--Jorge I. Domínguez, Harvard University
 
"Professor Guerra's account of the events leading up to the Cuban Revolution is key to understanding why it occurred and how this history will influence Cuba's future in the post-Castro era."—John Caulfield, Former Chief of the US Interests Section, Havana, Cuba
"This fascinating book undoubtedly is the best political history of Cuba's 1946-1958 period: profound analysis but never boring, great literary readability that prompts continuous readers' interest, a treasure of documented history that reveals many previously unknown, important facts."--Carmelo Mesa-Lago, author of Voices of Change in Cuba from the Expanding Non-State Sector
"Engagingly written and is supported by plentiful photographs and images from the period; Guerra's new research represents a significant addition to the literature on the Cuban Revolution."—Choice
"This book is a treasure trove for anyone curious about Cuba in the 1940s and 1950s, an era routinely ignored or obscured by myth. Guerra is a gifted storyteller and relentless researcher whose work abounds with fascinating micro portraits."—Ilan Ehrlich, H-Net
"[This...] is an important contribution to a growing body of competing narratives about the character of pre-1959 Cuban political culture. It is also a careful reconstruction of the history of anti-Batista urban mobilizations throughout Cuba as well as of the guerrilla insurrection led by the 26th of July Movement (M-26-7) in eastern Cuba. It is moreover a valuable addition to the small but expanding literature on the history of the 1940s and 1950s. Much of this literature has set out to unpack and overturn traditional narratives that overstate the centrality of the Fidel and Raul Castro–led guerrilla struggle in the overthrow of the Batista regime and that underestimate the important roles played by largely urban movements of students, workers, and the middle class. . . . This is an often passionate account, and it is also a deeply researched monograph."—Barry Carr, American Historical Review
"Lillian Guerra has written another major contribution to Cuban history, drawing on her extensive knowledge of Cuban archives, other primary sources, and personal interviews that shed new light on a decisive period of Cuban history. Guerra's book is essential reading for anyone who wants a more accurate picture of Cuba before 1959."—Robert Whitney, New West Indian Guide
"Guerra is keen to not simply 'retell old stories in new ways.' The book makes expert use of newly opened archives in Cuba, oral interviews, personal collections, newspapers, and government publications, among others, to brings to life the 'long-lost voices of otherwise anonymous "everyday" Cubans' (16). Yet it does so in a way that is dignified and respectful."—Ulices Piña, Latin American Research Review
ISBN:
9780300175530
Publication Date:
April 24, 2018
384 pages, 6 1/8 x 9 1/4
48 b/w illus.