The Marquess of Queensberry
WARNING
You are viewing an older version of the Yalebooks website. Please visit out new website with more updated information and a better user experience: https://www.yalebooks.com
Linda Stratmann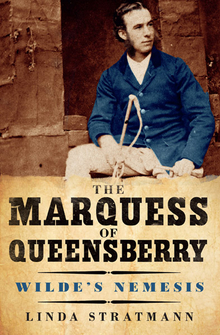 View Inside
Format:

Cloth


Price:

$45.00
Also Available in:
Paper
Out of Print
The Marquess of Queensberry is as famous for his role in the downfall of one of our greatest literary geniuses as he was for helping establish the rules for modern-day boxing. The trial and two-year imprisonment of Oscar Wilde, lover of Queensberry's son, Lord Alfred Douglas, remains one of literary history's great tragedies. However, Linda Stratmann's riveting biography of the Marquess paints a far more complex picture by drawing on new sources and unpublished letters. Throughout his life, Queensberry was emotionally damaged by a series of tragedies, and the events of the Wilde affair—told for the first time from the Marquess's perspective—were directly linked to Queensberry's personal crises. Through the retelling of pivotal events from Queensberry's life—the death of his brother on the Matterhorn and his fruitless search for the body; the suicides of his father, brother, and eldest son—the book reveals a well-meaning man often stricken with a grief he found hard to express, who deserves our compassion.
Linda Stratmann is the author of eleven books. She lives in London.
'Stratmann's book is keenly researched, brilliantly challenging and fascinating.'    —John Carey, The Sunday Times
'A fascinating, challenging defense of the man who caused Oscar Wilde's downfall.'—Sunday Times
'As one reads, with great enjoyment, this impeccably researched study, one is reminded once again of The Picture of Dorian Gray and the words of the painter, Basil Hallward. 'Every portrait that is painted with feeling', he says, 'is a portrait of the artist, not of the sitter. The sitter is merely the accident, the occasion. It is not he who is revealed by the painter; it is rather the painter who, on the coloured canvas, reveals himself.''—Jonathan Barnes, TLS
'Stratmann's rehabilitation in the public consciousness of the person credited with bringing down Oscar Wilde and probably hastening his death is not undertaken lightly, and it is truly fascinating. A portrait of a man 'not easily liked' but admirable in his search his for lost brother does create sympathy and Stratmann's style is both scholarly and accessible.'—Lesley McDowell, The Herald
"Deft and diligently researched."—D J Taylor, Wall Street Journal (Europe)
"More than just a biography, this is a brilliant portrait of an age in which homosexuality was beyond the pale, yet public fisticuffs and violent assaults in the streets were part and parcel of normal life . . . An irresistible page-turner, this biography combines high passion, violence, tragedy and farce."—Robert Carver, The Tablet

"This portrait presents compelling new evidence of Queensbury's humanity."—Kirkus
"Enthralling . . . Far from evil, Queensbury as Stratmann presents him is definitely sympathetic, perhaps even admirable."—Booklist, starred review
"A thorough but bleak catalogue of his life."—Rory Knight Brice, Country Life
"Queensbury—or John Sholto Douglas was a violent bully  and a sadist. Author Linda Stratmann acknowledges these unpleasant characteristics which suggest mental imbalance in her book The Marquess of Queensbury - Wilde's Nemesis which is certain to be popular among Wildean aficianados . . . But Stratmann as apoloist makes a care for tolerance and she certainly gives us a man we had never thought of before."—Richard Edmonds, The Western Mail
"Linda Stratmann has written a new biography of the Marquess and his times with valuable information which helps to put the whole complicated chiaroscuro into perspective. This book emphasises aspects of the marquess that have not been dealt with before." —Ulick O'Connor, Irish Sunday Independent
"Here he is at last: Wilde's nemesis, pictured in the round. Linda Stratmann gives a complete and compelling portrait of this complex, fearsome and fascinating figure."—Gyles Brandreth

"We recall the Marquess of Queensberry as one of the great cardboard villains of Victorian culture—red-faced, stick-waving, crazed. This book reveals the corporeal man, a free-thinker wracked by comprehensible agonies. Linda Stratmann has analysed the bad blood of the Queensberry family with a haematologist's rigour, deepening our understanding of everyone caught up in the Wilde case."—Matthew Sweet
"Linda Stratmann's superbly researched and masterfully written new biography brings to vivid and compassionate life the story of the mad, bad (and rather sad) John Sholto Douglas, Marquess of Queensberry and nemesis of Oscar Wilde."—Neil Mckenna, author of The Secret Life of Oscar Wilde

ISBN:
9780300173802
Publication Date:
June 18, 2013
336 pages, 6 1/8 x 9 1/4
16 pp. b/w illus.