I, Maya Plisetskaya
WARNING
You are viewing an older version of the Yalebooks website. Please visit out new website with more updated information and a better user experience: https://www.yalebooks.com
Maya Plisetskaya; Translated by Antonina W. Bouis; Foreword by Tim Scholl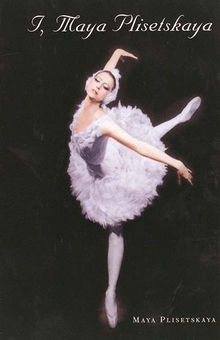 View Inside
Format:

Paper


Price:

$39.00
Also Available in:
Cloth
Maya Plisetskaya, one of the world's foremost dancers, rose to become a prima ballerina of Moscow's Bolshoi Ballet after an early life filled with tragedy and loss. In this spirited memoir, Plisetskaya reflects on her personal and professional odyssey, presenting a unique view of the life of a Soviet artist during the troubled period from the late 1930s to the 1990s.

Plisetskaya recounts the execution of her father in the Great Terror and her mother's exile to the Gulag. She describes her admission to the Bolshoi in 1943, the roles she performed there, and the endless petty harassments she endured, from both envious colleagues and Party officials. Refused permission for six years to tour with the company, Plisetskaya eventually performed all over the world, working with such noted choreographers as Roland Petit and Maurice Béjart. She recounts the tumultuous events she lived through and the fascinating people she met—among them the legendary ballet teacher Agrippina Vaganova, George Balanchine, Frank Sinatra, Rudolf Nureyev, and Dmitri Shostakovich. And she provides fascinating details about testy cocktail-party encounters with Khrushchev, tours abroad when her meager per diem allowance brought her close to starvation, and KGB plots to capitalize on her friendship with Robert Kennedy. Gifted, courageous, and brutally honest, Plisetskaya brilliantly illuminates the world of Soviet ballet during an era that encompasses both repression and cultural détente.

Still prima ballerina assoluta with the Bolshoi Ballet, Maya Plisetskaya also travels around the world performing and lecturing. At the Bolshoi's gala celebrating her 75th birthday, President Vladimir Putin presented her with Russia's highest civilian honor, the medal for service to the Russian state, second degree. Tim Scholl is professor of Russian language and literature at Oberlin College. Antonina W. Bouis is the prize-winning translator of more than fifty books, including fiction, nonfiction, and memoirs by such figures as Andrei Sakharov, Elena Bonner, and Dmitri Shostakovich.

Maya Plisetskaya travels around the world performing and lecturing. At the Bolshoi's gala celebrating her 75th birthday, President Vladimir Putin presented her with Russia's highest civilian honor, the medal for service to the Russian state, second degree.

"Plisetskaya . . . has danced all over the world, with innumerable companies and for innumerable choreographers. And she has known 'everyone'. She writes frankly and freely, holds strong opinions, and is never dull. The chronicle also gives insight, from her point of view, of a Soviet artist dancing through many troubled times."—Dancing Times

.




"[I]nspiring. . . .Her story is frank, revealing, and never dull."—Dance Magazine


"I, Maya Plisetskaya is a memoir of the Terror, the Gulag and the very fertile Soviet arts, by the athletic prima ballerina of the Bolshoi Ballet."—Washington Post Book World (Fall Getaways)


"Like the swans she danced so often—800 performances of "Swan Lake" and unnumbered renderings of the Dying Swan—Maya Plisetskaya, one of the great ballerinas of the last century, mingled beauty and fierceness. . . . She has much to be angry about and, as the Bolshoi's prima ballerina assoluta for decades and celebrated worldwide, quite a bit to be grateful for. . . . [T]he Plisetskaya memoir is a moving success. Here is the woman, I proclaims, and we see her—not entirely polished but overwhelming—as if she were dancing."—Richard Eder, New York Times


"Witty, eloquent, angry. . . . The memoirs are marked by flaring anger, a bristling sense of injustice and a kind of wholehearted generosity. . . . A moving success."—Richard Eder, New York Times


"The fascinating story of how this artist of implacable will confronted and defied the Soviet regime—and eventually had her way. . . . I, Maya Plisetskaya has the virtues of candor and directness, and it has a real story to tell."—Robert Gottlieb, Los Angeles Times Book Review


"Now we have the English translation of Plisetskaya's autobiography, and it is an enormously important document, both for the history of ballet and for the study of art under communism. . . . Her voice is strong, unedited, and impassioned. The book is a testimony as much as a life story. . . . It is a brave book, too, not so much for what it tells about the indignities of life under communism, but for its blind, honest style."—Jackson Lears, New Republic


"A compelling story about perseverance, hardship, craftiness and, ultimately, a kind of seething acceptance of the system that virtually imprisoned her, even as she found that she couldn't live without it."—Sarah Kaufman, Washington Post


"Almost everything about Plisetskaya, now 76, seemed larger than life. And as her wonderfully intimate and detailed new autobiography reveals, that is the result of both her innately bold, born-to-be-a-diva personality, and of the often perilous Soviet political environment in which she forged her career. . . . This is a fascinating memoir, steeped in ambivalence."—Chicago Sun-Times


"[A]n autobiography that is also a searing indictment of Soviet Russia, of communism and of the blind naiveté with which the Isadoras of this world have often approached her country. . . . Plisetskaya's memoirs invariably describe a life in dance. But the book's biggest value lies in being much more than that. I, Maya is social history written by a dancer who transcends the mute language of her art to tell a universal story of suffering and endurance. The thud of irony continually disrupts the mellifluous strains of Tchaikovsky that sounds in the background of a career that spanned 50 years. . . . [A] deliciously subversive book."—Deirdre Kelly, Toronto Globe & Mail


"Plisetskaya's passionate characterizations reflected the new bravura style that became the trademark of the Bolshoi. These memoirs help explain some of the paradoxes in her life and also shed light on the Soviet Union's relationship with its artists. Recommended for all who are fascinated with ballet, history, and Russia."—Choice


Selected as one of the Best Nonfiction Books of 2001 by the Los Angeles Times Book Review

ISBN:
9780300172478
Publication Date:
September 5, 2001
470 pages, 6 x 9
74 b/w illus.