Palestine Betrayed
WARNING
You are viewing an older version of the Yalebooks website. Please visit out new website with more updated information and a better user experience: https://www.yalebooks.com
Efraim Karsh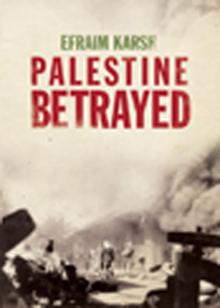 View Inside
Format:

Paper


Price:

$20.00
Also Available in:
Cloth
A searing account of the UN resolution to partition Palestine, and its bloody aftermath

The 1947 UN resolution to partition Palestine irrevocably changed the political landscape of the Middle East, giving rise to six full-fledged wars between Arabs and Jews, countless armed clashes, blockades, and terrorism, as well as a profound shattering of Palestinian Arab society. Its origins, and that of the wider Arab-Israeli conflict, are deeply rooted in Jewish-Arab confrontation and appropriation in Palestine. But the isolated occasions of violence during the British Mandate era (1920–48) suggest that the majority of Palestinian Arabs yearned to live and thrive under peaceful coexistence with the evolving Jewish national enterprise. So what was the real cause of the breakdown in relations between the two communities?
In this brave and groundbreaking book, Efraim Karsh tells the story from both the Arab and Jewish perspectives. He argues that from the early 1920s onward, a corrupt and extremist leadership worked toward eliminating the Jewish national revival and protecting its own interests. Karsh has mined many of the Western, Soviet, UN, and Israeli documents declassified over the past decade, as well as unfamiliar Arab sources, to reveal what happened behind the scenes on both Palestinian and Jewish sides. It is an arresting story of delicate political and diplomatic maneuvering by leading figures—Ben Gurion, Hajj Amin Husseini, Abdel Rahman Azzam, King Abdullah, Bevin, and Truman —over the years leading up to partition, through the slide to war and its enduring consequences. Palestine Betrayed is vital reading for understanding the origin of disputes that remain crucial today.
Efraim Karsh is professor and head of the Middle East and Mediterranean Studies Programme, King's College London. His books include Islamic Imperialism: A History; The Arab-Israeli Conflict: The Palestine War, 1948; Saddam Hussein: A Political Biography; and Empires of the Sand: The Struggle for Mastery in the Middle East, 1789-1923. He lives in London.
"A brave and exceedingly important piece of work."—David Vital, author of A People Apart
"With Isaiah Friedman, Efraim Karsh is the preeminent scholar-spokesman of the Revisionist (politically-rightist) Movement in Zionism. I consider this latest of Karsh's books, Palestine Betrayed, a work of meticulous, even exhaustive scholarship which must be taken with the greatest seriousness and respect by historians of diverse points of view.  Indeed, any student of modern Israel will ignore at their peril its sheer cornucopia of factual revelations." - Howard Sachar
"This is the story of the triple betarayal of Palestine by Britsh colonial masters, Arab despots and Palestinian demagogues. A must read for anyone interested in the Middle East's longest-running conflict." - Amir Taheri
"Basing itself on Arabic as well as Western, Soviet, UN, and Israeli sources, Karsh's is corrective history at its boldest and most thorough."--Jewish Ideas Daily
"[A] tour de force. . . . With his customary in-depth archival research. . .clear presentation, and meticulous historical sensibility, Karsh argues. . . that Palestinians decided their own destiny and bear near-total responsibility for becoming refugees."--Daniel Pipes, National Review
"A thoroughly researched, sound historical account of the struggles that ensued between the Jewish and Arab communities when the British decided to leave Palestine."--Sol Schindler, Washington Times

"Ephraim Karsh's Palestine Betrayed tells in rich detail the story of the fall of the British Mandate and the rise of Israel, going a long way towards doing justice to the history at hand."
--Seth Frantzman, Jerusalem Post
"By relying on the available, original sources, Karsh stitches together a seemingly irrefutable case for the validity of the traditionalist narrative."--David Rodman
"Prof Karsh makes a strong case and writes clearly"—R.B.C, Contemporary Review
"'Tightly argued."—Neil Caplan, Times Literary Supplement
"The book makes an important contribution . . . to the scholarly and public debate on [the 1948 Arba-Israeli] war."—Hillel Cohen, American Historical Review
"[An] interesting study."—B. Rahimi, Choice
"An important contribution to the literature of this epic struggle."—Richard D. Wilkins, Jewish Observer of Central New York
ISBN:
9780300172348
Publication Date:
April 26, 2011
352 pages, 5 x 7 3/4
16 b/w illus.