On Color
WARNING
You are viewing an older version of the Yalebooks website. Please visit out new website with more updated information and a better user experience: https://www.yalebooks.com
David Scott Kastan with Stephen Farthing

Read this book online via the A&AePortal, our art and architectural history eBook platform. To learn more about how to access this book, please contact us.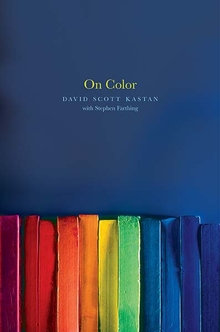 View Inside
Format:

Hardcover


Price:

$28.00
Also Available in:
PB-with Flaps
Art ePortal
Out of Print
Ranging from Homer to Picasso, and from the Iranian Revolution to The Wizard of Oz, this spirited and radiant book awakens us anew to the role of color in our lives

Our lives are saturated by color. We live in a world of vivid colors, and color marks our psychological and social existence. But for all color's inescapability, we don't know much about it. Now authors David Scott Kastan and Stephen Farthing offer a fresh and imaginative exploration of one of the most intriguing and least understood aspects of everyday experience.

Kastan and Farthing, a scholar and a painter, respectively, investigate color from numerous perspectives: literary, historical, cultural, anthropological, philosophical, art historical, political, and scientific. In ten lively and wide-ranging chapters, each devoted to a different color, they examine the various ways colors have shaped and continue to shape our social and moral imaginations. Each individual color becomes the focal point for a consideration of one of the extraordinary ways in which color appears and matters in our lives. Beautifully produced in full color, this book is a remarkably smart, entertaining, and fascinating guide to this elusive topic.
David Scott Kastan, the George M. Bodman Professor of English at Yale University, is one of the general editors of the Arden Shakespeare. Stephen Farthing is an artist, an elected member of the Royal Academy of Arts in London, and an Emeritus Fellow of St. Edmund Hall, the University of Oxford.
"Sparkling and informative."—Meghan Cox Gurdon, Wall Street Journal (Holiday Gift Book selection)
"Here is a subtle and imaginative insight into the slippery phenomenon we call colour – and how variously we perceive and emblemise it: a wise and fascinating study."—Colin Thubron
"Like the best works of cultural criticism, On Color changes how we see the world. I mean that quite literally.  After reading this brilliant book, the mundane appears sharper, richer, and more meaningful."—James Shapiro, author of 1599: A Year in the Life of William Shakespeare
"This lively, erudite, and far-reaching introduction to the poetics of color combines anecdotal art history with cultural and literary studies to illustrate a fundamental truth: that color is relational as well as subjective. This entertaining and humane book effortlessly deepens our engagement with the visual world."—David Salle
"[A] vivid and erudite tour of a phenomenon that entwines microphysics and electromagnets with human physiology and cognition."—Nature
"On Color is a deliciously readable, gloriously illumined work of meditation and exploration, written in high resolution."—Jay Parini, author of The Last Station and Empire of Self: A Life of Gore Vidal
"A great addition to the collection of anyone who is, to some degree, passionate about color."—Angelica Frey, Hyperallergic
"An entertaining philosophical tract that searches for the meaning of color . . . A personal and opinionated book, which engages the reader and stimulates an internal discussion . . . A gift book, beautifully produced with fine illustrations . . .  A book to be kept on your night table to be read episodically."—Ana Daniel, East Hampton Star
"Masterful . . . Kastan demonstrates the weight of color through beautiful, persuasive prose while weaving through multifarious concepts."—Stephanie Osmanski, Dan's Papers (Long Island)
"Remarkably beautiful, original, and engaging . . . A stunningly attractive object, replete with brilliant illustrations that bring to life the insightful, lyrical, and perceptive commentary . . . An enthralling read."—Gina Barreca, Psychology Today
"A gorgeously illustrated in-depth exploration of color on all of its symbolic, visual, literary, political, historic, and scientific registers . . . conversational, personal, witty in tone . . . an optimistic and essential reminder of the ever-shifting meanings and functions of color."—Stefanie Sobelle, Los Angeles Review of Books
"In discussions ranging from Homer's 'wine-dark sea' to the exact red of the Hungarian flag, the authors make a convincing case that 'color inevitably exceeds language.' In this readable, carefully written, and handsomely illustrated book, colors are discussed individually. Highly recommended for all readers."—R. M. Davis, Choice
"Dense with references, the chapters move rapidly through incidents and ideas. . . . Kastan and Farthing are fascinated by the way we make colour mean things in spite of itself, by the possibilities it provides in its expressive ambiguities and the consequences of the material histories that go along with it."—Ruth Jones, Literary Review of Canada
"Brilliantly written, exhaustively researched, beautifully produced, On Color is a tour-de-force, a creative feast for the eyes, mind, and heart. It not only delights and entertains, it will illuminate your understanding and appreciation of color. And that will enliven your life."—Jeffrey B. Rubin, Ph.D., Psychology Today
"Brilliant . . . Consumed all at once, Kastan and Farthing's book is a revelation . . . On Color maps meaning onto the hues we see every day . . .  It's about seeing the world clearly, while retaining the ability to enjoy a good illusion."—Katy Kelleher, Athenaeum Review
"[A] scholarly yet highly entertaining book."—Natalie Angier, New York Times
"A focused and engaging study…[an] enchanting use of artwork and literary references…I strongly recommend On Color to anyone who is interested in color and in its many forms of expression."—Jag Williams, AC Review of Books
Winner of the Outstanding Academic Title for 2018 award sponsored by Choice
ISBN:
9780300171877
Publication Date:
May 22, 2018
272 pages, 6 x 7 3/4
47 color illus.