Gallipoli
WARNING
You are viewing an older version of the Yalebooks website. Please visit out new website with more updated information and a better user experience: https://www.yalebooks.com
Robin Prior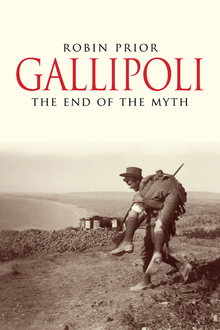 View Inside
Format:

Paper


Price:

$25.00
Also Available in:
Cloth
A decisive account of the dramatic Gallipoli campaign of World War I, with a devastating assessment of its pointless losses

The Gallipoli campaign of 1915–16 was an ill-fated Allied attempt to shorten the war by eliminating Turkey, creating a Balkan alliance against the Central Powers, and securing a sea route to Russia. A failure in all respects, the operation ended in disaster, and the Allied forces suffered some 390,000 casualties. This conclusive book assesses the many myths that have emerged about Gallipoli and provides definitive answers to questions that have lingered about the operation.
Robin Prior, a renowned military historian, proceeds step by step through the campaign, dealing with naval, military, and political matters and surveying the operations of all the armies involved: British, Anzac, French, Indian, and Turkish. Relying substantially on original documents, including neglected war diaries and technical military sources, Prior evaluates the strategy, the commanders, and the performance of soldiers on the ground. His conclusions are powerful and unsettling: the naval campaign was not "almost" won, and the land action was not bedeviled by "minor misfortunes." Instead, the badly conceived Gallipoli campaign was doomed from the start. And even had it been successful, the operation would not have shortened the war by a single day. Despite their bravery, the Allied troops who fell at Gallipoli died in vain.
Robin Prior is visiting professorial fellow, University of Adelaide, and visiting fellow, University of New South Wales, Australian Defence Force Academy. He is the coauthor of Passchendaele: The Untold Story and The Somme, both published by Yale University Press. He lives in South Australia.
"History of a very high order…. the best account by far of the campaign in 1915-16."—Jay Winter, Yale University
"This is a detailed account, with excellent photos, of a failed military expedition that took the lives of 46,000 Allied soldiers and left another 86,000 wounded." - Fergus Mulligan, Irish Times
"Prof. Robin Prior has consulted the archives to provide a full account that demolishes many myths … Students of history will welcome this definitive work." - A. G. Noorani, Frontline
"It might seem that everything worth saying about World War I has already been said, but then along comes a book such as Robin Prior's Gallipoli and it's time to make room on the shelf for another essential title. Reviewer Robert Messenger praised Mr. Prior's depiction of Britain's disastrous attempt in 1915 to force open the Dardanelles—the heavily defended entrance to straits off northern Turkey, a key link between the Mediterranean and the Black Sea. Gallipoli, according to Mr. Messenger, is 'a near-definitive analysis of the campaign . . . . It is military history of the highest order.'"—Mark Lasswell, "Standout Selections: The Year in Books," Wall Street Journal
"It's a well-written book, complete with a great bibliography and some of the most outstanding maps to be delivered with any account of war and battle. That the author could assemble such a plethora of information and then distill it into such a readable account would be a story unto itself. For anyone who wants to know where, when and what Gallipoli was, this book is for you."—Vice Adm. Robert F. Dunn, The Washington Times 
"[Prior's] narrative is fluid and internally coherent. He makes excellent use of archival material to expose the serious flaws in previous narratives, including the "official" history of the campaign. . . . certainly the best account yet published [of the Dardanelles campaign]."—Nicholas A. Lambert, The Journal of Military History
"[This] book sets a new standard for assessing the Allied Dardanelles campaign in 1915."—Mustafa Aksakal, American Historical Review
"This work is an excellent addition to the current body of scholarhsip with something for both the neophyte and the seasoned historian."--Blake Whitaker, Canadian Journal of History
"Wootton is at his most illuminating in his discussion of Galileo's place in the history of science (although he is not so pedestrian as to use the phrase) and the blend of personal ambition, politics and chance that made him, by virtue of his emphasis on the tension between empiricism and deduction."—Claudio Vita-Finzi, Times Literary Supplement
"This is an excellent text with new insights, and one which is sure to provoke further debate."—Matthew Hughes, English Historical Review
Selected as one of ten Best of 2009 Books, The Wall Street Journal 
ISBN:
9780300168945
Publication Date:
December 7, 2010
304 pages, 6 x 9
16 b/w illus.