Demobbed
WARNING
You are viewing an older version of the Yalebooks website. Please visit out new website with more updated information and a better user experience: https://www.yalebooks.com
Coming Home After World War Two
Alan Allport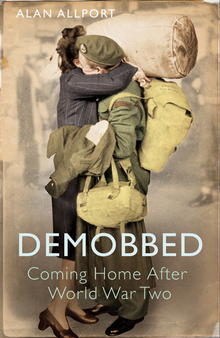 View Inside
Format:

Paper


Price:

$22.00
Also Available in:
Cloth
The trials, troubles and triumphs of returning home after the end of World War Two.

What happened when millions of British servicemen were "demobbed"—demobilized—after World War II? Most had been absent for years, and the joy of arrival was often clouded with ambivalence, regrets, and fears. Returning soldiers faced both practical and psychological problems, from reasserting their place in the family home to rejoining a much-altered labor force. Civilians worried that their homecoming heroes had been barbarized by their experiences and would bring crime and violence back from the battlefield. Drawing on personal letters and diaries, newspapers, reports, novels, and films, Alan Allport illuminates the darker side of the homecoming experience for ex-servicemen, their families, and society at large—a gripping story that's in danger of being lost to national memory.
Alan Allport is a postdoctoral lecturer at Princeton University. He lives in Princeton, NJ.
"A highly impressive debut, demonstrating great scholarship and an ability to balance the humane detail of fractured lives with a wider perspective of the political and social context … This is a bold attempt to combine the scholarly with the popular and certainly the most insightful text on the 1940s to have appeared this year."
—Ian Cawood, Times Literary Supplement
"Allport's wonderfully insightful study asks us to rethink the conventional chronology … It is not only refreshingly free of jargon but remarkably moving. If all academic history were written this way, popular historians would be out of a job." —Dominic Sandbrook, Sunday Times
"Wonderfully researched, sensitively written and often very moving, Demobbed tells an important, underappreciated story that still resonates today."—David Kynaston
"A wry, humane and eloquent book. Alan Allport shows how demobilized troops, their families and friends, both sought a return to normalcy and at the same time realized that life would never be the same again. Their stories linger into the present day."—Peter Mandler, author of The English National Character
 "A compelling, sobering and thought provoking picture."—Juliet Gardiner, author of Wartime: Britain 1939-45
"This is a special and a powerful book. It brims with scholarship, insight, detail and compassion. It is also very well written. Allport does full justice to a forgotten part of a great generation." - Peter Hennessy
"Demobbed  is a fascinating work. With many compelling individual stories, Alan Allport plunges us into this often sad and sometimes violent time after the end of the Second World War. It is a powerful tale, wonderfully told." - Peter Stansky, author of The First Day of the Blitz 
"[A] masterful study of the subject … Demobbed is a detailed and sympathetic examination of this difficult story. Making imaginative use of contemporary court and press accounts as well as the holdings of the Imperial War Museum Archive, it outlines the tribulations of a damaged generation, intertwining personal testimony with the author's thoughtful and cogent analysis … [Demobbed] wears its erudition lightly and has a pleasing, easy style."  —BBC History Magazine
'Allport is very good at recounting…domestic moments of revelation and showing how just a few months of frontline combat could cloud a lifetime.'—Tim Newark, Military Illustrated
'A particularly welcome addition to the field…Allport vividly conveys some of the lesser-known aspects of life in postwar Britain…Demobbed is highly readable and will be enjoyed by those with a genera interest in the social history of the Second World War.'—Hester Vaizey, Times Higher Education
'Allport is very good at showing how just a few months of frontline combat could cloud a lifetime. Some stories are inspiring, some heartbreaking and a few beggar belief, but there is certainly enough anecdotal meat here for a whole series of novels.'—Time Out
'This is not an argument-driven book. Allport is a social historian with the soul of a novelist…The book is, as a result, episodic, discursive and highly readable.' — Susan Pedersen, London Review of Books
"Alive with portraits of individuals. . .Demobbed is a juicy slice of life redolent of the peculiar atmosphere and singular situations unique to Britain in the mid-1940s."
--Martin Rubin,
The Washington Times
'Insightful portrait of the men who returned home after the second world war…Refreshingly free of jargon but also remarkably moving.' — Dominic Sandbrook, Financial Times
"An extremely interesting and lively read which adds greatly to our understanding of the demobilization process."--Mark Connelly, The Journal of Military History
"Demobbed is a fine winner of the Longman-History Today Book Prize for 2010. In telling the many different stories of returning soldiers at the end of the Second World War Alan Allport takes us on a rollercoaster ride, provoking anger at the authorities who managed the transition to civilian life so badly and sadness at the tragedies that engulfed many returning heroes and their families."—Taylor Downing, History Today
"His tone, narrative sense, and command of sources are commendable, and he lays the groundwork for further research. More than contributing a postscript to wartime historiography, this book should be of interest to all historians of twentieth-century Britain."—Chad Martin, The Journal of Modern History
Winner of the Longman-History Today Book of the Year Award, as given by History Today Ltd and the book publisher Longman Pearson Education
ISBN:
9780300168860
Publication Date:
October 26, 2010
280 pages, 6 x 9
16 b/w plate section