Ballet's Magic Kingdom
WARNING
You are viewing an older version of the Yalebooks website. Please visit out new website with more updated information and a better user experience: https://www.yalebooks.com
Selected Writings on Dance in Russia, 1911-1925
Akim Volynsky; Translated, Edited, and with an Introduction and Notes by Stanley J. Rabinowitz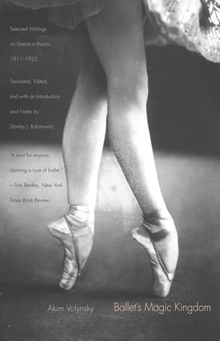 View Inside
Format:

Paper


Price:

$26.00
Also Available in:
Cloth
The first translation of the writings of Akim Volynsky, the greatest ballet authority of early twentieth-century Russia

Akim Volynsky was a Russian literary critic, journalist, and art historian who became Saint Petersburg's liveliest and most prolific ballet critic in the early part of the twentieth century. This book, the first English edition of his provocative and influential writings, provides a striking look at life inside the world of Russian ballet at a crucial era in its history.
Stanley J. Rabinowitz selects and translates forty of Volynsky's articles—vivid, eyewitness accounts that sparkle with details about the careers and personalities of such dance luminaries as Anna Pavlova, Mikhail Fokine, Tamara Karsavina, and George Balanchine, at that time a young dancer in the Maryinsky company whose keen musical sense and creative interpretive power Volynsky was one of the first to recognize. Rabinowitz also translates Volynsky's magnum opus, The Book of Exaltations, an elaborate meditation on classical dance technique that is at once a primer and an ideological treatise. Throughout his writings, Rabinowitz argues in his critical introduction, which sets Volynsky's life and work against the backdrop of the principal intellectual currents of his time, Volynsky emphasizes the spiritual and ethereal qualities of ballet.
Stanley J. Rabinowitz is Henry Steele Commager Professor and professor of Russian, Amherst College, and director of the Amherst Center for Russian Culture. He lives in Amherst, MA.
"An exhilarating gathering of writings by a profoundly influential critic, and a striking, startling contribution to the historical record."—Simon Morrison, Princeton University
"An extremely important contribution to the literature on dance."—Lynn Garafola, author of The Ballet Russes and Its World
"Volynsky's detailed and perceptive reviews of dancers and dancing at the Maryinsky Theater—until now unavailable in English—are fascinating and illuminating; his legendary Book of Exaltations turns out to be both as tendentious and as brilliant as its reputation suggested it was. In tackling and bringing to fruition this important project, Stanley Rabinowitz has performed an immense service to the dance literature."—Robert Gottlieb, author of George Balanchine: The Ballet Maker
"Only a scholar of Stanley Rabinowitz's erudition and experience could navigate the treacherous waters of Russian cultural politics in the early twentieth century, the tempestuous world of Russian and Soviet dance, and the thorny contradictions of Volynsky's thought and syntax to bring these invaluable documents into English. Dance is in his debt."—Tim Scholl, author of Sleeping Beauty, a Legend in Progress
"Rabinowitz's near-miraculous translations of this eccentric Russian critic/philosopher's sequential reviews put the reader in the theater, and bring back to life perhaps the most important years in the history of ballet—those leading up to and beyond the great cataclysm of the Russian revolution. As Akim Volynsky wrestles with the meaning of an art, the art itself spills out into his pages. This is the best kind of history: written in the passion of a long-ago moment, interpreted for the present by a master scholar."—Elizabeth Kendall, author of Autobiography of a Wardrobe
"This is a fantastic book. . . . [It] is the first English-language edition of the dance writings of Akim Volynsky, one of the greatest writers on ballet in the whole 350 or so years of the art form's relatively brief history. . . . The book is a must for anyone claiming a love of ballet. . . . [Volynsky's text] is always hugely entertaining and surprising, you will never look at a toeshoe, a tiara or a tendu . . . the same way again."—Toni Bentley, New York Times Book Review (Editor's Choice)
"The first translation into English of Volynsky's dance criticism, and there's something of The Sleeping Beauty about the enterprise. . . . In a sense, Rabinowitz has kissed to life one of the most important eras in ballet history. . . . His voice is authoritative, erudite, and exacting. He holds dancers, choreographers, composers, designers, and even the balletomania of his day . . . to a very high standard."—Laura Jacobs, Bookforum
"This is a fantastic book … Not since the precise and furious writings of Lincoln Kirstein have we read (in English) such informed, cultured and unapologetically opinionated prose on ballet … uncompromising, impassioned … [and] refreshing … This book is a must for anyone claiming a love of ballet, but it is also the perfect antidote for anyone who still thinks ballet is merely a pretty spectacle with pretty girls." Toni Bentley, International Herald Tribune, 24th January 2009
"The first English-language edition of some of the world's finest writings on ballet."—New York Times Book Review (Editors' Choice)
"The writings of Russian ballet critic Akim Volynsky span the years 1911 to 1925. Rabinowitz captures Volynsky's opinionated stance in this careful selection and translation (the first in English) of the writings. . . . This is a fantastic book for all lovers of classical dance. Highly recommended. Upper-division undergraduates through faculty and professionals; general readers."—Choice
"The idea of ballet as a "Magic Kingdom" is familiar territory, but there is another kind of alchemy in this book, in the qualities of Akim Volynsky's writing. For there is a sort of magic in writing that can fine-tune the senses and open a door onto a nonverbal art form, heightening appreciation of its formal qualities, lending access to its sublimity. . . . Anyone interested in ballet, dance criticism, or the history of the arts in Russia should not miss this collection."—Lesley-Anne Sayers, The Russian Review
"No more important dance book has come from the publishing industry in 2008. . . .[Ballet's Magic Kingdom is] constantly fresh and stimulating."—Allan Ulrich, Voice of Dance.com
ISBN:
9780300164497
Publication Date:
May 25, 2010
352 pages, 5 13/16 x 9
24 b/w illus. in gallery