Encounters
WARNING
You are viewing an older version of the Yalebooks website. Please visit out new website with more updated information and a better user experience: https://www.yalebooks.com
Chinese Language and Culture, Student Book 1
Cynthia Y. Ning and John S. Montanaro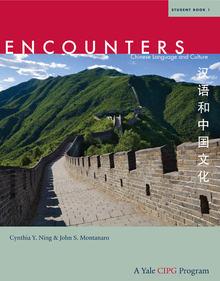 View Inside
Format:

Paper


Price:

$60.00
Welcome to Encounters, a groundbreaking Chinese language program that features a dramatic series filmed entirely in China. The program's highly communicative approach immerses learners in the Chinese language and culture through video episodes that directly correspond to units in the combination textbook-workbook. By combining a compelling story line with a wealth of educational materials, Encounters weaves a tapestry of Chinese language and culture rich in teaching and learning opportunities.

Encounters follows a carefully structured and cumulative approach. Students progress from listening and speaking to the more difficult skills of reading and writing Chinese characters, building grammar, vocabulary, and pronunciation skills along the way.

The Encounters program includes:

• Two Full-color Student Books for introductory Chinese study

• Annotated Instructor's Editions with answer keys and suggested class activities

• Two Character Writing Workbooks linked directly to the Student Book

• Ten hours of video materials, comprising dramatic episodes, cultural segments, and animations, all integrated with the Student Books

• A total of 200 minutes of audio material, linked to the Student Books, for listening and speaking practice

• A website, www.encounterschinese.com, providing access to all audiovisual material of the program upon adoption

Each new, print copy of a Student Book comes with a 10-digit access code which provides one year of complimentary access to the website and its media. Students who purchase an eBook, or who are looking to extend their access to the website material, must buy a new access code. These codes are available at http://yalebooks.com/yupbooks/encounters.asp.




Cynthia Y. Ning is associate director of the Center for Chinese Studies at the University of Hawai'i at Manoa, where she has taught courses in Chinese language and film for more than 25 years. She is the former president and executive director of the Chinese Language Teachers Association. John S. Montanaro recently retired as Senior Lecturer in Chinese at Yale University, where he taught for more than 30 years.

 

Click here to view a brochure about the features and methodology of Encounters: Chinese Language and Culture. 



Click here to view an excerpt and Unit tour.


Click the tabs above to view the table of contents and introductory unit of Student Book 1.



Students: click here to purchase access to the Encounters website.

For complete information and access to Encounters videos and audio materials, please visit: http://encounterschinese.com/

IMPORTANT SALES INFORMATION: To order Encounters directly from the publisher, please refer to the list of countries and regions below before ordering.

• United States and Canada: Customers in these areas must order from this Web site.

• Europe (excluding Russia), Australia, and New Zealand: Customers in these areas must order from the Yale University Press London Web site.

• Asia (including Russia), Central America, South America, and Africa: Customers in these areas must order from Sinolingua's Web site,    encounterschinese.com.cn.

INSTRUCTORS:

Register for access to the audio and video media and request examination or desk copies of Encounters Student Book 1, Annotated Instructor's Edition (ISBN 978-0-300-16166-3) and other Encounters titles at www.EncountersChinese.com.

Request access to view an online exam copy of Encounters Student Book 1, Annotated Instructor's Edition by clicking here. 
"As a foreign language instructor and researcher, I am very meticulous and demanding regarding the selection and utilization of instructional materials. In the last ten years, we have seen a significant increase of interest in Chinese language and culture in K-16 settings. As is true for many foreign language programs, not all Chinese programs provide the same quality of education. Authentic and meaningful learning materials, especially textbooks, are the foundation of any high-quality foreign language instructional program. I strongly recommend the Encountersmaterials, a remarkable series of textbooks, to all Chinese instructors, especially those teaching at the high school and college levels. I believe both teachers and students will very much enjoy this exemplar of a new generation of language programming."—Ting Shen, University of Mount Union, Journal of Technology and Chinese Language Teaching
"The Encounters series has been a definite success for us and we are glad we made the switch."—Fred Kosak, The Rivers School
"Encounters provides a well-rounded introduction to the language. . . . [It is] well organised and comprehensive."—Francesca Sablan, second-year Chinese studies student, University of Manchester, Times Higher Education
"This is a unique effort.  The key here is the focus on the essentials of communication. The Web component is great, and I love the video — as a nonnative speaker, I especially want the kids to hear someone who is not me!"—Erica Dieselman, Hingham High School
"A powerful and innovative textbook series for students of Chinese."—Christopher Lupke, Washington State University
"Among the many strengths of Encounters are the emphasis on culture in the videos, the variety of activities, and the useful review sections."—Jing Zhai, Marquette University
"I like the natural context and the different types of exercises in the Encounters textbook. Further, the video is nothing short of great."—Hanna Lin, West Virginia University
"I love the multimedia approach of Encounters!"—LanHui Zhang Ryder, Northern Illinois University
"I like all the integrated multimedia tools. Outstanding."—Bernard Geoxavier, Belmont Hill School
"As a teacher, I like the architecture of the book and its efforts to teach American students in a more communicative way. I especially appreciate the cultural materials and also the Skillbuilder exercises."—Yinong Yang, Buckingham Browne & Nichols
"Particularly for high school freshmen (who make up a majority of my introductory Chinese classes), I need materials that are hands-on and practical if I am to maintain their focus and interest. Encounters promises just that."—Peter Bonanno, Suffield Academy
"Wonderful textbooks! With Encounters' well-constructed units and careful organization, I can save a lot of planning time."—Jia Yanmei, Perry County Central High
"Encounters shows my students how Chinese is used in real life context. The cultural segments are great because they let students see different points of view in Chinese."—Jean Kimura, Milken Community High School
"It's easy for students to understand, comprehend, and to pick up the language. You pick up the subtleties and authenticity of the language. Students are inspired by seeing the video and seeing Americans speak Chinese. I have seen an improvement in my students' character reading and listening skills after using Encounters."—Litan Rath, Westinghouse College Prep High School
"I wouldn't use use anything else. I love it. It's hard for American students to learn in the traditional Chinese way. Encounters is more fluid and does not promote rote memorization."—Jennifer Portillo, The Denver Center for International Studies
"By focusing in the first lessons on basic survival pronunciation, Encounters gives students more confidence to learn Chinese. A wonderful textbook! And the video series provides an authentic and high-quality environment in which to learn Chinese."—Bei Chen, University of North Texas
"This is the best Chinese language textbook that I have seen. It's so authentic and speaking-based versus grammar-based. My students love the video and always want to watch more."—Bei Chen, University of North Texas
"It's a modern up-to-date, interactive, interesting, fun way to learn Chinese. I highly recommend Encounters."—Li Mann, Fresno City College
"Innovative, fantastic, very engaging and encouraging for learning. . . . Encounters will be a major contribution to the Chinese teaching field."—Chengzhi Chu, Ph.D., Director of the Chinese Language Program, University of California, Davis
"The video series provides authentic materials to engage and connect to learners. Students are encouraged and eager to try out speaking in pairs or during mingling exercises. My students also appreciated the grammar and culture bits throughout each unit."—Tina Chang, The Northwest School
"Encounters excel[s] as a communicative methodology [for] this drastically changing global age. . . . A multifaceted interface for learners to explore real-life language use in rich contexts."—Chen-Hui Tsai, China Review International
"I've been using the Encounters program for the past two months. I really love this program. It is very user-friendly. I can easily find related teaching resources for every unit. My students love it, too."—Runlei Zhai, North Carolina State University
ISBN:
9780300161625
Publication Date:
July 15, 2011
336 pages, 8-1/2 x 10-7/8
180 color + b/w illus.

---
Sales Restrictions: For sale in the United States, Canada, Europe, Australia and New Zealand only