The Pearl
WARNING
You are viewing an older version of the Yalebooks website. Please visit out new website with more updated information and a better user experience: https://www.yalebooks.com
A True Tale of Forbidden Love in Catherine the Great's Russia
Douglas Smith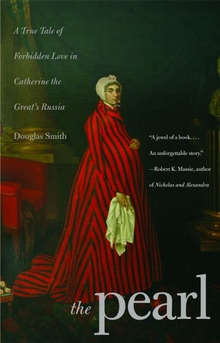 View Inside
Format:

Paper


Price:

$32.00
Also Available in:
Cloth
The unforgettable story of the serf who became one of Russia's greatest opera singers and her noble master, a man who defied all tradition to marry her

Filled with a remarkable cast of characters and set against the backdrop of imperial Russia, this tale of forbidden romance could be the stuff of a great historical novel. But in fact The Pearl tells a true tale, reconstructed in part from archival documents that have lain untouched for centuries. Douglas Smith presents the most complete and accurate account ever written of the illicit love between Count Nicholas Sheremetev (1751-1809), Russia's richest aristocrat, and Praskovia Kovalyova (1768-1803), his serf and the greatest opera diva of her time.
Blessed with a beautiful voice, Praskovia began her training in Nicholas's operatic company as a young girl. Like all the members of Nicholas's troupe, Praskovia was one of his own serfs. But unlike the others, she utterly captured her master's heart. The book reconstructs Praskovia's stage career as "The Pearl" and the heartbreaking details of her romance with Nicholas—years of torment before their secret marriage, the outrage of the aristocracy when news of the marriage emerged, Praskovia's death only days after delivering a son, and the unyielding despair that followed Nicholas to the end of his life. Written with grace and style, The Pearl sheds light on the world of the Russian aristocracy, music history, and Russian attitudes toward serfdom. But above all, the book tells a haunting story of love against all odds.  
Douglas Smith is a resident scholar at the University of Washington and the author of the prize-winning books Working the Rough Stone: Freemasonry and Society in Eighteenth-Century Russia and Love and Conquest: Personal Correspondence of Catherine the Great and Prince Grigory Potemkin.
Visit the author's website.
"Smith's book is an unusual gem—a work that gives us not only an absorbing view of the intimate world of a forbidden romance but also a first-rate historical tour of the lost landscapes of Russian aristocratic society, opera, and theater in its golden age."—Willard Sunderland, University of Cincinnati
"Douglas Smith has produced the definitive account, and the first in English, of the extraordinary relationship between Count Nicholas Sheremetev, Russia's wealthiest noble ever, and his wife, a former serf actress known as 'The Pearl'."—Hilde Hoogenboom, University of Albany

"A moving, romantic, and tragic historical tale."—Elise Wirtschafter, California State Polytechnic University
"The Pearl is a bright, sparkling jewel of a book; a masterpiece that deserves as wide an audience as possible. Russia's greatest love story has never been properly told, until now."—Amanda Foreman, author of Georgiana, Duchess of Devonshire
"The Pearl is a portrait of one of the greatest and least known love stories in European history. Douglas Smith, a brilliant historian who writes like a novelist, has brought it to life in a rare blend of meticulous research and gripping emotional narrative. Mesmerizing."—Andrea Lee, author of Russian Journal and Interesting Women
"This is a dazzling, multi-faceted jewel of a book. Based on an extraordinary effort of meticulous research, Douglas Smith has discovered and told the true story of a young, eighteenth-century serf woman whose superb voice made her the star of the private opera theater of her owner, the wealthiest nobleman in Catherine the Great's Russia. The high drama of their passionate love is set against a background of the greatest possible contrast: the grim realities of serfdom versus the staggering opulence of the highest Russian aristocracy. It is a remarkable work of dual biography; it is also an unforgettable story."—Robert K. Massie, Pulitzer Prize-winning author of Nicholas and Alexandra and Peter the Great
"This fascinating, well-researched account by Douglas Smith is more than a love story about the singing serf who became the greatest diva in Russia and married her master. . . . It's also a vivid account of the privileged lives and baroque splendor of the Russian aristocracy in the 18th century—the golden age of Russian nobility—and the complex interaction between the wealthy few and their countless serfs."—Selwa Roosevelt, Washington Post Book World
"A love story between the richest nobleman in Imperial Russia and a young serf with a spellbinding operatic voice—the scribbler of a bodice-ripper romance could not ask for better stuff. Now, imagine the same story undertaken with meticulous historical research of thousands of archival documents, crafted by a scholar who moves with impressive agility between the past and present, among English, Russian and German. [Smith] is one of a small circle of people on the planet who could think up this book—and have the gray matter to do it well."—Kimberly Marlowe Hartnett, Seattle Times
"The irresistible story of the Russian serf Praskovia Kovalyova who was honored by Catherine the Great and loved by one of the richest men in the world. Nicholas Sheremetev brought her to the stage, to his bed, and then secretly wed her. . . . Straight from a Russian novel Sheremetev is a type more often found in 19th-century Russian fiction than in history. . . . Smith offers an engaged and sympathetic assessment of Sheremetev."—Bob Blaisdell, Christian Science Monitor
"An engaging narrative. . . . Scrupulous research underlies this fascinating picture of life at Russia's top social echelon."—George Loomis, Moscow Times
"A fascinating and moving story."—Betty Smart Carter, Books & Culture
"It is a profound love story, well told, while at the same time a valuable contribution to Russian social and political history."—Russian Life
"As the title suggests, Douglas Smith's new publication transgresses boundaries of traditional scholarly history to embrace the 'life-giving breath of fiction.' With an engaging novelistic style Smith revisits the story of Countess Praskovia Sheremeteva's unlikely rise from lowly serf actress to legitimate wife of one of Russia's wealthiest men, Count Nicholas Sheremetey." —Amanda Ewington, Slavic and East European Journal
"This is an odd but inspiring story. It is wonderful that Smith uncovered it and tells it so movingly."—Howard Kissel, The Cultural Tourist (New York Daily News blog)
"Smith's account is based on meticulous scholarly research, but is written in a lively, engaging and sympathetic manner that will appeal to a broad readership; this is a work that offers much to academics of eighteenth-century Russian history, opera lovers and those with a soft-spot for a tear-jerker of a love story."—Robert Collis, Journal for Research into Freemasonry and Fraternalism
ISBN:
9780300158588
Publication Date:
August 25, 2009
352 pages, 5 13/16 x 9
16 b/w + 11 color illus. + 2 family trees