Edward II
WARNING
You are viewing an older version of the Yalebooks website. Please visit out new website with more updated information and a better user experience: https://www.yalebooks.com
Seymour Phillips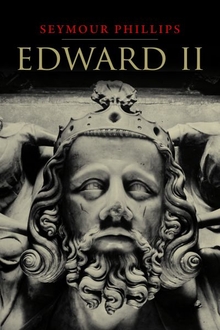 View Inside
Format:

Cloth


Price:

$52.50
Also Available in:
Paper
Out of Print
The latest definitive biography in the acclaimed Yale English Monarchs series

Edward II (1284–1327), King of England, Lord of Ireland, and Duke of Aquitaine, was the object of ignominy during his lifetime and calumny since it. Conventionally viewed as worthless, incapable of sustained policy, and significant only for his sporadic displays of ill-directed energy or a stubborn adherence to greedy and ambitious favorites, he has been presented as fit only to be deposed and replaced by someone more worthy of the throne.

This definitive biography, the fruit of a lifetime's study, does not present Edward II as a heroic or successful king: his deposition after a turbulent reign of nearly twenty years is proof enough that it went terribly wrong. But Seymour Phillips' scrutiny of the multitude of available sources shows that a richer picture emerges, in line with the complexity of events and of the man himself. If Edward II was not a successful king, he was not fundamentally different in many ways from most English monarchs. The biography strikes a deft balance, taking full account of the problems the king faced in England, Scotland, and Ireland and in his relations with France. It also tackles the contentious issue of whether Edward II did not die in 1327, murdered under barbaric circumstances, but lived on as a captive in England and then a wanderer on the Continent. Eight hundred years on, a king's life is properly examined.
Seymour Phillips is emeritus professor of medieval history, University College, Dublin, and a Member of the Royal Irish Academy.
"This definitive biography, the fruit of a lifetime's study, strikes a deft balance."—History Magazine
"Admirable scholarship, . . . sane and balanced judgment. . . . Indispensable to academics."
—
Library Journal
"Written with compositional clarity, Phillips' biography manifestly ranks as definitive."—Gilbert Taylor, Booklist
"Phillips' book will stand for the foreseeable future as the definitive work . . . invigorating . . . a joy to read."—Steve Donoghue, Open Letters Monthly
"The book can fairly be described as indispensable…. In all, a major achievement."—Northern History XLVIII (1)
"This massive deeply nuanced biography draws out not only the King's own contradictions but the political pressures and diplomatic tensions he had to contend with."—Michael Kerrigan, The Scotsman
"Seymour Phillips has written an absorbing blow-by-blow account of the follies and misfortunes of this dark and depressing interlude in English history."—Chris Given-Wilson, Times Literary Supplement
"Phillips takes us deftly through the twists and turns of Edward's eventful career."—Nigel Saul, History Today
"Written by a distinguished expert for the prestigious Yale Monarchs series."—Will Robinson, The Spectator
"Phillips's account of the life and reign of Edward II is a masterful example of the finest historical scholarship. The research is thorough, the judgments are carefully reasoned and explained, and the narrative is engaging. . . . Endorsed without reservation."—A. C. Reeves, CHOICE
"Phillips's Edward II is both like and unlike earlier portraits of the king. Neither heroic nor successful, he is nonetheless rendered more complex and compelling in this thoroughly engaging study."—J.S Hamilton, English Historical Review cxxxvi.520
"The book's value lies in its accumulation of detail from an extraordinary range of unpublished sources and a thorough review of published writings: it is a reliable work of reference."—Ralph A. Griffiths, The American Historical Review
"This is an excellent book and I would recommend it as required reading for those teaching Advanced Higher"—Jason Beveridge, History Teaching Review
ISBN:
9780300156577
Publication Date:
June 8, 2010
704 pages, 234 x 156
20 b/w illus.