Stanley
WARNING
You are viewing an older version of the Yalebooks website. Please visit out new website with more updated information and a better user experience: https://www.yalebooks.com
The Impossible Life of Africa's Greatest Explorer
Tim Jeal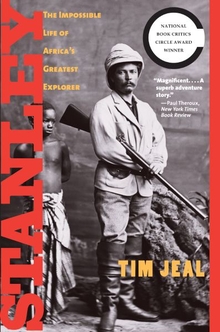 View Inside
Format:

Paper


Price:

$18.00
Also Available in:
Cloth
A rousing biography of the most brilliant, and misunderstood, adventurer in the great age of exploration—winner of the 2007 National Book Critics Circle Award for Biography and a New York Times Book Review Notable Book of 2007

"Magnificent new life . . . . There have been many biographies of Stanley, but Jeal's is the most felicitous, the best informed, the most complete and readable and exhaustive."—Paul Theroux, front page, New York Times Book Review

"This commanding, definitive biography . . . is an unalloyed triumph."—Jason Roberts, Washington Post Book World

Henry Morton Stanley, so the tale goes, was a cruel imperialist who connived with King Leopold II of Belgium in horrific crimes against the people of the Congo. He also conducted the most legendary celebrity interview in history, opening with, "Dr. Livingstone, I presume?" But these perceptions are not quite true, Tim Jeal shows in this grand and colorful biography. With unprecedented access to previously closed Stanley family archives, Jeal reveals the amazing extent to which Stanley's public career and intimate life have been misunderstood and undervalued. Jeal recovers the reality of Stanley's life—a life of almost impossible extremes—in this moving story of tragedy, adventure, disappointment, and success.

Few have started life as disadvantaged as Stanley. Rejected by both parents and consigned to a Welsh workhouse, he emigrated to America as a penniless eighteen-year-old. Jeal vividly re-creates Stanley's rise to success, his friendships and romantic relationships, and his life-changing decision to assume an American identity. Stanley's epic but unfairly forgotten African journeys are thrillingly described, establishing the explorer as the greatest to set foot on the continent. Few biographies can claim so thoroughly to reappraise a reputation; few portray a more extraordinary historical figure.
Tim Jeal is also the biographer of Henry Morton Stanley (National Book Critics' Circle Award in Biography and Sunday Times Biography of the Year 2007), and Robert Baden-Powell, which (like Livingstone) was chosen as a Notable Book of the Year by the New York Times and the Washington Post. In 2011 his Explorers of the Nile was a New York Times Editor's Choice and a BBC Radio 4 Book of the Week.
View videos from the 2006 National Book Critics Circle Finalist Readings and Awards Ceremony.
Listen to the author sort out legend from the truth on The Leonard Lopate Show: "The Great Adventures of Sir Henry Morton Stanley" Read the entire New York Times Sunday Book Review of Stanley.
Listen to Tim Jeal's interview on WILL AM, Focus 580 with David Inge. Download the program with Windows Media Player.
"A magnificent new life. . . . [Jeal] demonstrates in a way that makes [this] a superb adventure story as well as a feat of advocacy [that] Stanley was probably the greatest explorer ever to set foot in Africa. . . . There have been many biographies of Stanley, but Jeal's is the most felicitous, the best informed, the most complete and readable and exhaustive, profiting from his access to an immense new trove of Stanley material."—Paul Theroux, front page, New York Times Book Review
"Tim Jeal has written a great book—shrewd, perceptive and engaging."—Jane Ridley, Sunday Telegraph
"Tim Jeal's book is not just an absorbing, sometimes horrifying biography but a feat of advocacy—an ardent, intricate defence of a man history has damned. . . . His subject could not be more topical. . . . For the question at the core of the book is do we have the right to force our idea of civilization on people's whose culture is abhorrent to us?"—John Carey, Sunday Times
"It is a wonderful story almost epic in scope. . . . What a biopic it would make!"—Sara Wheeler, The Times
"[An] exciting and extraordinary tale."—Ann Wroe, Daily Telegraph
"Jeal's book is a stunning and provocative work, an awesome piece of scholarship executed with page-turning brio. . . . A remarkable reassessment that will send shivers through historians and writers on
Africa."—Kevin Rushby, The Guardian
"Of the many biographies of Henry Morton Stanley, Jeal's, which profits from an immense new trove of material, is the most complete and readable."—New York Times Book Review (Editors' Choice)
"[A] meticulous biography. . . . Besides rescuing Stanley from an unfair but accepted caricature, Jeal skillfully illuminates Stanley's work and its morality and separates him from King Leopold's exploitation and oppression of the Congo. This excellent reassessment of Stanley's life is essential for all libraries."—Library Journal
"There have been many biographies of Stanley, but Jeal's is the most felicitous, the best informed, the most complete and readable and exhaustive. . . In its progress from workhouse to mud hut to baronial mansion, it is like the most vivid sort of Victorian novel . . ."—Paul Theroux, front page, New York Times Book Review
"[An] impressive, revealing, and well written biography. . . . Tim Jeal has had both the good fortune to see [Stanley's] papers and the skill to construct a new interpretation around them. He recognizes Stanley's feats and views them in the context of his age rather than ours. Moreover, he adds new layers to his subject's character."—David Gilmour, New York Review of Books
"Jeal takes an already-fascinating story to new levels. . . . Jeal's biography is an unalloyed triumph, not only because it is painstakingly researched and eminently readable, but because it never loses sight of the abandoned child in the man, driving him forward, 'able to frighten, able to suffer, but also to command love and obedience.' Such a personality, Jeal notes, is 'an extinct species, and all the more remarkable for that.'"—Jason Roberts, Washington Post Book World
"[An] impressive, revealing, and well written biography. . . . [Jeal] adds new layers to his subject's character."—David Gilmour, New York Review of Books
"By uncovering the truth behind the myth, Jeal paints a sympathetic portrait of the ultimate self-made man."—Rebecca A. Clay, Wilson Quarterly
"A meticulously detailed, thoroughly documented, definitive biography of Henry Stanley. . . . Despite immense fame and extensive writings by and about Stanley, this biography repudiates the conventional perceptions about the explorer. . . . Jeal's fascinating biography will not be last word on Stanley, but it should be the starting place for years to come. Highly recommended."—Choice
"Sympathetic yet balanced, perceptive and full of perspective, this is biography at its best."—Ross Leckie, The Times
"Given the great amount of material Jeal used, his book is to be commended for the writing style, which draws the reader in and sustains interest throughout the duration of the narrative."—Steven Fabian, Journal of Historical Biography
Winner of the 2007 National Book Critics Circle Award for Biography
Named one of the 100 Notable Books of 2007 by The New York Times Book Review
Nominated for the 2007 Los Angeles Times Book Prize in the Biography category
Silver medal winner of the 2008 Independent Publisher Book Award in the category of Biography
Selected as a 2008 AAUP University Press Book for Public and Secondary School Libraries
Selected by Choice magazine as an Outstanding Academic Title from 2008
Selected as one of the best books of 2008 by the Washington Post in the Biography category
ISBN:
9780300142235
Publication Date:
October 28, 2008
608 pages, 6 1/8 x 9 1/4

---
Sales Restrictions: For sale in the U.S. only