An Entirely Synthetic Fish
WARNING
You are viewing an older version of the Yalebooks website. Please visit out new website with more updated information and a better user experience: https://www.yalebooks.com
How Rainbow Trout Beguiled America and Overran the World
Anders Halverson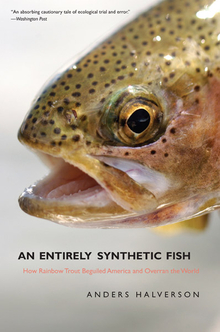 View Inside
Format:

Paper


Price:

$22.00
Also Available in:
Cloth
An award-winning journalist, aquatic ecologist, and lifelong fisherman tells for the first time the surprising story of the rainbow trout, a revered icon for some and an all-too-common vexation for others

Anders Halverson provides an exhaustively researched and grippingly rendered account of the rainbow trout and why it has become the most commonly stocked and controversial freshwater fish in the United States. Discovered in the remote waters of northern California, rainbow trout have been artificially propagated and distributed for more than 130 years by government officials eager to present Americans with an opportunity to get back to nature by going fishing. Proudly dubbed "an entirely synthetic fish" by fisheries managers, the rainbow trout has been introduced into every state and province in the United States and Canada and to every continent except Antarctica, often with devastating effects on the native fauna. Halverson examines the paradoxes and reveals a range of characters, from nineteenth-century boosters who believed rainbows could be the saviors of democracy to twenty-first-century biologists who now seek to eradicate them from waters around the globe. Ultimately, the story of the rainbow trout is the story of our relationship with the natural world—how it has changed and how it startlingly has not.
Anders Halverson is a journalist with a Ph.D. in aquatic ecology from Yale University. He lives in Boulder, CO.
"With prose as engaging as it is thoughtful, Halverson has crafted an absorbing cautionary tale of ecological trial and error, documenting our tardy but increasing understanding of biological interdependence and its immeasurable value."—Washington Post
"Anyone interested in life as metaphor will find here the fascinating historical story of how different people saw their highest ideals and aspirations through the lens of a single, uncommonly compelling fish. And like democracy—but with perhaps more success—they spread it around the world. This unusually well-written, interesting book deserves a place of honor for everyone who sees in trout more than 'just' a fish."—Carl Safina, author of Song for the Blue Ocean, Eye of the Albatross, and The View From Lazy Point
"A fascinating story of man's urge to cultivate and disseminate a beautiful coldwater fish—at times to the detriment of native species but also the joy of anglers who would not otherwise have the opportunity to catch a trout. A gripping blend of early American history, discussions on taxonomy, and questions of how best to preserve wildness and the indigenous in a world where the human relationship to Nature is complex and always changing."—James Prosek, author of Trout of the World
"This book rewards readers in two equally significant ways. First, it entertains us with stories of intrinsic interest and even mind-stretching improbability. Second, it invites us to be smarter and more congenial citizens, more inclined to think productively about our environmental challenges and dilemmas, and more prepared to rise above faction and return to regarding 'the public good.'"—Patricia Nelson Limerick, Faculty Director of Center for the American West, and author of The Legacy of Conquest: The Unbroken Past of the American West and Something in the Soil: Legacies and Reckonings in the New West
"This is a small book that could influence big fishery issues. I found new insights into some of the problems and I am quite familiar with most of them."—Peter Moyle, University of California, Davis
"The historical research, personal interviews, and putting it together has produced an outstanding piece of work."—Robert Behnke, Professor Emeritus, Colorado State University, and author of Trout and Salmon of North America
"In this brilliant study, Anders Halverson illuminates the astonishing history of the rainbow trout, a native of the tributaries of eastern and western Pacific coastal rivers, introduced to at least 45 countries, and every continent except
Antarctica. But why does he call it 'an entirely synthetic fish?' You'll have to read this remarkable book for the answer."—Richard Ellis, author of Tuna: A Love Story and On Thin Ice: The Changing World of the Polar Bear
"Halverson's book is a microhistory, an examination of America's involvement with a favored fish that sheds light on broader truths regarding our recent relationship with the natural world."—Chronicle Review
"Make no mistake, this book is a major event in the history of angling and ecological analysis. It needs to become the stuff of every angler's conversation and practice. And it's such a pleasure to read!"—Gordon Wickstrom, American Angler
"Halverson entertainingly introduces some of the most tangled questions in conservation biology: What is a species? What is native? What is natural? What is wild?"—Jared Farmer, Science
"A well-paced, completely absorbing tale of how man and trout have changed the landscape of the planet."—Ralph Cutter, California Fly Fisher
"In the same way that Michael Pollan's Omnivore's Dilemma reached beyond the realm of foodies, An Entirely Synthetic Fish is connecting with an audience far larger than trout bums. If you happen to be an angler, consider that a bonus in your enjoyment of this great book."—Ralph Cutter, California Fly Fisher
"Intelligent, fair-minded and uncommonly readable."—Rob Oden, Pittsburgh Post-Gazette
"Halverson's account of the Green River project was gripping, and in fact, read a lot like a novel (I half-expected Bond to show up)."—Tom Chandler, The Trout Underground
"Fly fishing for trout retains its image as a clean, low-impact outdoor activity. Rightly so, perhaps, but after reading Halverson's book, you will think twice about how close to nature you are when you cast that line out over a rocky pool."—Laurence A. Marschall, Natural History
"Halverson treats the history of rainbow trout like a detective story and interviews or writes about a cast of fascinating characters . . . an excellent and entertaining read for anyone interested in the history of conservation, but especially the history of how rainbow trout became an entirely synthetic fish."—Peter B. Moyle, The Quarterly Review of Biology
"[A] highly readable book."—Peter B. Moyle, The Quarterly Review of Biology
"This brief book is an excellent and entertaining read for anyone interested in the history of conservation, but especially the history of how rainbow trout became an entirely synthetic fish."—Peter B. Moyle, The Quarterly Review of Biology
Winner of the 2010 National Outdoor Book Award in the Natural History Literature category, as given by the National Outdoor Book Awards Foundation, Association of Outdoor Recreation and Education, and Idaho State University
ISBN:
9780300140880
Publication Date:
June 28, 2011
288 pages, 6 1/8 x 9 1/4
20 b/w illus.