Growing the Game
WARNING
You are viewing an older version of the Yalebooks website. Please visit out new website with more updated information and a better user experience: https://www.yalebooks.com
The Globalization of Major League Baseball
Alan M. Klein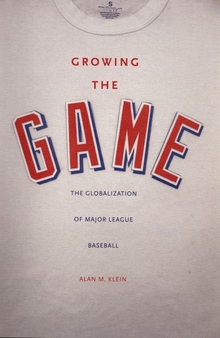 View Inside
Format:

Paper


Price:

$29.00
Also Available in:
Cloth
How globalization is affecting America's national pastime and what the changes may mean for the future of the game

Baseball fans are well aware that the game has become increasingly international. Major league rosters include players from no fewer than fourteen countries, and more than one-fourth of all players are foreign born. Here, Alan Klein offers the first full-length study of a sport in the process of globalizing. Looking at the international activities of big-market and small-market baseball teams, as well as the Commissioner's Office, he examines the ways in which Major League Baseball operates on a world stage that reaches from the Dominican Republic to South Africa to Japan.
The origins of baseball's efforts to globalize are complex, stemming as much from decreasing opportunities at home as from promise abroad. The book chronicles attempts to develop the game outside the United States, the strategies that teams such as the Los Angeles Dodgers and the Kansas City Royals have devised to recruit international talent, and the ways baseball has been growing in other countries. The author concludes with an assessment of the obstacles that may inhibit or promote baseball's progress toward globalization, offering thoughtful proposals to ensure the health and growth of the game in the United States and abroad.
Alan M. Klein is professor of sociology and anthropology, Northeastern University. He is author of Sugarball: The American Game, The Dominican Dream, published by Yale University Press; and Baseball on the Border: A Tale of Two Laredos. He lives in Boston.
"A superb inside look at how the national pastime has reinvented itself. Alan Klein's writing is engaging and his research is top-notch. His efforts remind me of that Johnny Cash song. When it comes to the globalization of baseball, Klein has been 'everywhere.'"—Tim Wendel,  author of The New Face of Baseball: The One-Hundred-Year Rise and Triumph of Latinos in America's Favorite Sport
"This is an excellent book, from a first rate scholar who combines theoretical and empirical insights to produce an engaging look into the development of baseball across the globe."—Joseph Maguire, author of  Power and Global Sport
"Klein enters an important and exciting area of research and is the first to focus on the globalization of baseball.  Growing the Game will be a landmark contribution."—Milton Jamail, author of Full Count: Inside Cuban Baseball


"Well-researched."—Nathaniel Rich, Los Angeles Times
"[This] informative . . . book subtitled The Globalization of Major League Baseball, focuses on the still relatively new initiatives in Latin America, Asia, Australia, Europe and South Africa of the Kansas Royals, the Los Angeles Dodgers, and Major League Baseball International, a division of the Office of the Commissioner of Baseball."—Glenn C. Altschuler, Barron's
"A study of baseball's expansion to new countries, as well as the presence of players from at least 14 different nations on U.S. major-league rosters."—Chronicle of Higher Education
"I came away from Growing the Game enlightened about the history of the game, its surprisingly significant role in a number of different types of cultures, and its ongoing struggle to survive in the context of more established, as well as newer and faster, kinds of sporting entertainment."—Michael R. Stevens, Christianity Today
"A timely contribution to our understanding of baseball in our contemporary age. . . . Provides a rich look inside the dynamics driving globalization efforts . . . [and] a rare glimpse of globalization as it is played out behind the scenes of the game itself. . . . A valuable contribution."—Michael L. Butterworth, Sociology of Sport Journal
ISBN:
9780300136395
Publication Date:
April 1, 2008
288 pages, 6 1/8 x 9 1/4