Sketches from a Secret War
WARNING
You are viewing an older version of the Yalebooks website. Please visit out new website with more updated information and a better user experience: https://www.yalebooks.com
A Polish Artist's Mission to Liberate Soviet Ukraine
Timothy Snyder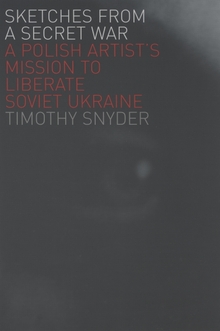 View Inside
Format:

Paper


Price:

$34.00
Also Available in:
Cloth
The forgotten protagonist of this true account aspired to be a cubist painter in his native Kyïv. In a Europe remade by the First World War, his talents led him to different roles—intelligence operative, powerful statesman, underground activist, lifelong conspirator. Henryk Józewski directed Polish intelligence in Ukraine, governed the borderland region of Volhynia in the interwar years, worked in the anti-Nazi and anti-Soviet underground during the Second World War, and conspired against Poland's Stalinists until his arrest in 1953. His personal story, important in its own right, sheds new light on the foundations of Soviet power and on the ideals of those who resisted it. By following the arc of Józewski's life, this book demonstrates that his tolerant policies toward Ukrainians in Volhynia were part of Poland's plans to roll back the communist threat.
The book mines archival materials, many available only since the fall of communism, to rescue Józewski, his Polish milieu, and his Ukrainian dream from oblivion. An epilogue connects his legacy to the disintegration of the Soviet Union and the democratic revolution in Ukraine in 2004.
Timothy Snyder is professor of history at Yale University.
"Strikingly new, original, and readable. This book will no doubt force everyone in the field to rethink Ukrainian, Polish, and Soviet history during the interwar period."—Hiroaki Kuromiya, Indiana University
"Another thrilling and erudite book on the intricate history of East European borderlands by Timothy Snyder, a master of the genre."—Jan Gross, Princeton University
"Timothy Snyder draws on his immense knowledge of Europe's borderlands to describe in fascinating detail the shifting alliances and antagonisms—nationalist, ethnic, religious, cultural, ideological—among their 20th century peoples, as reflected in the extraordinary career of Henryk Jozewski, Polish artist, spy, military and political leader in promoting
cooperation between Poles and Ukrainians."—Samuel P. Huntington, Harvard University
"Timothy Snyder's Sketches from a Secret War is a remarkable combination of a real life spy story, an outstanding piece of historical detective work in previously unavailable archives, and a set of profound reflections on East European history—with many notable echoes in East European politics today."—Timothy Garton Ash, Professor of European Studies, University of Oxford
"[A] compact, well-told history."—Robert Legvold, Foreign Affairs
"[A] compelling book. . . . It is hard not to see this eminently 20th-century story as a biography for a new century. . . . Józewkis's . . . views are described and analyzed by Snyder with a deft and persuasive blend of empathy and historical detachment."—Mark Mazower, Kritika: Explorations in Russian and Eurasian History


"Sheds new light on the foundations of Soviet power and on the ideals of those who resisted it."—Reference & Research Book News

"In this extraordinary volume, Tim Snyder (an American historian with his own simultaneous passions for border regions and confusing bits of history) has found out a few other stories worth telling as well." - Anne Applebaum, The Spectator
"I count myself fortunate to have come across Sketches from a Secret War, a masterful portrait of Polish artist Henryk Jozewski. Jozewski was a protean figure on his own frontier, the marshy forests where Ukraine, Poland and Russia meet. He was, often at the same time, dramaturg, governor, spymaster and dissident: he left his remarkable life story in the form of interrogation records in the vaults of the KGB. Jozewski's young biographer, Timothy Snyder, is himself an artist in words and this narrative is at once Cold War thriller and meditation on the vagaries of fate."—Nicholas Rothwell, The Australian (2006 books-of-the-year edition of ('What the writers read')
"Timothy Snyder's Sketches from a Secret War achieves that rare balance between thorough scholarship and excellent writing: With the plot of a thriller, a hero out of a spy film and historical sources that have never been used before, Sketches is mandatory reading for anyone who cares about twentieth-century history."—Anne Applebaum
"[A] remarkable book. . . . This is a story of passion and intrigue, personal ambition and ideological struggles."—Omer Bartov, Times Literary Supplement
"This is another excellent biography by a noted historian of Eastern Europe and a master of the genre. . . . This fascinating life story is told with a consummate skill. Unlike many a scholarly book, this one is really engaging and a pleasure to read. . . . Yet, the author offers more than good writing on a fascinating topic—his depth of analysis is tremendous. . . . Overall, the book is a superlative achievement."—Jerzy Borzecki, The Polish Review
"An exciting read. . . . Like the spies he writes about, Snyder frequently crosses the borders of Polish and Soviet Ukrainian history, but he doe so more fruitfully than his hapless Soviet and Polish agents."—Kate Brown, American Historical Review
"Compelling. . . . Sketches from a Secret War has much to say not just about Ukrainians, Russians, and Poles, but about twentieth-century Europe as a whole."—William Jay Risch, The Russian Review
"Wide-ranging and intelligent. . . . Sets the highest of standards."—David R. Marples, Slavic Review
"Timothy Snyder's Sketches from a Secret War is a rigorous, scrupulous, historical narrative, but a dozen spy novels lurk in these pages. The life lived by the artist Henryk Jozewski was a kind of clandestine masterpiece; Soviet operatives, right-wing assassins, secret police, idealistic Poles. Which makes for an extraordinary story—surprising, compelling, and true."—Alan Furst
"The broad interests and talents both of the book's subject and of its author result in a rich slice of Polish history and culture from approximately 1918 to 1956. Timothy Snyder skillfully weaves the artistic and intellectual life of Poland in those years together with Polish eastern policy, Ukrainian political desires, Stalin's domestic agenda, and international relations. The book is well-researched and eloquently written."—Katherine R. Jolluck, Journal of Modern History
ISBN:
9780300125993
Publication Date:
October 10, 2007
384 pages, 6 1/8 x 9 1/4
27 b/w illus. + 6 maps