Reversing Dry Eye Syndrome
WARNING
You are viewing an older version of the Yalebooks website. Please visit out new website with more updated information and a better user experience: https://www.yalebooks.com
Practical Ways to Improve Your Comfort, Vision, and Appearance
Steven L. Maskin, M.D.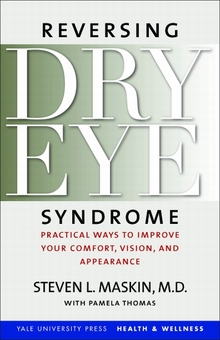 View Inside
Format:

Paper


Price:

$18.00
Also Available in:
Cloth
e-book
The first book on dry eye syndrome for patients and their families looking for the best current information and practical advice

This clear, accessible book combines detailed medical information with expert treatment advice for the estimated twenty million Americans who suffer from dry eye syndrome. Dr. Steven L. Maskin, an ophthalmologist who has been caring for dry eye patients for more than fifteen years, explains exactly what the syndrome is, why it occurs, and how it can best be managed and treated. He dispels the misunderstandings that surround dry eye syndrome and presents an easy-to-understand guide that may be read cover-to-cover or dipped into for specific topics of interest. Dr. Maskin begins with an overview of dry eye syndrome, then explains the myriad ways it can develop (allergies, aging, contact-lens use, LASIK surgery, diabetes, and various other diseases). He discusses how it can be successfully diagnosed and treated, offers guidelines for choosing a doctor and appropriate medications, and describes useful home remedies. In a concise final chapter, the doctor provides welcome answers to frequently asked questions. For patients who want to understand their disease and to participate actively in its management, this book is an essential reference.
Steven L. Maskin, M.D., is director, Cornea and Eye Surface Center, Tampa, FL. Pamela Thomas is a freelance writer and editor in New York City.
Visit the author's website.
Listen to Dr. Maskin's recent interview on "Andrew Schorr's Patient Power" program, featured on Health Radio Network. 
Click here to watch Dr. Maskin's recent interview on from WVTV, FOX 13 Tampa Bay.
"Dr. Maskin describes in straightforward language the causes of, symptoms of, and treatment for dry eye syndrome. He presents an enormous amount of information clearly and succinctly."—Vivian E. Thomson, University of Virginia
"Until now there has been no lay book devoted solely to unlocking the complexity of [dry eye syndrome] and to providing useful guidance for dry eye sufferers."—Scheffer C. G. Tseng, M.D., Ph.D., from the Foreword
"Well-written and presented with an exceptional insight and knowledge about eye care. Dr. Maskin explains a complex subject in simple, understandable terms that will prove very beneficial to the experienced and inexperienced reader and patient."—John H. Sykes, Founder and Chairman Emeritus, Sykes Enterprises Incorporated
"One thing that is essential to my success as a professional tennis player is good, clear vision. Dr. Maskin's vast institutional knowledge of the eyes and the clear and succinct way in which he conveys that knowledge in his book will help me protect one of my most valuable assets for years to come."—Jennifer Capriati, Grand Slam Tennis Champion
"There are not many resources geared to consumers on this topic, so Maskin's practical and informative book is timely and highly recommended for public and consumer health libraries."—Library Journal
"Relatively little information is available for the dry eye patient. In an effort to fill this void, Steven L. Maskin . . . has written this book aimed at answering many of the questions posed by dry eye sufferers. . . . [It is] important [for] its use as a resource for educating dry eye patients who would like to learn more about their condition. It is well written and definitely a worthwhile read."—William D. Townsend, Optometry and Vision Science
Selected as a 2008 AAUP University Press Book for Public and Secondary School Libraries
ISBN:
9780300122855
Publication Date:
May 28, 2007
272 pages, 5 1/2 x 8 1/4
3