The Man Who Was Rip Van Winkle
WARNING
You are viewing an older version of the Yalebooks website. Please visit out new website with more updated information and a better user experience: https://www.yalebooks.com
Joseph Jefferson and Nineteenth-Century American Theatre
Benjamin McArthur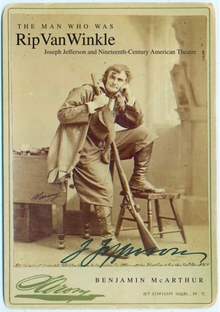 View Inside
Format:

Cloth


Price:

$77.00
The most beloved American comedic actor of the nineteenth century, Joseph Jefferson made his name as Washington Irving's Rip Van Winkle. In this book, a compelling blend of biography and theatrical and cultural history, Benjamin McArthur chronicles Jefferson's remarkable career and offers a lively and original account of the heroic age of the American theatre. 
Joe Jefferson's entire life was spent on the stage, from the age of Jackson to the dawn of motion pictures. He extensively toured the United States as well as Australia and Great Britain. An ever-successful career (including acclaim as painter and memoirist) put him in the company of the great actors, artists, and writers of the day, including Edwin Forrest, Edwin Booth, John Singer Sargent, and William Dean Howells.  This book rescues a brilliant figure and places him, appropriately enough, on center stage of a pivotal time for American theatre. McArthur explores the personalities of the period, the changing theatrical styles and their audiences, the touring life, and the wide and varied culture of theatre. Through the life of Jefferson, McArthur is able to illuminate an era.
Benjamin McArthur is professor of history, Southern Adventist University. He is the author of Actors and American Culture, 1880-1920, and was an associate editor of the American National Biography.
"This is a masterful biography written with intelligence, insight, and respect. Benjamin McArthur uses the life of a now forgotten actor to tell the story of nineteenth-century theatre and, in turn, uses the story of nineteenth-century theatre to bring the actor back to life."—Jean-Christophe Agnew, Yale University
"What a pleasure to encounter such an engaging, astute, and well-written biography of this unique American theatrical icon. Examined through the lens of Jefferson's long and productive career, there is insight into virtually every aspect of 19th-century theatre."—Don B. Wilmeth, editor, Cambridge Guide to American Theatre, 2nd ed.
"A superb biography of a nearly forgotten icon. . . . McArthur captures the many trials and triumphs of a celebrated 19th-century performer with narrative ease and an eye for detail, placing Jefferson in context with the society of the time. Strongly recommended for both public and research libraries."—Library Journal
"McArthur has written a readable, excellently researched biography of one of the most beloved, and now forgotten, actors of 19th-century America. . . . The strength of this work lies in McArthur's chronicling of not only a truly remarkable theatrical career but also the changing acting styles of the era. . . . McArthur's biography provides one of the best overviews to date of the changing theatrical conditions and audiences of the 19th century. Photos and endnotes enhance the book. Highly recommended."—Choice
"The Man Who Was Rip Van Winkle deserves our attention for its use of Jefferson as a glass focusing 'more of the changes in theatrical styles and business organization' than did the career of perhaps any other nineteenth-century American actor. . . . Provide[s] insight into many aspects of nineteenth-century theater."—Rosemarie K. Bank, Journal of American History
"McArthur's biography of Joseph Jefferson (1829-1905), one of the nineteenth century's most successful performers, scrutinizes the actor's lengthy career without losing sight of its context. Jefferson and his considerable accomplishments are always set against the backdrop of the dynamic nineteenth-century American stage."—Leah Lowe, Theatre Research International
"McArthur's greatest strength lies in his knowledge of the way the American theater developed . . . helping reveal to us our forgotten, and fascinating, theatrical past."--Robert Gottlieb, New York Review of Books

ISBN:
9780300122329
Publication Date:
October 24, 2007
464 pages, 6 1/8 x 9 1/4
28 b/w illus.