The Jaguar's Shadow
WARNING
You are viewing an older version of the Yalebooks website. Please visit out new website with more updated information and a better user experience: https://www.yalebooks.com
Searching for a Mythic Cat
Richard Mahler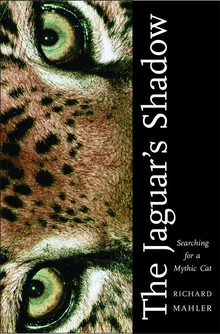 View Inside
Format:

Cloth


Price:

$69.00
Also Available in:
e-book
In the tradition of Peter Matthiessen's The Snow Leopard, an intimate portrait of the endangered, exotic, and elusive jaguar

When the nature writer Richard Mahler discovers that wild jaguars are prowling a remote corner of his home state of New Mexico, he embarks on a determined quest to see in the flesh a big, beautiful cat that is the stuff of legend—yet verifiably real.
Mahler's passion sets in motion a years-long adventure through trackless deserts, steamy jungles, and malarial swamps, as well as a confounding immersion in centuries-old debates over how we should properly regard these powerful predators: as varmints or as icons, trophies or gods? He is drawn from border badlands south to Panama's rain forest along a route where the fate of nearly all wildlife now rests in human hands. Mahler's odyssey introduces him to unrepentant poachers, pragmatic ranchers, midnight drug-runners, ardent conservationists, trance-induced shamans, hopeful biologists, stodgy bureaucrats, academic philosophers, macho hunters, and gentle Maya Indians. Along the way, he is forced to reconsider the true meaning of his search—and the enduring symbolism of the jaguar.
Richard Mahler is an award-winning writer, editor, and tour guide based in Silver City, New Mexico. He is the author or co-author of ten books, and his reporting on the environment, health, travel, arts, and culture also circulates via newspapers, magazines, the Internet, and public radio.
"We must decide whether we have room in our lives for life itself. Richard Mahler's obsession with jaguars will convince anyone that we must have them out in the night of our wilder dreams. We need jaguars far more than they need us. They may be heavy, but they're our secretive spotted brothers."—Charles Bowden, author of Exodus/Éxodo
"A wonderful book. Not only is it a detailed compilation of the economic, cultural, and ecological issues swirling around the jaguar, it is a balanced account of these complex issues."—Richard Knight, Colorado State University
"Mahler has provided the most comprehensive portrait yet of one of the most elusive felines in the world."—Kevin Hansen, author of Bobcat: Master of Survival
"Richard Mahler is an engaging writer who captures the reader on the first page as he begins his quest to see the magnificent jaguar in the wild.  His odyssey leads the reader on an exploration of its colorful and complex cultural history, both ancient and modern, while he explores the farthest reaches of its range from the United States to Brazil, with those that know it best.  He truly captures the magic and mystique of this threatened species. I thoroughly enjoyed this book—the pages flew by."—Carolyn M. Miller, Conservation Management Institute
"Spanning a decade of his life, Mahler's passionate, informative, and intriguing search for the most elusive big cat on earth takes the reader on a dual journey—both internal and external. I love the book."—Alan Rabinowitz, President and CEO, Panthera, author of Jaguar
"Mahler's urgent quest is twofold: to see and to understand the illusive jaguar.  From rainforest to chaparral he goes, and the reader is his enthralled companion; the jaguar his beneficiary."—Archie Carr III, Wildlife Conservation Society
"Will the jaguar still be sharing our world in years to come? Richard Mahler makes a profound contribution towards an ambitious objective: the survival of this majestic predator."—Sharon Matola, founder of the Belize Zoo and Tropical Education Center
"With many photographs, as well as details of travel through little-known territories, Mahler provides a fast-moving, ecological detective tale and a knowing conservationist wake-up call."—Publishers Weekly.
"Mahler's book [offers] a quite compelling account of the big cat's natural history, of its cultural status among jungle and mountain tribes, and of its precipitous decline because of over-hunting, industrial exploitation and loss of habitat."—Charles Wilkins, Toronto Globe and Mail
"By shifting his focus from his own intense desire to see the magnificent creature to efforts to save it, Mahler prevents the "will he, won't he see a jaguar" question from playing out too quickly. Instead, the mystery, intricately spun within a crucial conservation tale, prevails until the book's final pages."—Michele Wilson, Audubon Magazine (Editor's Choice)
A compilation of economic, cultural and ecological aspects gives a comprehensive portrait of the jaguar. A book that will impassion anyone interested in the majestic predator."—Geraldine Veron, MAMMALIA
ISBN:
9780300122251
Publication Date:
September 7, 2009
376 pages, 6 1/8 x 9 1/4
41 b/w illus.