Origins of American Health Insurance
WARNING
You are viewing an older version of the Yalebooks website. Please visit out new website with more updated information and a better user experience: https://www.yalebooks.com
A History of Industrial Sickness Funds
John E. Murray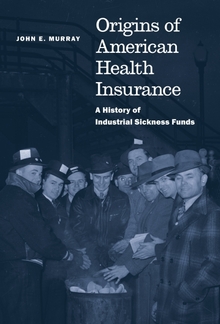 View Inside
Format:

Cloth


Price:

$85.00
How did the United States come to have its distinctive workplace-based health insurance system? Why did Progressive initiatives to establish a government system fail? This book explores the history of health insurance in the United States from its roots in the nineteenth-century sickness funds offered by industrial employers, fraternal organizations, and labor unions to the rise of such group plans as Blue Cross and Blue Shield in the mid-twentieth century.
Historians generally view the failure to establish universal health insurance during the first half of the twentieth century as an indicator of the political clout of insurers, employers, unions, and physicians who thwarted Progressive efforts. But the explanation is actually simpler, John Murray contends in this book. Careful analysis of the workings of industrial sickness funds suggests that workers rejected plans for compulsory state insurance because they were largely content with existing private plans. Murray revises our understanding of the evolution of health care insurance in the United States and discusses the implications of that history for the ongoing debates of today.
John E. Murray is professor of economics, University of Toledo. He lives in Toledo, OH.
"Murray offers us a revisionist history of Progressive-era health care reforms, marshalling evidence from a treasure trove of sources."—Howard Bodenhorn, Lafayette College
"John Murray's Origins is a strikingly original reconsideration of Progressive-era industrial sickness funds—their track record, their appeal for high-mobility American workers, and their political implications. Good books on health policy history are sorely needed these days, both for economists and the general public. This one is highly recommended."—Gavin Wright, Stanford University
"John Murray offers a compelling explanation for the defeat of governmental health insurance in the United States during the early twentieth century.  Murray finds that voters rejected governmental plans because they saw no reason to change the status quo. This book is a devastating retort to the dominant interpretation which holds that this movement fell prey to the power of special interests and hysterical propaganda."—David T. Beito, University of Alabama
"Murray's superb history of sickness insurance and the demise of attempts to enact a government substitute during the Progressive Era is a must-read for anyone interested in the current health insurance debates."—Price V. Fishback, co-author of A Prelude to the Welfare State:  The Origins of Workers' Compensation
"Murray's judgments are wise, his statistical analysis is first-rate, and his tone is gentle as he deftly exposes the fatal flaws in earlier histories of sickness and health insurance in the early 20th century. Highly recommended. All collections."—Choice
"For readers interested in why the first proposals for compulsory health insurance failed, Murray's book is a must-read. . . . This book is very useful for anyone seeking to understand the nature of American health (and sickness) insurance before the 1930s, and the political economy of health insurance in general."—Melissa A. Thomasson, EH.NET (Economic History)
"Impressive research. . . . Challenging."—Edmund F. Wehrle, Journal of American History
"Murray provides an engaging and readable history of a neglected set of institutions, combined with a vigorous (but fair) argument about how some scholars have misunderstood the operation of these funds. He draws evidence from both qualitative historical records and econometric analysis."—Thomas N. Maloney, Project Muse
"One of the book's most admirable and compelling aspects is the respectful way Murray treats those with whom he disagrees. In this way, Origins of American Health Insurance is a model of balance and thoroughness. . . . Murray's book is simply the best, most balanced, and most thorough treatment of the topic available. I cannot recommend it more highly or with any greater enthusiasm. Origins of American Health Insurance is simultaneously a lesson in economics and a lesson in history."—Werner Troesken, The Independent Review
Listed as a 
Noteworthy Book in Industrial Relations and Labor Economics for 2007
by Princeton Industrial Relations Section 
ISBN:
9780300120912
Publication Date:
November 13, 2007
336 pages, 6 1/8 x 9 1/4
22 b/w illus.