Birds, Mammals, and Reptiles of the Galápagos Islands
WARNING
You are viewing an older version of the Yalebooks website. Please visit out new website with more updated information and a better user experience: https://www.yalebooks.com
An Identification Guide
Second Edition
Andy Swash and Rob Still; With illustrations by Ian Lewington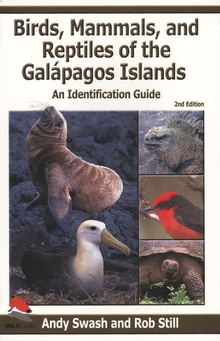 View Inside
Format:

Paper


Price:

$38.95
Also Available in:
Paper
This is the first comprehensive guide to the unique wildlife of the Galápagos, encompassing the birds, mammals, and reptiles a visitor to these extraordinary islands might encounter. The innovative, simple-to-use format of the pocket-sized volume will help beginners and experts alike to identify with confidence the striking and charismatic Galápagos fauna.

Highlighting the differences between similar species, the guide focuses on the key identification features of each. Information on the status, habitat preferences, breeding seasons, and significant behavioral characteristics is provided for each species, along with 78 distribution maps for all resident species. Fifty-three remarkable color plates compiled from a composite of 500 photographic images and 20 illustrations depict virtually every bird, mammal, and reptile ever recorded on the Galápagos.



Published in association with Christopher Helm/A & C Black
Andy Swash is a zoologist and ecologist, currently working as a senior manager in the United Kingdom government's Farming and Rural Conservation Agency. Robert Still is an ecologist and a widely traveled naturalist. He owns a graphic design and artwork business and has extensive experience with computer graphics.

"Unique. . . . The text is as up-to-date as one can get. . . . The day [this book] reaches the bookstore shelf, I cannot conceive anyone going to the Galápagos without [it] in hand."—Noble S. Proctor
"This book is highly recommended to anyone from novice to expert naturalist who is planning to visit the Galapagos to observe and study the wildlife of these enchanting islands."—Wildlife Activist
"Anyone traveling to the Galápagos Islands should have a copy."—Choice
"This book adds to the many Galapagos field guides, but is sufficiently different to make it a significant contribution to the guidebook literature of these islands. . . . The presentation is effective and the images sufficient to help the casual traveler identify most of the birds and reptiles. . . . It should be a very useful guide for the average visitor to these unusual islands that are suffering from too many tourist visits."—ARBA (American Reference Books Annual 2003)
"I am happy to recommend this as the essential field companion for Galapagos visitors with a vertebrate orientation."—The Quarterly Review of Biology
"A comprehensive field guide which will certainly aid anyone visiting these charming islands with their identification of any bird, mammal or reptile which they possibly might encounter. . . . Anyone planning a forthcoming trip to the Galápagos Islands, or just having an interest in Charles Darwin and the historical aspect of these unique islands will certainly want this indispensable and valuable treasure with them on their trip."—Harlan D. Walley, Bulletin of the Maryland Herpetological Society
"Anyone interested in these unique equatorial islands west of South America will find this a must-have guide to a truly exceptional locale."—Porthole Cruise Magazine
"In classic field guide style, identification text is included opposite the color plates. A checklist of regularly occurring species provides a summary of habitat preferences and island distribution of each species. Nicely done."—Wildlife Activist
Winner of the 2001 WorldTwitch Technical Innovation Book Award
Received rating of "Outstanding" from 2007 University Press Books Committee
ISBN:
9780300115321
Publication Date:
February 28, 2006
Publishing Partner:
Published in association with Christopher Helm/A & C Black
168 pages, 4 3/4 x 7 7/8
53 color illus.