Slavery and the Commerce Power
WARNING
You are viewing an older version of the Yalebooks website. Please visit out new website with more updated information and a better user experience: https://www.yalebooks.com
How the Struggle Against the Interstate Slave Trade Led to the Civil War
David L. Lightner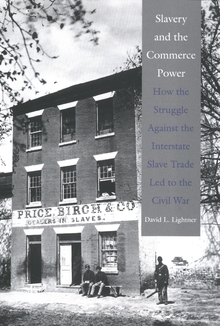 View Inside
Format:

Cloth


Price:

$65.00
Also Available in:
e-book
Despite the United States' ban on slave importation in 1808, profitable interstate slave trading continued. The nineteenth century's great cotton boom required vast human labor to bring new lands under cultivation, and many thousands of slaves were torn from their families and sold across state lines in distant markets. Shocked by the cruelty and extent of this practice, abolitionists called upon the federal government to exercise its constitutional authority over interstate commerce and outlaw the interstate selling of slaves. This groundbreaking book is the first to tell the complex story of the decades-long debate and legal battle over federal regulation of the slave trade.

David Lightner explores a wide range of constitutional, social, and political issues that absorbed antebellum America. He revises accepted interpretations of various historical figures, including James Madison, Harriet Beecher Stowe, and Abraham Lincoln, and he argues convincingly that southern anxiety over the threat to the interstate slave trade was a key precipitant to the secession of the South and the Civil War.
David L. Lightner is Professor of history, Department of History and Classics, University of Alberta. He lives in Edmonton, Alberta.
 


"An important book—one that will take a significant place in the scholarly literature on the antislavery movement and the coming of the Civil War."—James M. McPherson, Princeton University




"Slavery and the Commerce Power fills a major crack in interpretive arguments over Lincoln, the nature of the Constitution, the slave trade, and the coming of the Civil War. This book will be a standard in each of these areas, and no one interested in any of them can ignore Lightner's interpretations."—Kermit Hall, president, State University of New York at Albany
 
 



 Top Seller in U.S. History as compiled by YBP Library Services
"In his rich, nuanced reading of his sources, Lightner demonstrates the importance—beyond just the 'commerce power'—of what one might call 'constitutional anti-slavery.'"—Gregory E. O'Malley, The New England Quarterly
"Offers an important new dimension to our understanding of sectional tensions. . . . [Lightner's] narrative and analysis are detailed, nuanced, and passionately argued."—Michael A. Morrison, Civil War History
"A valuable analysis of the American Civil War. . . . This interesting study will be used by scholars and general readers with pleasure and profit for some time to come. Lightner's specific conclusions will become part of the general explanation for the coming of America's defining moment. At the same time, his broader interpretations will be added to the crowded arena of Civil War debate where its solid foundation in contemporary research will ensure its continued viability."—Gordon B. McKinney, Enterprise and Society
"[An] important new study. . . . A valuable contribution to our growing understanding of how the domestic slave trade influenced secession and the Civil War."—Steven Deyle, Project Muse
ISBN:
9780300114706
Publication Date:
November 16, 2006
240 pages, 6 1/8 x 9 1/4
8 b/w illus.