Alvar Aalto
WARNING
You are viewing an older version of the Yalebooks website. Please visit out new website with more updated information and a better user experience: https://www.yalebooks.com
Architecture, Modernity, and Geopolitics
Eeva-Liisa Pelkonen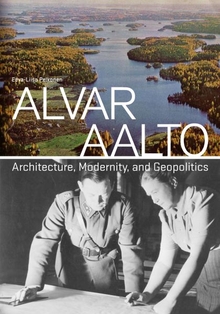 View Inside
Format:

Cloth


Price:

$55.00
An intellectual biography that reconsiders the influence of Aalto's Finnish origins and explores geography as a dominant theme in the history of modern architecture

Perhaps no other great modern architect has been linked to a native country as closely as Alvar Aalto (1898–1976). Critics have argued that the essence of Finland flows, as if naturally, into his quasi-organic forms, ranging from such buildings as the Baker House in Cambridge, Massachusetts, to iconic 20th-century designs, including his Savoy vase and bent-plywood stacking stools.
What did Aalto himself say about the importance of nationalism and geography in his work and in architecture generally? With an unprecedented focus on the architect's own writings, library, and critical reception, Eeva-Liisa Pelkonen proposes a dramatically different interpretation of Aalto's oeuvre, revealing it as a deeply thoughtful response to his intellectual and cultural milieu—especially to Finland's dynamic political circumstances following independence from Russia in 1917.
Pelkonen also considers the geographic and geopolitical narratives found in his writings. These include ideas about national style and national cultural revival, and about how architecture can foster cosmopolitanism, internationalism, and regionalism. Expanding the canonical reading of Aalto, this work promises to influence future inquiries on Aalto for generations to come.
Eeva-Liisa Pelkonen is assistant professor and chair of the Master of Architectural Design Program at the School of Architecture at Yale University. She is the author of Achtung Architektur! Image and Phantasm in Contemporary Austrian Architecture and coeditor of Eero Saarinen: Shaping the Future (Yale).
"This novel interpretation sheds a clear light on Aalto's relationship with Finland's society and culture, not merely by better defining the architect's often overlooked 'context,' but by recreating the intellectual milieus in which he developed. Eeva-Liisa Pelkonen introduces a very fresh discussion of Aalto's writings and designs in the framework of Finland's modern history."—Jean-Louis Cohen, Institute of Fine Arts, New York University
"Pelkonen's study is a pioneering approach and undoubtedly a significant contribution to Aalto scholarship."—Roger Connah, author of Finland: Modern Architectures in History
"Pelkonen constructs a much more complete and nuanced intellectual biography of Aalto than has ever been done before. . . . [This] elegantly designed but modest-size book is a model of how a monograph can be both focused and expansive, scholarly and accessible, and above all, not excessively celebratory or hagiographic."—Michelangelo Sabatino, Journal of the Society of Architectural Historians
"Finland's leading modern architect is known for his design rather than for statements of writings. . . . His theoretical underpinings have not been fully explored. Eeva-Lisa Pelkonen's lucid new book helps to fill that gap. It is devoted specifically to the architect's literary sources, his own writings, political involvement, and lively international engagement. She carefully documents the transition from his role in Finnish nationalism and architecture rooted in Nordic tradition to his embracing of the modern world and the development of a rich symbolic language."--Henry Matthews, The Art Book
Winner of the 2011 Alice Davis Hitchcock Award given by the Society of Architectural Historians
ISBN:
9780300114287
Publication Date:
May 5, 2009
228 pages, 7 x 10
134 b/w illus.