Body, Memory, and Architecture
WARNING
You are viewing an older version of the Yalebooks website. Please visit out new website with more updated information and a better user experience: https://www.yalebooks.com
Kent C. Bloomer and Charles W. Moore; With a contribution by Robert J. Yudell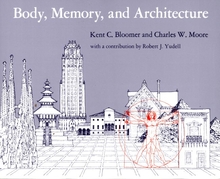 View Inside
Format:

Paper


Price:

$31.95
"A valuable contribution."—Paul Goldberger, New York Times

"Nearly every page of the book is wittily illustrated with cartoons, drawings, and photographs. If the coming generation or architects—and their clients—pay attention to it, America may someday be a much more agreeable place."—John Fischer, Harpers 

As teachers of architectural design, Kent Bloomer and Charles Moore have attempted to introduce architecture from the standpoint of how buildings are experienced, how the affect individuals and communities emotionally and provide us with a sense of joy, identity, and place. In giving priority to these issues and in questioning the professional reliance on abstract two-dimensional drawings, they often find themselves in conflict with a general and undebated assumption that architecture is a highly specialized system with a set of prescribed technical goals, rather than a sensual social art historically derived from experiences and memories of the human body. This book, an outgrowth of their joint teaching efforts, places the human body at the center of our understanding of architectural form.

Body, Memory, and Architecture traces the significance of the body from its place as the divine organizing principle in the earliest built forms to its near elimination from architectural thought in this century. The authors draw on contemporary models of spatial perception as well as on body-image theory in arguing for a return of the body to its proper place in the architectural equation.
"This is a world trip as seen through the eyes of the body. . . . Man projects bodily metaphors into architecture and finds a response in buildings—good buildings, that is, which the authors delight in sharing."—Charles Jencks
"Nearly every page of the book is wittily illustrated with cartoons, drawings, and photographs. If the coming generation or architects—and their clients—pay attention to it, America may someday be a much more agreeable place."—John Fischer, Harpers 
"[Body, Memory, and Architecture] attempts to show how the human body is at the center of one's understanding of architectural form. Because this humanism has been virtually eliminated from architectural thought today, the authors suggest that new considerations of the body be reintroduced to redirect contemporary building."—Publisher's Weekly
"Bloomer and Moore teach architecture with the belief that buildings are something we experience, that architecture affects us emotionally and provides us with a sense of joy, identity, and place. . . . Body, Memory, and Architecture is an outgrowth of the authors' joint efforts to teach that the body is at the center of our understanding of architectural form."—Steve Levingston, San Francisco Review
"The importance of this book, a product of the joint effort of Bloomer and Moore 'to teach the fundamentals of architectural design to first-year professional students at Yale,' is that it cuts across the styles of history as it explores the metaphors of gates and thresholds, the dynamics of movement inside buildings related to the dynamics of urban sequence, and the relation of body, mind and sensibility to surface, color, scale and penetration."—David Lewis, AIA Journal
"The book must be recognized as an interesting survey of both historical and modern examples of architectural achievement, and an interesting testimonial to the difficult, if not impossible, task of unifying them under a single theory of design."—Richard Alden, Journal of Aesthetics and Art Criticism
"It is a serious and important polemic. It is a part of the book's achievement to have been informed by, but not to have trivialized important concepts, producing this straightforward, short, highly illustrated and inspiring essay which really is about architecture."—Architect's Journal
"This is surely one of the best and most pleasant of available introductions to architecture."—Environment and Planning
"Extremely impressive is the straightforward way in which the authors describe the importance of the basic spatial dimensions in defining self and in organizing experience."—Seymour Fisher, State University of New York, Syracuse
"A valuable contribution to the architectural literature of the mid-1970's. For the book's basic point is undeniably correct: modern architecture has been too cerebral, too rational, too concerned with appearing beautiful in an intellectual way rather than comfortable in a sensuous or physical way."—Paul Goldberger, New York Times
"An entertaining contribution to the recent literature of the re-humanization of architecture."—Choice
ISBN:
9780300021424
Publication Date:
September 10, 1977
159 pages, 10 x 8 1/2