Aubrey Beardsley
WARNING
You are viewing an older version of the Yalebooks website. Please visit out new website with more updated information and a better user experience: https://www.yalebooks.com
Linda Gertner Zatlin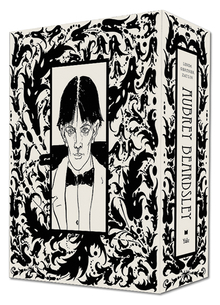 View Inside
Format:

2-Volume Boxed Set


Price:

$225.00
A comprehensive presentation of the provocative, modernist graphic works of Britain's creator of Art Nouveau

This is the first book to bring together the recorded works of the English artist Aubrey Beardsley. Despite his early death from tuberculosis in 1898, at the age of 25, these amount to nearly 1100 completed works of art (plus many related sketches) as well as more than 100 sketches in his letters and the books he owned, and this book includes over 50 that have never previously been published.

In his brief career Beardsley made a defining contribution to Art Nouveau in Britain and abroad. He also influenced the early history of modern art, attracting the attention of the young Picasso, for example. His distinctive and innovatory graphic style, combined with highly provocative, often sexual subject matter, outraged critics and led to a period of intense notoriety. Beardsley's drawings span the grotesque, the delicately beautiful, the subtly erotic, and the frankly bawdy, and challenged the moral norms of Victorian society. They enthralled artists and art lovers the world over and continue to enthral today.

Linda Gertner Zatlin's text presents Beardsley's drawings with a full record of their making, provenance, exhibition history and references in the art historical literature. This material record is accompanied by often extensive discussions of their themes, motifs and symbolism, as well as their critical reception. Unprecedented in its scope and thoroughness, this study presents Beardsley's work and explores its meanings more comprehensively than any previous work on him; it is likely to remain definitive.
This superbly illustrated two volume catalogue, beautifully presented as a boxed set, is both an essential reference for specialists and an accessible and enchanting delight for Beardsley enthusiasts.


Published for the Paul Mellon Centre for Studies in British Art
Linda Gertner Zatlin is professor of English at Morehouse College, Atlanta. 

 
"This monumental two-volume catalogue raisonne is a notable coping stone on the edifice of his reputation. It reals that he is worthy of his enduring fame. During his brief lifetime Beardsley produced an extraordinary – there are over 1,100 drawings here. They have been brilliantly marshalled and laid out in a prodigious labour of dedicated scholarship by Linda Zatlin."—Matthew Sturgis, Literary Review
"This is a sumptuous publication of superb quality."—Donald Mead, Intentions ( Journal of the Oscar Wilde Society), 
"This is a publication for fans as well as academics. Zatlin, Yale University Press and their collaborators should be congratulated on this comprehensive, erudite and elegant survey of one of the world's great graphic artists."—Alexander Adams, Art Newspaper
"Faith in the strong black line is everywhere evident in a gorgeous new two-volume catalogue raisonné of Beardsley's work, edited by Linda Gertner Zatlin, who also provides helpful commentary for each drawing. . . . [Beardsley] found, and left for us, a line that could hold."—Morgan Meis, New Yorker
'Linda Gertner Zatlin's magnificent new catalogue lists well over 1,000 drawings, none without interest, most of them masterworks, some the defining images of their time. Poring with Zatlin over every sunflower and poppy, every nipple and tassel and cloven hoof, studying her digests of the large critical scrutiny these pictures have attracted over more than century, one seems to pass in entranced slow motion over a huge corpus of work produced at superhuman speed … absorbing and exhilarating.' - Alan Hollinghurst, Apollo

"A magnificently complete chronicle of Beardsley's life and work. . . . comprehensive . . . meticulously researched . . . invaluable."—Elizabeth Darocha Berenz, ARLIS/NA Reviews
"Linda Zatlin wears three decades of consistent scholarship on Beardsley lightly, and her entries are a consistent pleasure… For the price, the book is a marvellous and monumental achievement, and by far the best single account of Aubrey Beardsley's particular genius."—Richard Canning, TLS
"Utterly spectacular. Beardsley died of tuberculosis at 25, but still managed to produce 1,100 finished drawings and 100 sketches, which are wonderfully reproduced here in all their exotic, erotic and often grotesque headiness. Zatlin is a perceptive guide to an artist who, she notes, challenged his times and at the same time defined them."—Michael Prodger, Sunday Times
"Finally, this leading Art Nouveau figure and contemporary of Oscar Wilde gets his due, in a scholarly set presenting well over a thousand finished works alongside assorted sketches and writings. The sheer amount of work Beardsley left behind when he died at 25 is stunning, but his artistic prescience is the real mind-blower."—John DeFore, Hollywood Reporter ("Best of 2016")
Won an Honorable Mention for the 2016 ARLIS/NA George Wittenborn Memorial Award.
ISBN:
9780300111279
Publication Date:
May 10, 2016
Publishing Partner:
Published for the Paul Mellon Centre for Studies in British Art
1112 pages, 9 3/4 x 11 1/2
75 color + 1,145 b/w illus.