The Virgin of Chartres
WARNING
You are viewing an older version of the Yalebooks website. Please visit out new website with more updated information and a better user experience: https://www.yalebooks.com
Making History through Liturgy and the Arts
Margot E. Fassler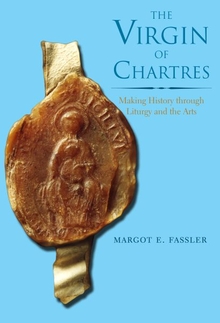 View Inside
Format:

Cloth


Price:

$60.00
Also Available in:
e-book
Medieval Christians knew the past primarily through what they saw and heard. History was reenacted every year in ritual observances particular to each place and region and rooted in the legends of local saints. This richly illustrated book explores the layers of history found in the cult of the Virgin of Chartres as it developed in the eleventh and twelfth centuries. Focusing on the major relic of Chartres Cathedral, the Virgin's gown, and the Feast of Mary's Nativity, Margot Fassler employs a wide range of historical evidence including local histories, letters, obituaries, chants, liturgical sources, and reports of miracles, leading to a detailed reading of the cathedral's west façade. This interdisciplinary volume will prove invaluable to historians who work in religion, politics, music, and art but will also serve as a guidebook for all interested in the history of Chartres Cathedral.
Margot E. Fassler is the Robert Tangeman Professor of Music History at Yale University.
"Fassler is one of the only scholars in medieval musicology able to bring both the liturgical and the historical expertise to questions of cult. We so desperately need this book if we are to fully understand the workings of religion in medieval Europe."—Rachel Fulton, University of Chicago
"Fassler goes much further in her explication of the liturgy of Chartres Cathedral than any scholar has yet done. This is destined to be an important book."—James Bugslag, University of Manitoba
"The scholarly core and unique contribution of Fassler's monumental  book is a meticulously detailed study of the development and dynamics of this Fulbertian phenomenon of the feast of Mary's Nativity through close reading of the material that created it. . . . The Virgin of Chartres will appeal not only to medievalists and liturgists but to the general readership as well. . . . If you are a lover of Chartres—and who is not a lover of Chartres even after visiting only once?—there is much in this masterful and wonderfully interdisciplinary new study to inform, delight and illuminate."—Franco Mormando, America: The National Catholic Weekly

"[A] vivid chronicle . . . Engaging . . . Important reading for students and scholars of medieval studies, art history, liturgics, and theology."—A. W. Klink, Choice
"Margot Fassler has succeeded in constructing an account . . . that is not unlike the magnificent cathedral that is her subject: complex, awesome, instructive, and also ultimately edifying."—Emma Dillon, Journal of the American Musicological Society
"The Virgin of Chartres is an astonishingly bold, broad, and learned account of the relationship between social and political history, church and kingship, theology and liturgy, in the rise of the cult of the Virgin and the building of Chartres, her chief sanctuary in Europe."—Howard R. Bloch
"This imaginative, pioneering, but also precise and thorough examination of the cult of Mary at Chartres examines the medieval processes of knowing the past through rituals, visual art, music, and devotional texts.  The result is a total history of devotions to the Virgin at one of the great cathedrals of the Middle Ages and a model of multi-disciplinary study in any period."—Robert Nelson
"Among its chief virtues is the subtle presentation of a wide range of evidences that engender nuanced connections in the mind of the reader. What results is something akin to a thick description, in the anthropological sense of the term, of the Virgin's cult at medieval Chartres. Moreover, the book repeatedly and generously imagines productive trajectories for future inquiries, especially with respect to the political implications of the liturgy. One could extend Fassler's admirably interdisciplinary approach to subsequent artistic and architectural campaigns of the cathedral, as well as to broader trends within the monumental arts throughout the region. Did, for example, the Thibaudians have an agenda in the construction of history that can be observed in other churches? What role might the Virgin have played in forging regional identities beyond the city limits of Chartres? Fassler has provided a great service in offering future generations of scholars a formidable and flexible model for approaching these and many other questions. For this reason, her study will likely endure as essential reading not only for students of Chartres but for all those interested in examining the multifaceted ways that medieval communities constructed their own histories."—Kirk Ambrose
"Comprising roughly one hundred pages, the volume's eight substantial and extremely useful appendices include, among others, a genealogy of the Thibaudians, transcriptions and translations of key liturgical texts, a table of donors, and a list of liturgical manuscripts that can be associated with Chartres. In perusing these fascinating materials, I was struck by how deftly Fassler has distilled her arguments from primary sources."—Kirk Ambrose
"Fassler's analysis and explication of the message proclaimed jointly by multiple media at Chartres holds enormous value. As she deftly traces the complex interplay of memory, liturgy, and artwork at Chartres, Fassler reveals the sophistication and reach of medieval "history making" more generally, and she challenges us to do justice to this complexity in our own understanding of the past."—Samantha Kahn Herrick, American Historical Review
"….a book which makes an outstanding contribution to the dialogue between religious faith and the visual arts."—Writer's News
"Riveting . . . magisterial . . . exquisite . . . an unprecedented depth of understanding and empathy . . . [Fassler's] compelling vision of the power of liturgy offers fresh insight into medieval Christian cultures across the disciplines."—from the citation of the 2012 Otto Gründler Book Prize
"Fassler has clearly done justice to an ambitious topic. Notably her appendices are exhaustive and laudable, spanning over eighty pages… Indeed, because of these but also because of the sheer depth and ingenuity of the book as a whole, any future student or scholar of Chartres must surely consult her work first." —Robyn Parker, French History
Winner of the 2012 Otto Gründler Book Prize sponsored by Western Michigan University.
Winner of the 2011 ACE/Mercers' International Book Award (UK Award)
ISBN:
9780300110883
Publication Date:
June 29, 2010
632 pages, 7 x 10
123 b/w + 16 color illus.