Messiaen
WARNING
You are viewing an older version of the Yalebooks website. Please visit out new website with more updated information and a better user experience: https://www.yalebooks.com
Peter Hill and Nigel Simeone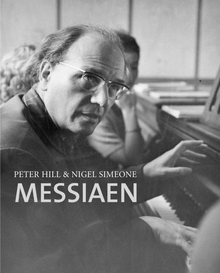 View Inside
Format:

Cloth


Price:

$75.00
The French composer Olivier Messiaen (1908–92) is a musician about whom most remains to be discovered. More than a decade after his death our knowledge of Messiaen is largely conditioned by what he said about himself in lectures and interviews, in his work as a teacher, and in the monumental seven-volume treatise that encompassed the whole of his composing world. But Messiaen's public documents conceal as much as they reveal, seldom explaining why a work was written or what complexities went into its making. The composer was similarly reticent about his private life.
This is the first book to explore the world that Messiaen was at pains to keep hidden. Based upon unprecedented access to Messiaen's private archive granted to the authors by the composer's widow, Yvonne Loriod-Messiaen, Peter Hill and Nigel Simeone trace the origins of many of Messiaen's greatest works and place them in the context of his life, from his years at the Paris Conservatoire and his passionate first marriage to Claire Delbos through the immense achievements of his final decades.
Peter Hill is professor of music at the University of Sheffield. A former student of Messiaen, he is editor of The Messiaen Companion. Nigel Simeone is professor of historical musicology at the University of Sheffield and author of Paris: A Musical Gazetteer, published by Yale University Press.
"An absorbing biography. . . . Based on the composer's never-before-revealed diaries and personal files, it gets inside his head, portraying a man less naively spiritual than his dazzling (and often wonderfully weird) music let on."—Pierre Ruhe, Atlanta Journal-Constitution (The best of 2005 in classical music)
"For a composer who was regularly criticised for saying too much, it is astonishing how little Messiaen told us... Thanks to unprecedented access to Messiaen's private archive, this book lifts that veil of secrecy to reveal an altogether more complex and more extraordinary figure than hitherto portrayed... Hill and Simeone's biography is certainly not the last word on Messiaen, but from now on it will be the first port of call for those wishing to know more about him."---BBC Music Magazine [five-star review]
"The authors . . . provide the most complete picture to date not only of Messiaen's compositional process but also, in many cases, of the milieu in which each piece was composed—as seen through the eyes of the composer himself. . . . Engaging, well annotated, and including a comprehensive bibliography on Messiaen, this book will be appreciated by scholars and music lovers alike. Essential."—Choice
'...this superbly written and highly recommendable book...benefits immeasurably from the unprecedented access to the composer's private archive... Messiaen the man emerges vividly and warmly.' - Philip Borg-Wheeler, Classical Music
"...[a] superbly written and highly recommendable book... Messaien the man emerges vividly and warmly." - Philip Borg-Wheeler, Classical Music Magazine
"[An] excellent biography."—Library Journal


'Peter Hill and Nigel Simeone are to be warmly congratulated... [A] splendidly readable and well-paced narrative - replete with ample musical discussion and numerous cited documents and photographs - has been fashioned with accuracy for detail and stylistic elegance...' - Andrew Thomson, Musical Times
"This new biography is a winner, unlikely to be surpassed in a long time."---The Tablet
"[A] luminous biography. . . . Messiaen is exquisitely produced." 


"The writers have fashioned such a human and wonderfully detailed story that by the end you feel you have become one of Messiaen's inner circle...utterly fascinating." - David Denton, Yorkshire Post
"[A] typically sumptuous Yale University Press publication...[with a] lavish range of illustrations...[and] delightful dimensions... The author's overall approach is to deal with biography and musical analysis side by side, the latter always uncluttered, untechnical and by no means intimidating. ... [The book will] enrich many wishing to learn more of a toweering figure in 20th-century music." - Andrew Green, Music Teacher
"Beautifully produced and lucidly written. This book pays tribute to one of the 20th century's best-loved composers. For their ground-breaking biography, Hill and Simeone have been given access to Messiaen's archives, diaries, letters and photographs, many of which are published here for the first time."—Jessica Duchen, Classic FM Magazine
"[An] excellent new book which shows us the teeming interior life of a hitherto notoriously private and at times elusive, even secretive, musician. It is a work of phenomenal detail underpinned by painstaking research into Messiaen's personal archive made available for the first time and exclusively to the authors... [The] book does not suffer from academic dryness or irrelevant detail... [and] is informed by long and intimate acquaintance with the music... A particularly arresting aspect of this volume is the photography... [which] chronicles places of significance in a kind of pilgrimage providing a superb visual commentary on the life itself... I commend this book; it will both stimulate the interest of the newcomer to Messiaen's music but also provide the aficionado with even greater insight into the truly great composer, performer and teacher."---Piano Professional
"In this fascinating book we learn more than could have been guessed about a remarkable composer and his remarkable music."—John Caldwell, Ecclesiastical History
"...exemplary...an authoritative biography, one not likely to be surpassed for years to come."---John Amis, Times Higher Education Supplement
"The book is beautifully produced, and is illustrated with copious well-chosen photographs and manuscript illustrations. It is a fascinating read, and the excellent index makes it an indispensable reference book."---Church Times
"Far and away the best source of information, at least in English, about the composer's life and work."—David Weininger, The Boston Globe
Selected as a Choice Outstanding Academic Title for 2007
ISBN:
9780300109078
Publication Date:
October 11, 2005
352 pages, 7 1/2 x 9 1/4
204 b/w illus.