War Paint
WARNING
You are viewing an older version of the Yalebooks website. Please visit out new website with more updated information and a better user experience: https://www.yalebooks.com
Art, War, State and Identity in Britain, 1939-1945
Brian Foss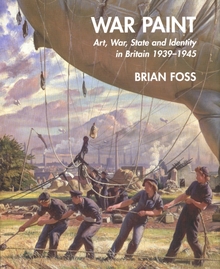 View Inside
Format:

Cloth


Price:

$50.00
In this groundbreaking examination of British war art during the Second World War, Brian Foss delves deeply into what art meant to Britain and its people at a time when the nation's very survival was under threat. Foss probes the impact of war art on the relations between art, state patronage, and public interest in art, and he considers how this period of duress affected the trajectory of British Modernism. Supported by some two hundred illustrations and extensive archival research, the book offers the richest, most nuanced view of mid-century art and artists in Britain yet written.
The author focuses closely on Sir Kenneth Clark's influential War Artists' Advisory Committee and explores topics ranging from censorship to artists' finances, from the depiction of women as war workers to the contributions of war art to evolving notions of national identity and Britishness. Lively and insightful, the book adds new dimensions to the study of British art and cultural history.


Published for the Paul Mellon Centre for Studies in British Art
Brian Foss is professor, Department of Art History, Concordia University, Montreal.
'This finely-written and well-researched book, which could so easily provide the framework for a TV documentary, provides an accessible and highly original account of war-art as it was seen in Britain during the Second World War'---Richard Edmonds, Birmingham Post
"Foss's story is meticulously researched -- which might be too much for some, but as a record of a unique period in art commissions, this book is a good read.  Importantly he ensures that the fullest possible range of the WAAC's commissions get a look in." - Tate Etc.
'Author and academic Brian Foss delves deeply into what art meant to Britain and its people at a time when the nation's very survival was under threat...It's a refreshing study of British art and cultural history.'  - Gavin Engelbrecht, Northern Echo
"The book is exceptionally researched and carefully written. More than 50 pages of supplemental material—lists of artists associated with WAAC, archival collections, notes to all chapters, a pithy bibliography—all complement this remarkably rich, deep study. Highly recommended."—Choice
"Few books have taken so long to write, as the author good-humouredly explains in his 'Acknowledgements'—but then few books constitute such a landmark in the subject treated. . . . War Paint is indisputably an important book, which should be in all Art School and University Libraries, and it is unreservedly recommended to advanced students of British Art and Twentieth Century British History. There is no better introduction to British art in the Second World War."—Antoine Capet, Cercles
"Foss offers a well-constructed analysis. . . . A unique work that can provide great insight for researchers in a variety of associated fields."—Kenneth Shonk, Jr., British Scholar
"Brian Foss's book provides the first comprehensive account of the War Artists Advisory Committee (WAAC) in World War II that does justice to the significance of the project in terms of both understanding its contribution to British art in the twentieth century and examining the means and forms through which Britain at war projected its identity, not least to itself. . . . Foss does not dodge the problematic questions or the contradictions and inconsistencies in the ways Britain projected itself in the Second World War in this fine and well-judged study of the vicissitudes of a nation at war revealed through the works of art it assembled for its national collections."—Sue Malvern, Journal of British Studies
Short-listed for the 2007 William M. B. Berger Prize for British Art History sponsored by the Berger Collection Education Trust and The British Art Journal.
ISBN:
9780300108903
Publication Date:
September 28, 2007
Publishing Partner:
Published for the Paul Mellon Centre for Studies in British Art
264 pages, 270 x 217
175 b/w + 35 colour