Why Globalization Works
WARNING
You are viewing an older version of the Yalebooks website. Please visit out new website with more updated information and a better user experience: https://www.yalebooks.com
Martin Wolf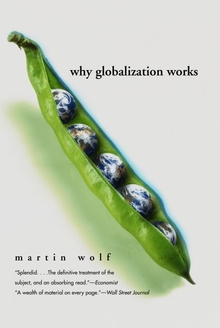 View Inside
Format:

Paper


Price:

$18.00
A powerful case for the global market economy

The debate on globalization has reached a level of intensity that inhibits comprehension and obscures the issues. In this book a highly distinguished international economist scrupulously explains how globalization works as a concept and how it operates in reality. Martin Wolf confronts the charges against globalization, delivers a devastating critique of each, and offers a realistic scenario for economic internationalism in the future.

Wolf begins by outlining the history of the global economy in the twentieth century and explaining the mechanics of world trade. He dissects the agenda of globalization's critics, and rebuts the arguments that it undermines sovereignty, weakens democracy, intensifies inequality, privileges the multinational corporation, and devastates the environment. The author persuasively defends the principles of international economic integration, arguing that the biggest obstacle to global economic progress has been the failure not of the market but of politics and government, in rich countries as well as poor. He examines the threat that terrorism poses and maps the way to a global market economy that can work for everyone.
Martin Wolf is associate editor and chief economics commentator at the Financial Times in London. Formerly senior economist at the World Bank's division for international trade, he has worked in Kenya, Zambia, and India. He has been visiting professor at Oxford, Nottingham, and Rotterdam Universities and fellow of the World Economic Forum in Davos, Switzerland.
A selection of Laissez Faire Books

"This brilliant book should be read by anyone who cares about the future of the developing world—that is, anyone who cares about the future. Wolf's book will be the definitive statement of the case for market-based globalization."—Lawrence Summers, President, Harvard University
"Wolf provides not just a devastating intellectual critique of the opponents of globalization, but a civilised, wise and optimistic view of our economic and political future. It is vital that his message be widely read and understood."—Mervyn King, Governor of the Bank of England
"Great book."—Books-On-Line
"Martin Wolf's Why Globalization Works is one of the rare comprehensive books that convincingly oppose the rising tide of anti-globalization publications."—Louis Gerber, cosmopolis.com
"Let a splendid new book on globalization be the last for a while: it will not be bettered soon. . . . [A] marvelous new book. . . . Mr. Wolf's new book, Why Globalization Works, is the fullest and most sophisticated treatment to date of the case for globalization. All the topics he addresses . . . have been addressed elsewhere, but never before with such depth of thinking, and in one place . . . The definitive treatment of the subject, and an absorbing read for anybody with an appetite for moderate intellectual exertion."—Economist
"A powerful addition to the growing literature on globalization. . . . Why Globalization Works . . . should help move the public debate away from whether to be for or against globalization and towards how best to strengthen the working of the global economy."—Stanley Fischer, Financial Times
"One of the world's most respected economic journalists . . . offers a patient and persuasive refutation of many of the arguments most frequently marshaled by critics of trade liberalization. . . . Wolf's book offers a series of highly effective rejoinders to the main criticisms marshaled by opponents of globalization. For those of us concerned with one of the most far-reaching issues of our time, this elegant and passionate defense of trade liberalization is essential reading."—Arvind Panagariya, Foreign Affairs
"A splendid overview of the global economic challenges of today. It is informed, careful in its dissection of the arguments and well written. . . . Essential reading for those who would like to understand the real problems facing us."—Stephen Green, International Affairs
"Part of what makes Why Globalization Works such an excellent read is Wolf's ability to process a wide array of scholarly literature in multiple disciplines and make it accessible to a non-academic reader. . . . Why Globalization Works is a wonderful alchemy of accessible prose and academic rigor."—Daniel W. Drezner, International Journal
"Wolf offers a powerful defence of the global market economy."—The Sunday Telegraph
"No one has summarized more coherently the recent, voluminous research. . . . Elegantly and persuasively, Wolf marshals the facts."—Niall Ferguson, Sunday Telegraph
"Why Globalization works is an excellent defence of globalization."—The Complete Review
"Wolf is always thoughtful, and mainly readable."—David Smith, The Sunday Times
"Accessible and clearly argued. . . . A wealth of material on every page."—Bruce Bartlett, Wall Street Journal
"Wolf's tome can provide value for anyone engaged in the field of international law, particularly economic law, because of the keen insight he offers."—Steve Charnovitz, The American Journal of International Law
"Wolf writes in a clear, direct, and generally measured way, and his book provides the best introduction to and defense of globalization currently available."—David Singh Grewal, Ethics and International Affairs
"A powerful book."—Washington Post
"As Wolf slices and dices both the critics and the cheerleaders of economic globalization, he offers a deeply reasoned and cogently explained case for its inevitability. A definitive analysis."—Kenneth Rogoff, Harvard University
Received rating of "Outstanding" from the 2005 University Press Books Committee
ISBN:
9780300107777
Publication Date:
June 10, 2005
416 pages, 5 x 7.75