How the Earthquake Bird Got Its Name and Other Tales of an Unbalanced Nature
WARNING
You are viewing an older version of the Yalebooks website. Please visit out new website with more updated information and a better user experience: https://www.yalebooks.com
H.H. Shugart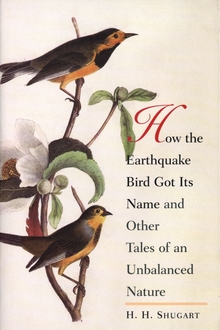 View Inside
Format:

Cloth


Price:

$40.00
Also Available in:
Paper
e-book
Out of Print
Although people have been altering earth's landscapes to some extent for tens of thousands of years, humankind today is causing massive changes to the planet. Such widespread environmental change is accompanied by accelerating rates of species extinction. In this book, noted ecologist H. H. Shugart presents important ecological concepts through entertaining animal parables. He tells the stories of particular birds and mammals—the packrat, ivory-billed woodpecker, penguin, dingo, European rabbit, and others—and what their fates reveal about the interactions between environmental change and the extinctions or explosions of species populations.
Change is the root of many planetary problems, but it is also an intrinsic feature of our living planet. Shugart explores past environmental change, discusses the non-existence of a "balance of Nature," and documents how human alterations have affected plants, soils, and animals. He looks with hope toward a future in which thoughtful people learn—and use—ecological science to protect the landscapes upon which terrestrial creatures depend.
H. H. Shugart is W. W. Corcoran Professor, Department of Environmental Sciences, University of Virginia. He is the author or editor of more than 300 publications.
"Through a menagerie of animal parables, Hank Shugart combines interesting stories with ecological information and a strong conservation message. This is a book for curious readers of all stripes."—John B. Dunning, Jr., Purdue University
"Like a modern version of Aesop's fables, Shugart masterfully weaves tales of dingoes, queleas, and hyrax to illustrate important concepts of conservation biology. Readers will be inspired by this ecological menagerie."—Meg Lowman, author of Life in the Treetops 
"Dr. Shugart communicates his enthusiasm and passion for nature and ecology while at the same time deftly explaining the scientific basis for many major environmental issues facing humankind today. What a great read!"—Oswald Schmitz, Yale University
"An eloquent and elegant perspective on the waxing and waning of animal populations, spun by a master storyteller and brilliant scientist. Shugart provides a timely, broad and entertaining introduction to ecological principles."—Simon A. Levin, Author of Fragile Dominion   
"Information-packed, well-referenced, and wide-ranging . . . ideal for graduate seminars or supplemental reading in advanced or landscape ecology."—BioScience
"This book is a delight to read and very thought provoking. Recommended."—Choice
"Shugart succeeds in engaging us, navigating the requisite scientific shoals deftly while helping us understand the complex environmental processes that confront us in our role as 'stewards of the Earth'. . . . Shugart enlightens by entertaining, in the hope that we become inspired to become better caretakers of our small, blue marble."—Susan Dworski, Los Angeles Times
"Shugart explains concepts in theoretical ecology and ladles out plenty of fascinating lore on such topics as the domestication of animals and the amazing methods by which migratory birds navigate the globe. The result is a lucid, thought-provoking science popularization with an unobtrusive environmentalist message."—Publishers Weekly
"[This] fine book tells some timely tales. … All the illustrations are clear and relevant…[and] it's a thorough book… The style is moderate…but the allusions are literary and the whole book highly satisfying." - Brian J Ford, Biologist
"In the end science is narratives improved by models. Few tell captivating stories, but Shugart's Southern cadence is mellifluous. My biology majors and non-majors all love the style and admire the scholarship."—Timothy Allen, University of Wisconsin
ISBN:
9780300104578
Publication Date:
November 10, 2004
240 pages, 6 1/8 x 9 1/4
48 b/w illus.