Barnett Newman
WARNING
You are viewing an older version of the Yalebooks website. Please visit out new website with more updated information and a better user experience: https://www.yalebooks.com
Richard Shiff, Carol C. Mancusi-Ungaro, and Heidi Colsman-Freyberger; Photography by Bruce White; Edited by Ellyn Childs Allison

Read this book online via the A&AePortal, our art and architectural history eBook platform. To learn more about how to access this book, please contact us.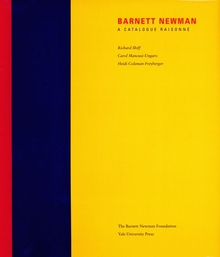 View Inside
Format:

Cloth


Price:

$200.00
Also Available in:
Art ePortal
Out of Print
A magisterial presentation of all the works of Barnett Newman, along with fascinating new insights into his artistic achievement

Barnett Newman (1905–1970), one of the greatest artists of the twentieth century, has captivated critics, scholars, and the general public for decades. This highly anticipated catalogue raisonné presents Newman's entire oeuvre—paintings, drawings, sculpture, graphics, an architectural model, lost and unfinished works, and ephemera—in one stunning and definitive volume. Featured elements include color reproductions of unparalleled quality; extensive provenance, exhibition, and publication histories; and a listing of the contents of the artist's library at the time of his death.

In addition to the catalogue raisonné prepared by Heidi Colsman-Freyberger, the book offers revelatory essays on the artist, his career, and his working methods and features fascinating photographs of Newman, his studios, and his installations. Richard Shiff draws on new documentation to explain why Newman chose to create abstract art, how he achieved "fullness" in his paintings, and how his works exemplify the social functions of an artist. Carol C. Mancusi-Ungaro reveals extraordinary details about Newman's studio practice and materials and techniques, information not available to the public before because Newman only allowed his wife to observe him at work. Mancusi-Ungaro also discusses the fate of works that were damaged while traveling to exhibitions or by vandals.
Produced and designed to the highest possible standards, this magnificent catalogue raisonné is a critical purchase for anyone interested in twentieth-century art.


Distributed for The Barnett Newman Foundation
Richard Shiff is Effie Marie Cain Regents Chair in Art and Director of the Center for the Study of Modernism at the University of Texas; Carol C. Mancusi-Ungaro is Director of Conservation at the Whitney Museum of American Art; and Heidi Colsman-Freyberger is an independent scholar, researcher, and bibliographer.
"This catalogue raisonné definitively presents Newman's entire oeuvre, from paintings, drawings and sculpture to graphics and architectural models; it also includes examples of unfinished works. . . . Shedding new light on many aspects of Newman's career, the 736-page volume provides insight into the artistic legacy of this important 20th-century figure."—Art in America
"[A] beautiful publication."—Art on Paper
"For decades the standard complete-works catalog provided information and reproductions that mostly were of interest to scholars specializing in an artist. While that is still true, in recent years the quality of reproductions and overall design of the catalogs has risen substantially, accompanied by essays that offer a great deal even to readers with more general interest. The finest such production this year is devoted to one of the towering painters of the 20th century, whose own way with words set something of a standard. In all ways this volume has justified the wait."—Alan G. Artner, Chicago Tribune
"This superb publication was compiled by a highly qualified team of scholars who together provide a fascinating and exhaustive record of Newman's achievement as artist and ethical citizen. . . . This is essential for professional scholars but would intrigue a broader informed readership."—Choice

 

"A monumental volume. . . . The appearance of a catalogue raisonné marks a turning point in the life of a reputation, and this one does Newman proud. . . . Shiff's monographic study traces Newman's imaginative progress across the landscape of mid-twentieth-century art."—Jed Perl, New Republic
"Will impress readers by the seriousness and thoroughness of its essays."—Kenneth Baker, San Francisco Chronicle
"... it is a substantial volume... with the appearance of being perhaps the most complete document that will ever be published about the artist."---The Art Book
Selected by Choice Magazine as an Outstanding Academic Title for 2006.

Winner of 2004 George Wittenborn Award, 1st Place
Selected as one of ForeWord Magazine's 2004 Book of the Year Award finalists, art category
ISBN:
9780300101676
Publication Date:
October 11, 2004
Publishing Partner:
Distributed for The Barnett Newman Foundation
664 pages, 10 1/2 x 12 1/2
32 b/w + 430 color illus.